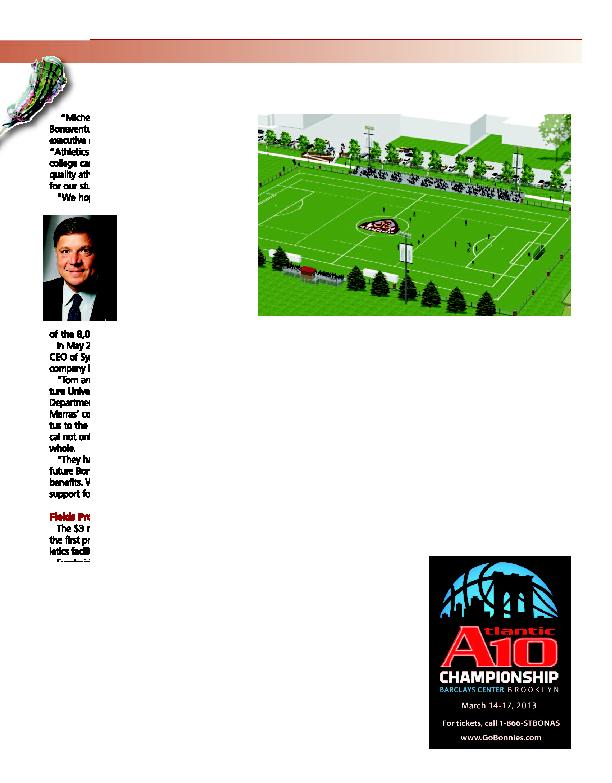 I
N

2
-
2
"Michelle and I are thrilled to give back to St.
Bonaventure," said Marra, president and chief
executive officer of Symetra Financial Corp.
"Athletics have been a huge part of my life and
college career. It's very important to us to ensure
quality athletic facilities and operating support
for our student-athletes and coaches.
"We hope this gift will assist in strengthening
our position in the Atlantic
10 and the NCAA, as well as
inspiring other alumni and
friends of the university to
help us reach our goal."
A university trustee from
2003 to 2012, Marra
worked for 30 years at
Hartford Life Inc., eventually
rising in 2002 to president
and chief operating officer
of the 8,000-employee insurance firm.
In May 2010, Marra was named president and
CEO of Symetra, a diversified financial services
company based in Bellevue, Wash.
"Tom and Michelle's generosity to St. Bonaven-
ture University, and in particular to the Athletics
Department, is incredible," said Watson. "The
Marras' commitment will provide the main impe-
tus to the field project fundraising, which is criti-
cal not only to athletics, but to the university as a
whole.
"They have made a significant impact for
future Bonnies student-athletes who will reap the
benefits. We are grateful for Tom and Michelle's
support for so many years."
Fields Project Takes Center Stage
The $3 million athletics fields complex is one of
the first projects in a proposed $18.8 million ath-
letics facility upgrade at the university.
Fundraising for a new $300,000 locker room
for women's basketball has already been reached
and the project is scheduled for this summer.
John Meisch, '58, and his wife, Kay, are donating
$75,000 toward the locker room in honor of
Coach Jim Crowley and last year's Sweet 16
NCAA team.
"Jim Crowley and the women's basketball team
have brought the spirit of St. Bonaventure to
new heights," said the Meisches. "With the
many hours that the team spends in training,
they deserve better facilities. It is a pleasure to
contribute to the women's locker room in honor
of Jim Crowley."
Now, the focus has turned to the fields that are
the home to the Bonnies softball, women's
lacrosse, men's soccer and women's soccer
www.sbu.edu/donate
teams. The planned field renovations
will not only address deficiencies, but
also give St. Bonaventure the potential
to host Atlantic 10 Conference cham-
pionships.
The current natural grass fields put
St. Bonaventure at a competitive dis-
advantage, primarily because of a lack
of subsurface drainage. Standing
water after rainfall or snow melt fre-
quently forces cancellations or location
changes of competitions. Moving
home competitions to neutral sites
negates our home field advantage,
creates unexpected operating expens-
es, and, most importantly, negatively
impacts student-athletes' academic
pursuits.
The field renovations will also open
new opportunities for many more stu-
dents who participate in club and
intramural sports.
The new soccer/lacrosse turf field
will be open to the men's and
women's rugby teams, both of which
have been nationally ranked in the last
two years. The field also will be able
to host high school and community
college sports as well as summer
camps, bringing hundreds of prospec-
tive students to campus.
Overall, the facilities projects are just
the beginning of a plan that will bet-
ter position St. Bonaventure's teams to
The new soccer/lacrosse field project will include artificial turf, seating and
media facilities. See more images of the athletics fields complex at
gobonnies.com.
compete in the Atlantic 10.
The university will continuously
and systematically assess the out-
comes of performance in the eight
strategic areas, and adjust the
course of the plan as necessary.
"This plan is a roadmap that
promises to take us on an amazing
journey," said Watson. "We'll be
inviting our alumni, friends, spon-
sors and others to join with us as
we create an extraordinary future
for our teams that will create a ris-
ing tide for the entire campus, sur-
rounding communities, and the
worldwide Bonaventure family."