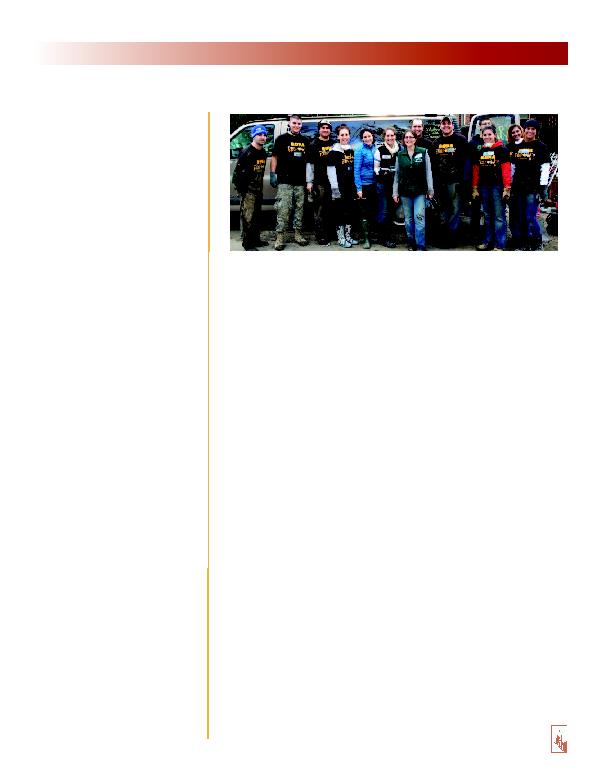 St. Bonaventure preached a morning
and evening sermon on the feast of St.
Francis in 1255. The Gospel text for the
feast was Matthew 11:29 -- "Learn
from me, for I am meek and humble of
heart."
In both sermons, he creatively argued
"whether on the lips of Christ or Saint
Francis, they are a short and succinct say-
ing, which in concise and plain terms
expresses the sum total of Gospel perfec-
tion." The goal of the rule and Gospel
life to which Francis and his brothers had
committed themselves through living
was fratres minors (lesser brothers, friars
minor).
In the evening sermon, Bonaventure
would explain that "To be meek is to be
a brother to everybody: To be humble is
to be less than everybody ... a true lesser
brother." He went on to assert that
"Although it is not for everyone to take
the habit and profess the Rule ... it is
necessary for everyone" who wants to
follow Francis' example to be meek (a
brother/sister to all) and humble (a per-
son who chooses to place themselves in
the service of others).
In this sermon, Bonaventure identifies
the two choices that are at the heart of
the Franciscan experience. They are
value-based choices about how a person
wants to live and about what type of
person one wants to become. One does
not have to be anywhere or do any par-
ticular kind of thing. One's stance in life
must simply be "in whatever way they
are best able to do so" (Francis of Assisi,
Earlier Rule, XXI.26) to choose to be a
brother/sister to everyone (fraternitas) and
to choose to bend down joyfully in the
service of another's need (humilitas).
One of the most unique and remark-
able characteristics of our university com-
munity is the number of times, for
example, an admissions counselor goes
out to welcome a prospective student; a
student, faculty or staff person volun-
teers at the Warming House; or a
Bonnie heeds the call of BonaResponds
to go where help is needed in a spirit of
great meekness and true humility. In
this way the Franciscan experience is
very much alive and transforming situa-
tions big and small.
E
ven before super storm Hurricane Sandy hit the East Coast in October,
BonaResponds was planning its response. "We knew it was going to hit some-
where and we wanted to be ready," said accounting major Rick Lewis, '13.
"We picked Rockaway (Queens) because Ryan Lazo (2013 J/MC) lived there, but
from the start we knew we could not be everywhere we were needed."
It was a great example of the whole St. Bonaventure community coming together to
make a difference. We stayed at Cathedral Prep in Queens because a student had gone
to school there. We got a donation from the friars to pay for a large pump to remove
water from basements, and many of the volunteers were students and alumni.
Operating before many larger groups in the region were ready, BonaResponds hit the
"People were coming up and asking for help. It was overwhelming. They were so
thankful," said Matt O'Connell, '14.
"The volunteers were great. We had many new students, New York City-area alumni,
and others who just showed up to help. It was a very moving experience," said Nate
O'Lay, who earned his MBA from Bona's in 2009.
The main BonaResponds crew has made three trips to Rockaway and Breezy Point
while a group of alumni and other New York City volunteers led by Rich Miller, '05, and
Liam Moran, '00, have been working every weekend in the Queens neighborhoods.
BonaResponds was formed in 2005 in the weeks after Hurricane Katrina. The group's
original mission was to aid those devastated on the Gulf Coast, but it quickly became
apparent there were many others in need of help. From this small idea has grown one
of the most energetic and exciting college groups in recent memory.
We will likely be making trips in the coming year and we'd love to have more alumni
involved. All BonaResponds projects are open to everyone and those who partner with
us are always amazed at how much impact they make and how much fun they have
helping others. One of those people with a fresh outlook was alumnus Bill Kelly, '95,
who allowed the BonaResponds team to stay in his Rockaway home (which didn't
escape the flooding).
Six weeks after Hurricane Sandy flooded thousands of homes and knocked out
power to millions, Kelly's neighbors were still raving about the impact BonaResponds
has had on their road to recovery.
"I have never been more proud to be an alumnus of St. Bonaventure University and
we are grateful to have been able to host the BonaResponds team who helped us
when we needed it most," Kelly said.
BonaResponds.org
www.Facebook.com/BonaResponds
We'd love to have you join us!
(Mahar is an associate professor of finance at the university and the founder of
BonaResponds.)
I
N

2
-
2
Franciscan Minute
Following Francis' lead to go where help is needed