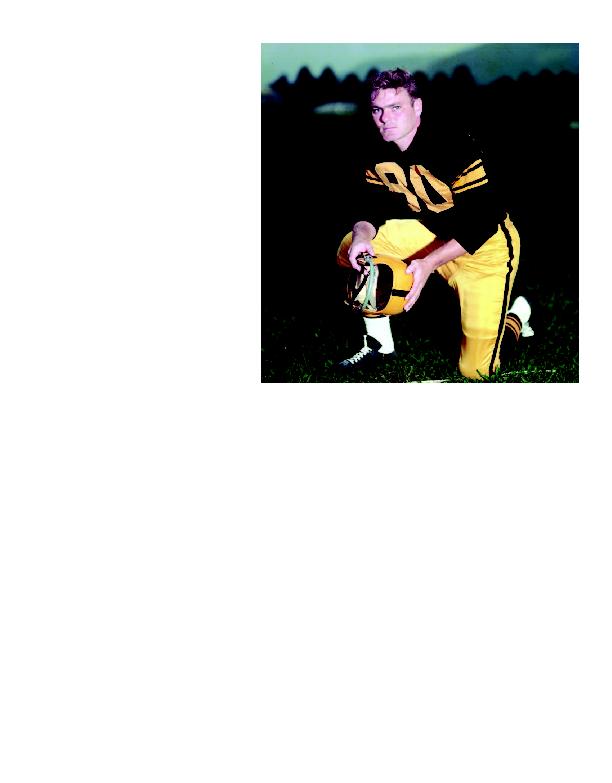 Being elected to the Hall of Fame "never concerned
me," Butler told the Olean Times Herald in 2009, the
week before he received an honorary degree from his
alma mater.
"It's always flattering when somebody calls and asks
me about the Hall of Fame, but there's so much more
which fills my life -- my children, my grandchildren,"
he said. "I've had a wonderful, privileged life and am
very aware that a lot of people would gladly trade
places. That's more than enough satisfaction."
Loved ones were not satisfied. They knew their
father and friend deserved a place in Canton.
"I have zero explanation why it took so long," said
Jack McGinley, '65, whose family has been a minority
owner of the Steelers since the 1940s. "Maybe it's
because the Steelers weren't great during the '50s.
There were also a number of great defensive backs
from that era who were already in the Hall -- Jack
Christiansen, Yale Lary, Emlen Tunnell, 'Night Train'
Lane. But Jack belongs, no doubt."
On second thought, Butler does it
Butler's numbers are compelling. Despite playing only
nine years in a career cut short by a gruesome knee
injury, Butler retired with 52 interceptions, the second
most in NFL history at the time, when teams ran far
more than they passed. (It still ranks 26th all-time.)
Most impressive? Throw in 10 recovered fumbles
and Butler ranks first in league history in turnovers
forced per game (.602; minimum 100 games played).
Butler is one of only 20 men to have intercepted four
passes in a game, and they needed all of them: The
final one he returned for a touchdown in a 14-13 win
over the Redskins in 1953.
Butler's exploits earned him four trips to the Pro
Bowl, three selections to the All-Pro team, and a place on the All-
NFL team of the 1950s. He was named to the Steelers' 75th
Anniversary team in 2007.
But he played on only two winning teams with the Steelers.
"Had he played for the Lions or Browns (of the 1950s), he
would've already been in the Hall of Fame," said Art Rooney Jr.,
vice president of the Steelers.
The Seniors Committee of the Hall of Fame -- formed in 1972
to take a second look at candidates who might have been over-
looked during their 15 years of initial eligibility -- put forth Butler
and former Lions and Redskins offensive lineman Dick Stanfel for
nomination to the Hall. They were then considered with the 15
modern-era finalists during voting on Super Bowl Saturday.
McGinley, longtime chair of the university's Board of Trustees,
was watching TV when the Class of 2012 was announced. As a
member of the Steelers' family his entire life, McGinley saw most
of the games Butler played at Forbes Field and wore Butler's No.
80 jersey as a kid growing up in Pittsburgh.
"I think when you have someone you've really liked and
respected that much and who was part of your life for as long as
Jack has been, it was very satisfying to see, to finally see him get
the recognition he deserves," McGinley said. "I was really happy
for the whole family."
Not bad for a guy no one recruited to play college football, a
guy no NFL team bothered to draft, a guy who didn't know
where to put the thigh pads until his freshman year in college,
when his roommates talked him into going out for the 1947 team
at St. Bonaventure. A guy whose parents sent him to school in
Niagara Falls, Ont. -- to be a priest.
But Butler knew he wasn't cut out for the cloth, so he returned
to Pittsburgh and sought guidance from Art Rooney Sr., Steelers
owner and longtime family friend. When told that Rooney's
brother, Fr. Silas, was the athletic director at St. Bonaventure,
"that was good enough for me," Butler said.
Playing football at Bona's never crossed his mind, though, until
his roommates -- Walt Wojciechowski, Al Lesko and Art Slowey
-- encouraged him to try out for the team. Once he figured
where all the pads went, he had to figure out what position to
play. Despite being only 5-10, 170 lbs. at the time, he told the
coaches he played guard because that's what the guy in front of
him in line said; he didn't have a clue what the positions were.
Eventually, Coach Hugh Devore would switch Butler to offensive
end, where he would team with quarterback Ted Marchibroda to
break ECAC records for receiving. The team went 26-9-1 in
Butler's four years. A year after Butler graduated, St. Bonaventure
dropped football, forcing Marchibroda to finish his college career
at the University of Detroit.
Marchibroda, who would later become the head coach of the
Colts and Ravens and the offensive mastermind of the Buffalo Bills
juggernaut in the early 1990s, would be the No. 1 draft pick of
the Steelers in 1953. In the 1951 NFL Draft, no one was interested
Butler spent six summers at his alma mater with the Steelers, who held training
camp at St. Bonaventure from 1952-1957. Fr. Silas Rooney, SBU's athletic direc-
tor, was the brother of Pittsburgh owner Art Rooney.
I
N

2
-
2