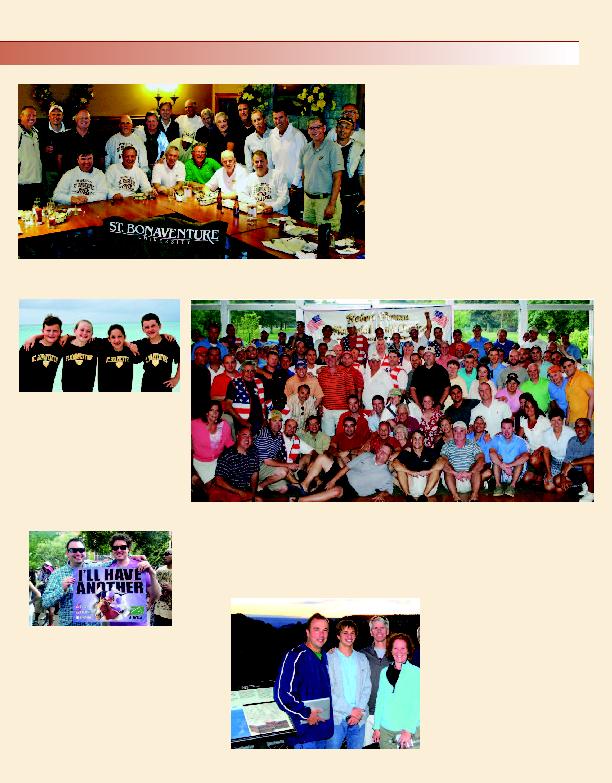 I
N

2
-
2
Bonnies at the Belmont
Kevin Ross, '03, and Brian
O'Dowd, '04, are pictured at the
Belmont Stakes in June.
3rd Rob alums gather in Buffalo
For the last nine years, Chuck Frawley, '79, has been
hosting a gathering of 3rd Rob alumni for a weekend of
golf and the Buffalo Bills home opener. A much smaller
group started in 2004, but has grown to more than 20
each year. Pictured during this year's dinner Sept. 14 at
the Links at Ivy Ridge in Akron, N.Y., are (seated, from
left) Steve Gadziala, '79; Keith Volkmar, '77; John
O'Connor, '79; Chuck Frawley, '79; Peter McCann,
'79; Steve Fiala, '79; and standing (from left) Jim
Glynn, '79; Ron Rienecker, '79; Ken Brankline, '77;
Joe Davis, '79; Doug Sanger, '79; Paul Rokos, '79;
Rich Putignano, '80; Mauro Schifino, '79; Jerry
Reilly, '78; Bill Fagan, '79; Terry Dacey, '78; Walt
Cummings, '79; Chris Allan, '78; Bob Carr, '75; Brian
Small, '79; and Greg Schwind, '79.
Record turnout for golf tourney
In June, 109 golfers -- and many more supporters -- attended the 11th Gringo Open in Yonkers, N.Y.,
to honor Robert D. Peraza, '94, '96, who was killed in the September 11, 2001, terrorist attacks. The
golf outing and fundraiser, held annually at Dunwoodie Golf Course, raised more than $37,000 for the
Peraza Memorial Scholarship at St. Bonaventure as well as Wounded Warrior Project. For more informa-
tion or to support the scholarship, visit www.sbu.edu/bonarugby.
Future Bonnies?
Alumnus Raymond C. Dee, '64, cap-
tured this photo of his 8-year-old grand-
kids sporting Bona gear on vacation.
Pictured (from left) are Colin Dee, son of
Marybeth Dee, '94; Jane Howard,
daughter of Maureen (Dee) Howard,
'88; Lauren Pole, daughter of Colleen
Pole; and Ryan Brown, son of Kathleen
Brown.
Getting together with your SBU peeps?
Snap a pic (high resolution) and submit it
bonalumnus@sbu.edu
Trio's trek helps wounded soldiers
SBU classmates Jim Froetscher (left) and
Marie (Carter) Lux joined Paul
Monahan (third from left) on a charity
hike across the Grand Canyon to support
Wounded Warrior Project. They started at
the North Rim at 4:50 a.m. and reached
the South Rim about 6:30 p.m. "The
response from the SBU community was
incredible. We had 20 people donate
$1,895 to Wounded Warrior Project on our
behalf. Just fantastic!" said Paul. His son,
Kevin, is pictured with the trio. All told,
the trio raised more than $23,000.