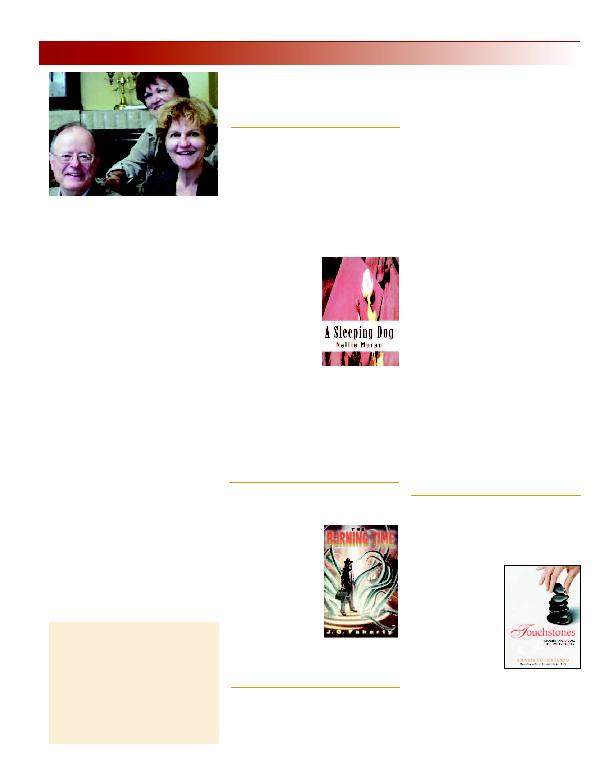 Did Omar Little die of lead poisoning?
Would a decriminalization strategy like the
one in Hamsterdam end the War on
Drugs? What will it take to save neglected
kids like Wallace and Dukie? "Tapping into
`The Wire'" by
Patrick A. McGuire, '68,
and Peter L. Beilenson, M.D., M.P.H., uses
the acclaimed television series as a road
map for exploring connections between
inner-city poverty and drug-related vio-
lence.
Past Baltimore City health commissioner
Beilenson teams up with former Baltimore
Sun reporter McGuire to deliver a com-
pelling, highly readable examination of
urban policy and public health issues
affecting cities across the nation. Each
chapter recounts scenes from episodes of
the HBO series, placing the characters'
challenges into the broader context of
public policy.
An interview with the show's co-creator
David Simon reveals that one of the inten-
tions of the series is to expose gross failures
of public institutions, including criminal jus-
tice, education, labor, the news media, and
city government. Even if readers haven't
seen the series, the book's detailed sum-
maries of scenes and characters bring them
up to speed and engage them in the story
and the issues. "Tapping into `The Wire:'
The Real Urban Crisis" helps undo miscon-
ceptions and encourages a dialogue of
understanding. The book is available
through The Johns Hopkins University
Press, www.press.jhu.edu.
Nellie Moran, '76,
novel, a thrilling mystery called "A
Sleeping Dog."
The novel opens with Nancy Kiernan, a
journalism student, investigating a "cold
case" murder associated with her universi-
ty. When she is killed, her best friend
teams up with her boyfriend to find the
murderer. Their investigation reveals more
than a closetful of
skeletons. None of
the suspects seems
like a murderer, but
one of them is, and it
is up to Nancy's
friends to find out
which one.
school English in
Buffalo. She holds a
bachelor's degree in
journalism from St. Bonaventure and a
master's degree in English education from
the State University of New York at
Buffalo. In addition to Amazon.com and
Barnesandnoble.com, the book is available
at the Dog Ear's Bookstore and Tara Gift
Shoppe in Buffalo. Read an excerpt from
the book at nelliemoran.com.
JG Faherty's
fourth novel, "The Burning
Time," is a tale of gothic horror, magic
and monsters that
takes place in a small
Upstate New York
town on the banks of
the Allegheny River.
"SBU alumni will rec-
ognize more than a
few landmarks!" says
Faherty, class of 1984.
It is scheduled for
release in mid-January
2013 and will be avail-
able from Amazon and most other book-
sellers in print and ebook format.
William S. Hein & Co. Inc., has released
Ronald J. Sievert's
casebook on national security law issues,
"Cases and Materials on U.S. Law and
In this book Sievert reviews, comments
upon and poses realistic questions related
to the most important national security
cases and statutes of our time, combining
his practical and directly relevant opera-
tional experience with recent academic
scholarship. The book begins by reviewing
the law often associated with threats
posed by foreign enemies, such as espi-
onage, terrorism and treason. National
security cases that arise in the domestic
context, such as disclosure of intelligence
information, export of sensitive technology
and domestic terrorism, are then exam-
ined.
Sievert, a 1970 St. Bonaventure history
grad and a University of Texas School of
Law graduate, has taught law and gradu-
ate school level national security law cours-
es for more than 12 years. He spent 25
years in the U.S. Department of Justice as
a trial attorney, supervisor and designated
international and national security coordi-
nator. In this capacity he handled many
major criminal and national security inves-
tigations and traveled to the Middle East,
Balkans and Europe on sensitive assign-
ments for the department. He has pub-
lished numerous law review articles on
national security law issues related to gov-
ernment surveillance, similarities and dif-
ferences between the Bush and Obama
national security programs, export control,
the International Criminal Court and the
nuclear nonproliferation treaty.
Charlene Gorda Costanzo, '71,
published her fifth book in her Twelve
Gifts series. "Touchstones: Stories for
Living the Twelve Gifts," is available in
paperback and as an
e-book.
changing motor home
journey through
America a decade ago
that Costanzo started
collecting what she
calls "touchstone sto-
ries." According to
Costanzo, touchstone
stories affirm life, remind us of our inner
wealth, and demonstrate the good in
humanity. Her new book is a collection of
such stories.
Some of the stories in the book occurred
while she and her husband,
Frank, '70,
Off The Shelf
Patrick McGuire, his wife, Kathie Gerow
McGuire, '68, (standing) and Kathy Brady, '68,
gathered for a reception in September honor-
ing McGuire's new book.
CONTACT US
We are happy to print announcements and
brief summaries of new books, CDs and
other multimedia works published by SBU
alumni, faculty and staff.
Send a copy of the book or CD and
summary press release to:
Bonaventure magazine
P.O. Box 2509
St. Bonaventure University
St. Bonaventure, NY 14778