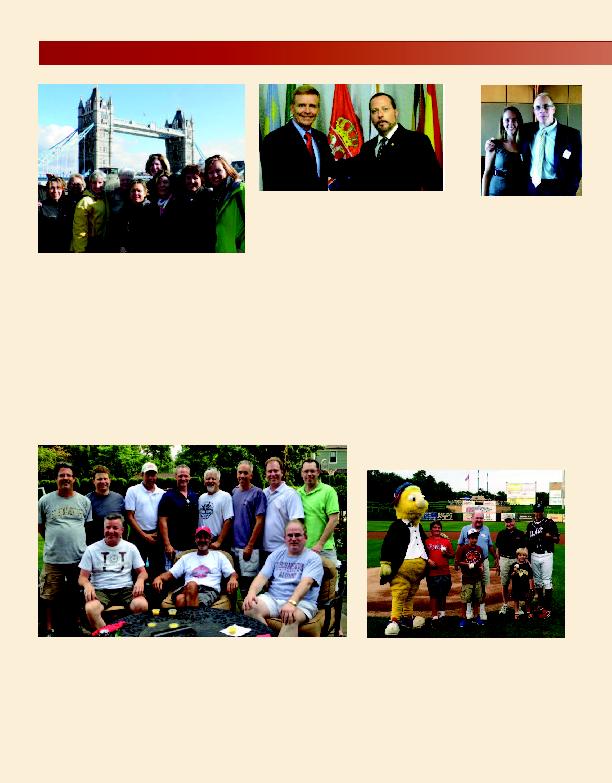 BonAlumnus Updates
Play ball!
Chris Paglia, '92, a St. Bonaventure Athletic Fund
Advisory Board member, organized a small alumni
gathering at the Lakewood (N.J.) BlueClaws base-
ball game in August. Pictured with Paglia's son
Ryan (Phillies shirt), a future member of the class
2024, are Gerry Ford, '62, and Tom Callahan,
'62, with their grandsons throwing out the first
pitch at the BlueClaws game.
Bona's across the pond
Members of the classes of '84 and '85 travelled to
London and Ireland to celebrate their milestone
birthday and visit classmate Kathy Diskin, '85.
Diskin is on assignment for the FBI in London.
Pictured from left are Karen (Jill) Sinning, Linda
Ptak, Loretta McCormick, Sheila Doyle, Rita
(McCusker) Bacon, Anne (Barker) Martin, Kathy
(Boedicker) Cramer, Diane (Gullotta) Mohorter
and Missy (Linehan) Maloney.
4th East Dev hosts mini-reunion
Every summer, a number of alums from 4th East Devereux (centered on the
class of 1984) get together with their families for a barbecue. Their friendship
has remained close over the years, and this year there were 11 attendees.
Pictured are (front row, from left) John McConnell, '85; John LoPresto, '84;
and John Murphy, '85; (back row) Steve Ondroff, '84; Pete Anzalone, '85;
Mike Blake, '83; Rick Leifels, '84; Brian Metress, '84; Glenn Meister, '84;
Paul Newman, '84; and Gerard Meuchner, '84. Missing from the photo is
Bill Lynch, '84.
Dr. Matthew Hall, '85,
and Dr. Susan Minchin,
'06, are pictured at a con-
tinuing dental education
course in Skaneateles Falls
hosted by St. Joseph's
Hospital Health Center.
Hall, who earned his dental
degree from Georgetown
University, is director of the
residency program at St.
Joseph's, which is located
in Syracuse. Minchin grad-
uated from UB in May and
is doing a General Practice
Residency at St. Joseph's.
"We often speak about
our experiences at Bona's
and how they translated
into providing dental care
for our patients," said
Hall.
Alumni surprised by
international introduction
Fran Machina, '82 (left), and Don Blersch, '86,
made an unconventional Bona connection in
September 2012. They are senior executives in the
U.S. Department of Defense and were attending a
counter-terrorism seminar at the George C.
Marshall European Center for Security Studies in
Garmisch, Germany. There were 98 attendees at
the seminar from 61 countries. On the third day of
the event the men, who had never met, were hav-
ing lunch with a few other attendees. The discus-
sion led to hometowns and colleges and the rest is
Bona history! The Bona family is very special and
these guys say they were happy to find "family" in
Deutschland. Machina is the Deputy Chief Financial
Officer for U.S Special Operations Command in
Tampa and Blersch is the Director for Intelligence for
the U.S. Missile Defense Agency at Ft. Belvoir, Va.