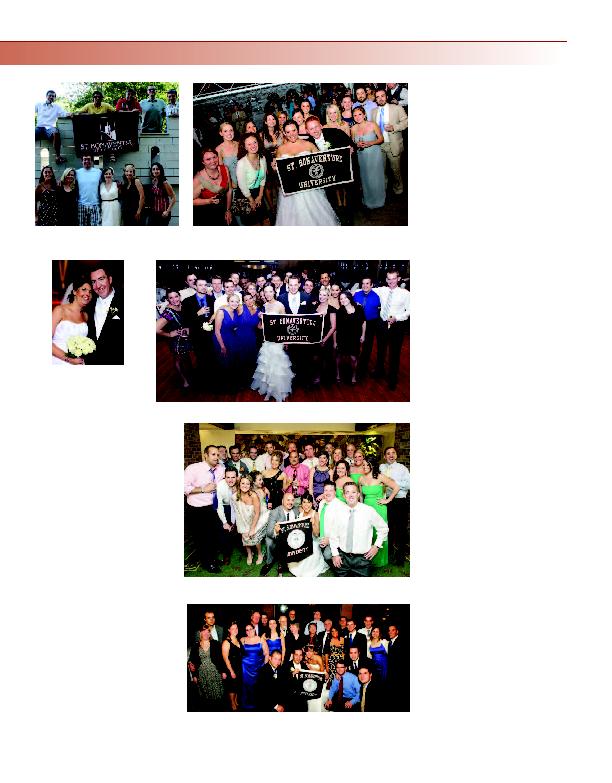 I
N

2
-
2
Jessica Manocchio, '06, '07, and
Christina Santandrea, '06, and Jason Mancuso, '06
To submit your marriage photo for
an upcoming edition:
· use the enclosed envelope
· email bonalumnus@sbu.edu
· mail to P.O. Box 2509
St. Bona venture University
St. Bonaventure, NY 14778
All photos must be of good repro-
ductive quality. Pictures submitted
electronically must have a resolu-
tion of at least 300 dpi.
The University is prohibited from
publishing copyrighted photo-
graphs, unless accompanied by
written permission from the pho-
tographer. Photos are published at
the discretion of the editor.
The deadline for summer 2013
Bonaventure magazine submis-
sions is March 1, 2013.
Don't forget to notify us of your
new name or address! Update your
information at Bona's Online at
www.sbu.edu/bonasonline.
Joshua Edward to Stephanie
(Grosso), '91, and Ed De Jesus
Paige Anna to Theresa (Behil), '91,
and David Keiser
Mia Grace to Kelly and Marc
Merryfield, '91
Martin Nicholas to Therese (Runfola),
'98, and Martin Blind, '94
Roman Matthew to Jennifer
(Michaels), '95, and John Galante, '94
Kendall Grayson to Tina (Mastriani),
'95, and George Slingerland
Lily Ann to Michelle (Stufft), '98, and
Todd Hallinan
Theodore Charles to Colleen
(McKenna), '98, and Patrick Hayden
Christian Anthony to Carri
(Gregorski), '04, and Ed Prue, '99
Scarlett Reilly to Kate (Reilly), '00,
and John Cibulsky
Juliet Kay to Jessica (Hornbeck), '00,
'01, and Jeff Kawski
Bryson Mark to Michele and Mark
Kimmel, '00
Declan Mark to Kelly and Mark
O'Rourke, '00, '01
Noah R. to Danielle and Ray Pearles,
'00
Jeffrey Paul to Victoria (Pallone), '00,
and Paul Wheeler, '00
Elana Rosealee to Emily (Reese), '00,
and Matthew Zieno
Claire Isabel to Melissa (Feser), '01,
and Kevin Krul, '01
Paige Laura to Kate (Lewis), '01, and
Tibor Torok
Barrett Richard to Meg (Lush), '02,
and Ryan Camire
Teagan Mikayla to Brigid Mullen-
Richards, '02, and Justin Richards
Anna Rose to Jamie (Sobecki), '04,
'07, and Robert Westin, '02, '03
Sophie Evelyn to Katie (Boguski), '04,
and Nick Cuviello, '04.
Zachary O'Hern to Colleen (Mayer),
'06, and Patrick Carr, '05
Lia Jeanne to Nicole (Wysocki), '05,
and Daniel Cook
Andrew Nolan to Stacy (Brown), '06,
and Michael Swope, '06, '07
Gabriel Knox to Andrea Michnik, '06,
'07, and Daniel Towson, '07
Welcome, Baby Bonnies!
Allison MacDonald, '03, and
Chelsea Eggleston, '08, and Charlie Bender, '08
Danielle Frownfelter, '08, '10, and
Christopher Michel, '08, '10
Colleen Meagher, '02,
Getting married in '13?