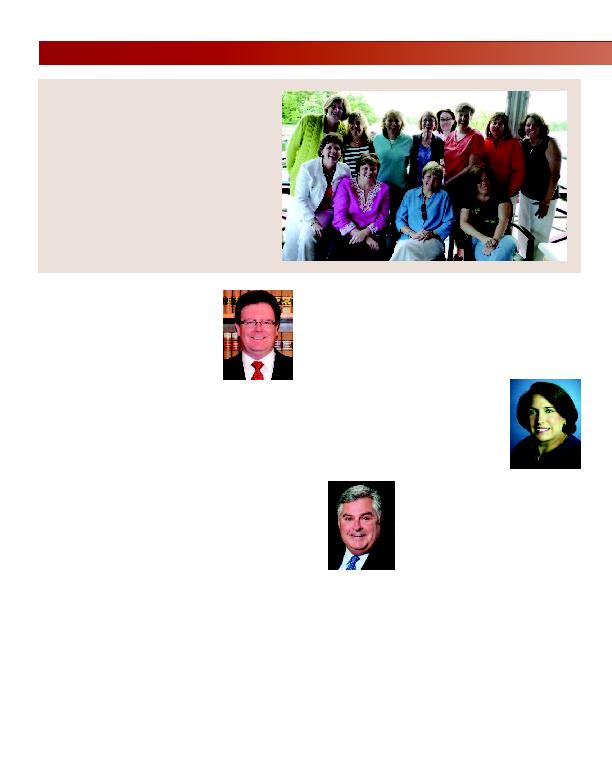 wife of 14 years, Mary Elizabeth, offer Bible
study to those in recovery for drug and alco-
hol addiction, and Losito has taught faith for-
mation and confirmation classes.
1981 -- Craig Larson has moved to
Mesquite, Nev., and is enjoying retired life.
1983 -- The Associated Press' Vermont staff,
formerly under the guidance of the late John
Curran, '83, received an award from The
Associated Press Media Editors association for
journalism excellence by AP staffers. The
Vermont staff of reporters John Curran,
Wilson Ring, David Gram and Lisa Rathke,
and photographer Toby Talbot won the
Charles Rowe Award for Distinguished State
Reporting for their coverage of the aftermath
of Hurricane Irene. "The digital-first approach
and resiliency made this entry one of the most
inspiring in a talented field," the judges said.
Curran, the correspondent in charge of the
AP's Montpelier bureau, died less than two
weeks after Irene hit. Bob Kunzinger's col-
lection of award-winning essays, "Borderline
Crazy," was released in November from Bang
Press, a division of All Nations Press. These
works have appeared or been noted in vari-
ous publications, including "Best American
Essays." The book includes Kunzinger's
extended essay "Curious Men," about his
search for a Bona alum on the Congo River.
The book is available at Amazon and book-
stores nationwide. Brian H. Redmond was
appointed the Reporter of Decisions for the
Massachusetts Supreme Judicial Court and
the Appeals Court. The reporter provides edi-
torial support for the justices of the courts,
publishes slip opinions daily in printed and
electronic formats, and administers a contract
for the publication of printed advance sheets
and permanent bound volumes of the official
reports of the two courts.
Redmond joined the
Office of the Reporter of
Decisions in 2001 and
was promoted to deputy
reporter in 2006.
Previously he worked at
Lawyers Cooperative
Publishing and West
Group for 14 years. A graduate of Cornell
Law School, Redmond is admitted to practice
in New York and Massachusetts. He will serve
as the courts' 18th reporter; the first reporter
was appointed in 1804. He lives in Pembroke,
Mass. Mark Skala joined the Bank of Cape
Cod as director of marketing and community
relations. Skala most recently was publisher of
GateHouse Media's Cape
Cod portfolio of newspa-
pers and websites. He pre-
viously worked in a variety
of publishing and man-
agement roles on the
Cape and South Shore as
reporter, managing editor
and editor in chief. Skala
is involved in a number of community and
civic groups and serves as the board vice pres-
ident for the Arts Foundation of Cape Cod.
1984 -- Dr. Robert J. Buckla was named
vice president of university advancement at
Cardinal Stritch University. Since 2009, Buckla
has been the senior director of college pro-
grams/major and leadership gifts at Illinois
Institute of Technology, where he was part of
a leadership team that raised more than $104
million in operating, capital and endowment
support as part of a $250 million campaign.
He served in the vice president/chief advance-
ment officer role at two other points in his
career: Averett University in Virginia and Hyde
Schools on the East Coast. Over the course of
his career, Buckla has worked at Regis
University in Denver and The Catholic
University of America in Washington, D.C.
Donna L. (Smith) Burden, a founding part-
ner of Burden, Gulisano & Hickey, LLC, was
appointed vice chair of the Trucking
Subcommittee of the Transportation
Committee of the
International Association
of Defense Counsel
(IADC). The counsel is an
invitation-only, peer
reviewed professional
association comprised of
leading corporate and
insurance lawyers in firms
and corporate law departments around the
world. Burden was also named to the 2013
Annual Meeting Continuing Legal Education
and Steering Committee for the IADC Annual
Meeting to be held in Hawaii in 2013. In
October, Burden was elected to the Board of
Directors of the Trucking Industry Defense
Association; she will serve a three-year term.
1987 -- John McAuliffe is a leasing special-
ist with the General Services Administration.
Working out of Boston, McAuliffe helps other
federal agencies acquire office, warehouse or
storage space in all six New England states.
He lives in Melrose, Mass. Bob McAdam, a
manager and Microsoft Dynamics GP imple-
mentation team member at Tampa-based
Tribridge, one of the largest Microsoft
Dynamics partners in the world, was named
to the list of Top 100 Most Influential People
in Microsoft Dynamics for 2012. This listing
was created and judged by Dynamics World,
a UK-based entity formed to provide an infor-
mation source for the Microsoft Dynamics
community. Criteria for selecting the Top 100
BonAlumnus Updates
A fabulous fifty reunion
From the class of 1984, the Girls of Garden
Apartments D- and F-East, (and honorary Francis
guest Anne Barker Martin), celebrated their 50th
birthdays with a weeklong trip to Bolton Landing,
N.Y., on Lake George in June 2012. Pictured are
classmates (front row, from left) Ruth (McKenna)
Loftus, Kate (Nolan) Clemens, Linda (Smith)
Abbaszadeh, and Martha (McNeil) Auster; and
(back row, from left) Anne (Barker) Martin,
Denise (Rekettye) Pateros, Marian (McCarthy)
Roohan, Christy (Chirlin) Everett, Kathy
(Simmons) Cost, Lori (Trimper) Piotrowski,
Patty (Kohlman) Finnerty and Kim (Wassel)
Robinson.