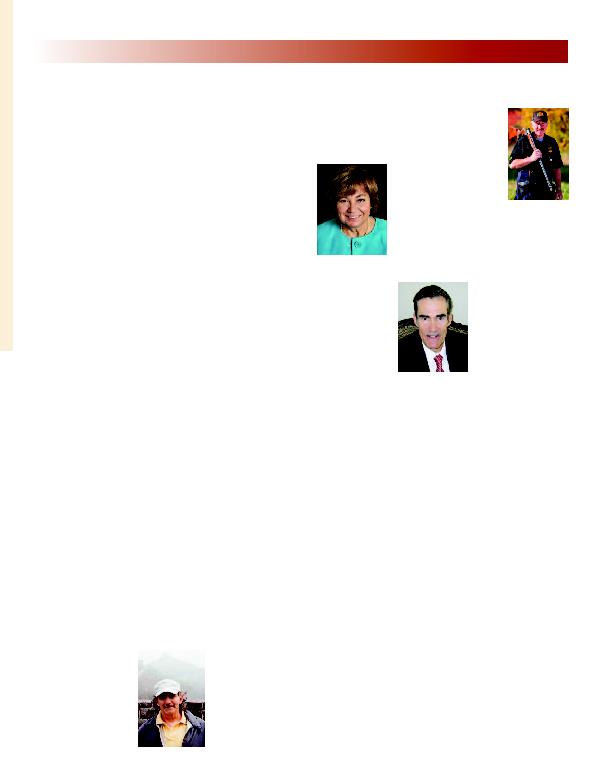 grims on The Way of Saint James. In
September, the Pardis traveled to Leon,
Spain, to begin their 14-day pilgrimage to
the Cathedral of Santiago de Compostela,
where the remains of the apostle Saint
James are buried. Each day they walked
with other pilgrims, young and old from
many nations, and on the last five days
they walked with hundreds of Spanish high
school students.
1969 -- Tom Gaffney retired after 35
years as a sportswriter, mostly at the
Buffalo Courier-Express (until it closed) and
the Akron (Ohio) Beacon Journal. He primari-
ly covered college sports and golf, winning
48 writing awards during his career. He was
a voter in the Associated Press college foot-
ball poll and for the Heisman Trophy. Some
classmates may remember Gaffney was an
economics major, but changed careers by
getting an MA in journalism at Kent State in
1977. He and his wife of 42 years, Linda,
have two children and five grandchildren.
1970 -- Thomas H.E. Drinkwater retired
from the federal government on Aug. 25
with 40 days short of 40 years of federal
service. His last position was as the National
Guard Bureau Acquisition Career
Management Officer/Advocate in Arlington,
Va. His previous posts included jobs at Fort
Monmouth, N.J.; Worms, Germany;
Burtonwood Army Depot, England; and Fort
Richardson, Ark. Drinkwater and his wife,
Eileen, live in Fort Valley, Va., on five acres
where he will stay busy tending to his gar-
den. He also plans to visit the couple's three
children and two grandchildren. A Virginia
Master Hunter Education Instructor,
Drinkwater teaches firearms safety courses
and has a part-time firearms and shooting
supply business. Kenneth Wirth was one of
the producers of the Broadway hit show
"Peter and the Star Catcher," which won five
Tony Awards in June. The highly acclaimed
play, which was the most Tony-nominated
original play in history, continues its run at
the Brooks Atkinson Theatre in New York
City; a national tour is planned beginning in
August of 2013.
1973 -- Dominic
Conlan visited the
Great Wall and a host of
other Chinese landmarks
during a 13-day trip to
the country in April.
Other stops included
Xi'an to see the
Terracotta Warriors,
Shanghai, Guilin and Hong Kong. Although
Conlan has traveled extensively the past few
years to London, Madrid, Amsterdam,
Dublin, Paris, Stockholm, Helsinki, St.
Petersburg, Copenhagen and Italy, his
favorite city in the world is New York City.
Conlan is semi-retired and lives in Hornell.
Connie M. Whitton was granted Trustee
Emerita status by
Onondaga Community
College Board of
Trustees. Whitton served
Onondaga as a trustee
for 16 years. She served
the board as chair, vice
chair and secretary
through a period of sig-
nificant transformation
that included the opening of the Whitney
Applied Technology Center and the North
Site, the appointment of an interim president
and a new president, and the development
of the college's first strategic plan.
1974 -- Patricia A. Johnson of Tonawanda
was re-elected to the Board of Trustees for
the New York State Society of Certified Public
Accountants Foundation of Accounting
Education. She is an assistant professor of
accounting and program coordinator of the
forensic accounting master's program at
Canisius College, where her teaching inter-
ests include fraud examination and govern-
ment and nonprofit accounting. Johnson
joined the foundation in 1977 and is chair of
its Public Sector Oversight committee and
former chair of the Higher Education com-
mittee. She is a member of its Not-for-Profit
and Anti-Money Laundering committees.
Johnson is also a member of the American
Institute of Certified Public Accountants, the
Association of Certified Fraud Examiners, the
American Society of Women Accountants,
the Institute of Internal Auditors and the
American Accounting Association. She has
served on nonprofit boards of directors,
including the Tonawandas' Council on the
Arts. She is chair of the Audit Committee for
the Buffalo Board of Education and a board
member of New York Council on Non-Profits.
1976 -- Fr. Stephen Agosto was appointed
to the faculty of Logos House of Theological
Studies, which is the seminary for the
Anglican Church in America. He will focus on
Ascetical Theology and Spiritual Direction, as
well as Canon Law. He is also completing a
three-year term as Minister General of the
Anglican Society of St. Francis, an Anglican
Franciscan religious order. In November, Fr.
Stephen celebrated his 30th anniversary of
his ordination to the priesthood. John
Winters, who is director of Internal Audit at
Bass Pro Shops, represented Bass Pro at the
Missouri State Sporting
Clays competition in July. He
is now the AA Class
Missouri State Champ, hav-
ing won the main event, 5-
stand and 20-gauge AA
Class events in the competi-
tion. He also represented
Bass Pro, now in Master
Class, at the National
Sporting Clays Association Championships in
San Antonio in October.
1977 -- Michael Ryan has started his own
business in Arizona. Ryan Media Consulting
(www.ryanmediaconsulting.com) specializes
in developing cus-
tomized creative and
innovative solutions to
address companies'
media and marketing
needs. He previously was
vice president of com-
munity newspapers for
The Arizona Republic
and is a former Russell J. Jandoli School
Alumnus of the Year.
1979 -- Debra (Young) Eddy retired to
Tennessee with her husband, Walter, after 20
years with W.R. Case & Sons Cutlery in
Bradford, Pa. Retirement plans include travel
to Puerto Vallarta, Mexico, and Florida during
the winter season.
1980 -- Dan Barry, a columnist for The
New York Times, won the ESPN Award for
Literary Sports Writing for his book "Bottom
of the 33rd" from The PEN American Center,
which annually honors some of the most
outstanding voices in literature. "Bottom of
the 33rd: Hope, Redemption, and Baseball's
Longest Game" was published by Harper in
2011. Award winners and runners-up were
honored at a ceremony Oct. 23 in New York
City. A list of all 2012 award winners is avail-
able at www.pen.org/page.php/prmID/1351.
David G. Losito was ordained a permanent
deacon in the Diocese of Syracuse on May
12, 2012. He will serve at his parish, St.
Margaret's in Mattydale, N.Y. His deacon
story began more than 25 years ago: He was
commissioned in the Formation for Ministry
program in September 1987 and was
accepted into the diaconate in 1992. He
left in 1994 when his first wife, the late
Theresa Bosco, '81, died in a car accident. He
re-entered in September 2008. Losito and his
I
N

2
-
2
BonAlumnus Updates