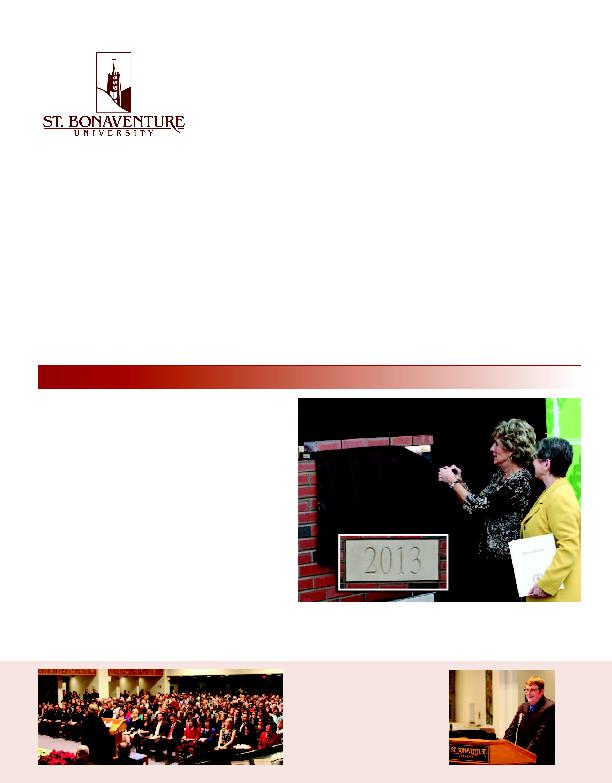 St. Bonaventure, NY 14778
On The Web: www.sbu.edu
The university community celebrated the progress of the
new William E. & Ann L. Swan Business Center with a bless-
ing of the building's cornerstone in October.
The two-story, state-of-the-art facility will house our School
of Business programs and faculty, and will open by the begin-
ning of the fall 2013 semester.
Watch for details about the grand opening and visit
www.sbu.edu/construction
for live webcam views and the
latest photos and construction news.
This summer, a special walkway outside the building will
be inscribed with the names of dedicated alumni, parents,
friends, faculty and staff and will introduce generations of
students to the commitment of our Bonaventure Family.
To help pave the way to the new Business Center with the
purchase of a custom brick, contact Diane Frick, director of
Advancement Services, at (716) 375-7884 or
dfrick@sbu.edu, or visit
www.sbu.edu/bullishonbusiness
Business center marks another
milestone; cornerstone is unveiled
Above, Ann Swan unveils the cornerstone (shown in inset photo) of the
William E. & Ann L. Swan Business Center, Oct. 26, 2012, as Sr. Margaret
Carney, O.S.F., S.T.D., university president, looks on.
www.sbu.edu/Winter2012
Jeremiah Lee