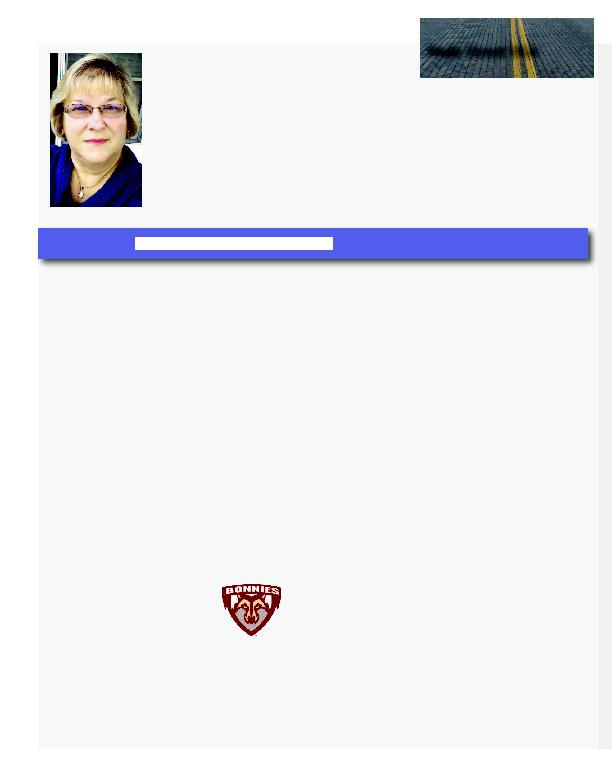 Reinventing Lisa, Day 1:
I thought I'd keep my friends and col-
leagues updated about the "new Lisa"--
the word-girl seeking new work oppor-
tunities. I have been getting so many
calls and emails and FB posts with mes-
sages of love and support and encour-
agement and job leads. Last night dear
friends from Australia and Canada
called. This morning I slept in because I
could! I've already made lists of things
to do. All will be well. Thanks for your
prayers.
Reinventing Lisa, Day 2:
I woke up this morning rethinking my
Lenten penance. I decided that losing my
job involuntarily is enough penance this
Lent! LOL. My new "penance": (1) do
one thing daily that has immediate pleas-
ant results, (2) pray for and be present to
my 15 colleagues who also were laid off,
and (3) celebrate the beauty around me.
Reinventing Lisa, Day 3:
Amazing things continue to happen!
Colleagues and friends from around the
globe are sending job leads. Even my
accountant is networking for me. She
offered to broker my résumé with her
fellow accountants and will ask them to
target their clients with my résumé. My
day began with a phone call from my fav
author. Last night I created a new
résumé and sent it to 10 of my best
friends in various fields and asked them
for their suggestions for improvement.
They are responding with expert ideas.
Reinventing Lisa, Day 4:
Among job search tasks yesterday, I
created a spreadsheet to track my job
search efforts and keep me organized,
and I spoke with an expert in the educa-
tion field about a great opportunity. My
colleagues are sending me excellent
ideas for sharpening my résumé. I'll end
today by ushering at Cincinnati's
Playhouse in the Park for a Stephen
Sondheim musical -- my Lenten
penance to bring beauty to my life each
day. What greater beauty is there than
Sondheim?
Reinventing Lisa, Day 5:
The god of sleep visited me last night,
and I woke rested, refreshed, and calm
this morning. All good qualities to have
when facing the task of cleaning out
one's office after 23 years. My strong-
like-a-rock hubby, Bob, accompanied me
to my now-former workplace office and
helped pack and load. Thirty boxes later
we drove home in our pickup truck and
car filled to the brim. Our basement is
now home to the relics of my quarter-of-
a-century publishing career.
The really truly great thing
that happened today
was SBU's men's basket-
finals of the Atlantic 10
Conference. Go Bonnies, beat
Reinventing Lisa, Day 6:
I am always surprised when people say
that they "get nothing" out of Mass or
going to church. I got so much out of
Mass today that I could hardly carry it all
out the heavy wooden church doors. It
just proves what spiritual writers and
pastoral ministers have always said --
that we have to bring something to
Mass in order to get something out of
it. Today I brought my heartache, my
disappointment, my anger, and my fear.
I left with hope and love and energy to
get through another day.
Reinventing Lisa, Day 7:
Old dogs can be taught new tricks.
Today, I and 8 former coworkers
attended an 8-hour career transition
workshop -- a perk of severance. I
drove to the HR center that hosted the
workshop and wondered while waiting
in early-morning rush hour traffic if I
would learn anything.
I was pleasantly surprised. I did learn
some new tricks. The workshop covered
topics that would help us begin and
organize a successful job search. This old
dog with some new tricks is mighty
grateful today.
Reinventing Lisa, Day 8:
"So on the eighth day of unemploy-
ment she rested from all her work. Then
God blessed the eighth day and made it
holy, because on it she rested from all
the work of job hunting that she had
done."
Reinventing Lisa, Day 9:
Some days I am just plain blown away
by the good people that have come
into -- and stayed -- in my life. Today
is one of those days when I thank God
for the blessing of friendship. At day's
end, I bless all my friends who walk
with me during this challenging time.
What happens when you arrive at work at 8 a.m. and by 10 a.m. are told you
no longer have a job that you loved for 23 years? In March 2012, J/MC alumna
Lisa Biedenbach, '76, lost her job as product development director for a reli-
gious media publisher. To deal with her feelings about and the realities of being
unemployed, she turned to social media to chronicle her experience of discerning
the next chapter in her career. What follows are excerpts from her Facebook posts
about "Reinventing Lisa." In July, the reinvented Lisa established her own busi-
ness, LAMB Editorial Consulting, to provide a variety of services to publishers.
Search for people, places and things
Main Street USA