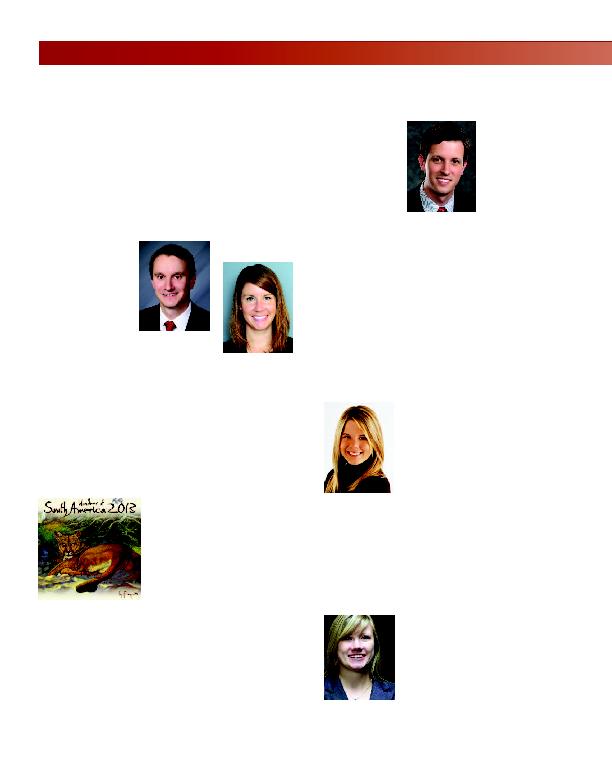 about the cases at http://tinyurl.com/8qdkj3s.
1997 -- Brendan Chambers joined PNC's
Corporate & Institutional Banking leadership
team for Greater Georgia. Chambers has
more than 16 years of banking experience,
most recently as the regional vice president
of Commercial Markets in Georgia at RBC
Bank. Jackie Grady, a Ft. Lauderdale, Fla.,
trial attorney, has started a new organiza-
tion called Bike Souls. Bike Souls' mission is
to refurbish old bicycles to be given to those
in need, and to promote cycling safety in
the South Florida area.
1998 -- Brendon
Crossing, vice president
of Commercial Services
at Canandaigua National
Bank (CNB), received the
Arthur S. Hamlin Award
for Excellence at the
annual employee cele-
bration in June. Crossing
has been at CNB for 15 years. He is a board
member of the commercial real estate devel-
opment association NAIOP, the Seneca
Waterways Council of the Boy Scouts of
America, and a youth coach of soccer and lit-
tle league baseball. He lives in Victor.
1999 -- Joe Franzetti and his father, Paul
Franzetti, for the past seven years, have creat-
ed artwork to support The Damien House, a
hospital in Guayaquil, Ecuador, that treats and
cures Hansen's disease (also known as lep-
rosy). Their mission began in 2006 when they
visited the hospital en route to the Galapagos
Islands. This visit
ignited a desire
to help, and
they decided to
put their talents
to use by creat-
ing fine art cal-
endars and
notecards that
display Joe's
charcoal draw-
ings and Paul's oil paintings. The most recent
calendar, 2013 Wonders of South America,
depicts original images of South America's
most beautiful areas including Macchu Picchu
(Peru), Easter Island and Patagonia (Chile),
and Galapagos (Ecuador). Joe also works
closely with the St. Bonaventure rugby team
where profits are split with the team and the
hospital. For more information, visit
www.franzettiart.com or www.thedamien-
house.org. Sara (Mortimer) Miller joined
the University of Rochester as spokesperson.
2001 -- Pam (Say) Witter was named
Alumna of the Year by Leadership
Cattaraugus and was honored at their gradu-
ation ceremony Dec. 11, 2012.
2002 -- Tom Griffin of the Procter &
Gamble Company was appointed North
America Category Account Executive for the
Olay brand. Olay is one of the top skin care
brands in the world and is one of P&G's
multi-billion dollar brands. Griffin has previ-
ously worked on the Crest, Oral B and
Clearblue brands. He will continue to be
located in Cincinnati, Ohio, with his wife,
Meghan (Zimmerman), '01, who is a coun-
selor at the College of Mount St. Joseph.
2003 -- Kathryn
"Katie" Dickinson joined
Harter Secrest & Emery as
a marketing specialist in
Rochester. She previously
was employed at the
YMCA of Greater
Rochester as the director
of web development and
social media and as campaign manager for
the National Multiple Sclerosis Society. She
lives in Rochester. Stephanie Crawford
was promoted to human
resources manager at
Bennett Thrasher PC,
where she is responsible
for efforts surrounding
campus recruiting, train-
ing, financial reporting
and assurance schedul-
ing, firm event planning
and performance
reviews. Prior to joining Bennett Thrasher,
Crawford worked as the Audit and
Enterprise Risk Services Campus Recruiter
for the Atlanta and Birmingham offices of
Deloitte. Crawford is a certified Professional
of Human Resources and a member of the
Society for Human Resource Management
and the Association for Accounting
Administration.
2004 -- Jill Simme
Fecher was promoted to
account director of new
business development at
SKM Group, a full-service
marketing communica-
tions agency. Fecher will
primarily be responsible
for new business genera-
tion and support, but is also tasked with
account service training, internal and external
training, account service/agency process input
and assistance with managing the agency's
account service department. Fecher lives in
Kenmore. James C. Schwegler joined Harris
Beach in the firm's Buffalo office as an associ-
ate in the Business and
Commercial Litigation
Practice Group. He focus-
es on civil litigation,
specifically business and
commercial litigation,
contract disputes, and
general defense litiga-
tion. He also represents
international rental car companies. Prior to
joining Harris Beach, Schwegler was an
assistant district attorney in the Erie County
District Attorney's Office. Schwegler is a
member of the New York State Bar
Association and the Bar Association of Erie
County. He is a member of the Sons of the
American Legion, Post 880 and has volun-
teered at the Jim Kelly for Kids Golf
Tournament.
2005 -- Anneli Johnson is in China working
at New Day Foster Home caring for orphans
needing life-saving surgeries. Tera White was
promoted to supplier assistant product man-
ager at United Stationers. She relocated from
Buffalo to Chicago.
2007 -- Tim Bontemps is the official beat
writer for the Brooklyn Nets at the New York
Post. Kelly Eschberger, a producer at WPXI-
TV in Pittsburgh, was on the station's team
that won a Mid-Atlantic Emmy (Larger
Markets category) for the evening newscast
"Paterno, Spanier Fired."Brian Ferris Kelly
received the Robert J. Janus Award for his
dedicated service to children with disabilities.
The award was given on behalf of the
Council For Exceptional Children. Jessica M.
Kenney was promoted to supervising senior
accountant in the Accounting and Auditing
Department at Tronconi Segarra & Associates
LLP. She joined the firm in 2011.
2008 -- Emily Ciraolo received the
Volunteer of the Year award from the Hugh
O'Brian Youth Leadership New York West
Seminar. Ciraolo attended HOBY as an
ambassador with her high school in 2003.
She now serves as the director of junior staff
and media relations and is looking forward to
her 10th year. Founded in 1958 by veteran
actor Hugh O'Brian (best known for his role
as Wyatt Earp), HOBY's mission is to inspire
and develop our global community of youth
and volunteers to a life dedicated to leader-
ship, service and innovation. Amalie
Donius successfully defended her disserta-
BonAlumnus Updates