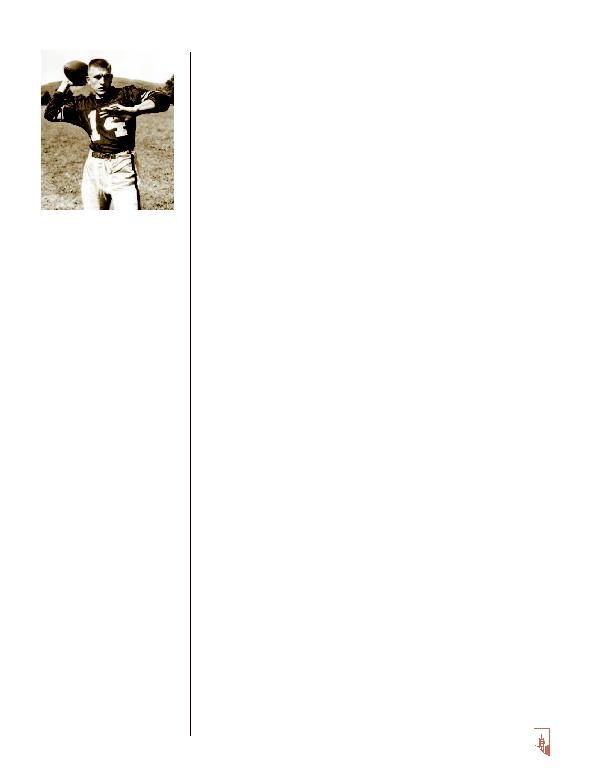 in Butler. (Of the 233 players in the Hall of
Fame, Butler is one of only 15 who wasn't
drafted.)
Armed with a degree in English, Butler had
a choice: Seek a teaching job, or take advan-
tage of the Bonaventure connection to the
Steelers. Fr. Silas told his brother Art that
Butler was worth a look.
Butler, though, never thought he'd stick
with the Steelers, the last team in the NFL to
use the run-heavy single-wing offense. He
was the last player to make the team, but he
was switched to defensive end.
Three games into his rookie year, an injury
to Howard Hartley quickly altered Butler's
career path. Sent into the game by Coach
John Michelosen, Butler was confused when
he saw Hartley, a defensive back, injured. He
ran back out to tell his coach the mistake. "I
know who's hurt," Michelosen said. "Get in
there.'"
An all-pro cornerback was born. The skills
he learned as a wide receiver in college
served him well as he made the transition to
defensive back.
"I believed in myself," Butler said. "I
believed when I was out there that that
receiver wasn't going to whip me. No way in
the world."
Despite fashioning a Hall of Fame career on
defense, the affable, me-last Butler still seems
bitter about only one thing.
"I always believed I should have been a
wide receiver," Butler says in almost every
interview he gives. (He did catch seven passes
with the Steelers, four of them for TDs.) "I
should have been one in the pros. I could
catch the heck out of the ball."
Butler grew to 6-1 and a chiseled 200 lbs.
"He was big for (cornerback) for that era,"
McGinley said. "He probably would have
played safety today."
And while most players in the '50s would
have been overmatched in today's NFL,
Butler would not have been, said Rooney,
son of the legendary Pittsburgh owner and a
longtime friend of Butler's.
"I think Jack would have been a star in
today's game," Rooney said. "You just watch
some of the old films and the way he moved,
he was a smooth guy."
A brilliant career cut short
Sadly, the ease with which Butler moved on
the football field vanished in an instant. On
Nov. 29, 1959, at Forbes Field, Eagles' star
Pete Retzlaff caught a pass across the middle.
As Butler made a bead on a tackle, Retzlaff
was tripped and crashed into Butler's left leg.
"I was sitting on the ground and my leg
was going the other way," Butler told the
Pittsburgh Post-Gazette. "Some days are bet-
ter than others. That was a bad day."
The injury was so devastating, doctors con-
sidered amputation and a staph infection
that settled in was nearly fatal, resurfacing
periodically to this day. He's had both knees
replaced, as well as back surgery to address
problems caused by vertebrae crushed during
his playing days.
Ralph Wilson, owner of the Buffalo Bills in
the new AFL, offered Butler a job as an assis-
tant coach in 1960, but the demands of the
job were too much for his knee to handle, so
he returned to Pittsburgh. He eventually
became a scout and in 1963 became director
of BLESTO (Bears, Lions, Eagles, Steelers
Talent Organization), the NFL's first scouting
combine.
Butler retired in 2007, culminating a 44-
year career that oversaw the scouting of
more than 75,000 NFL hopefuls. Dozens of
NFL personnel directors broke into the busi-
ness with BLESTO, including former Steelers
and Bills GM Tom Donahoe, who calls Butler
"one of my favorite all-time people I've met
in football."
The game that paid Butler the princely sum
of $72,000 -- total -- over his nine-year
career and left him with a knee his son Mike,
a former NFL scout himself, calls the "grossest
thing you've ever seen" is a game Butler feels
blessed to have played and served for more
than half a century. He has no regrets --
other than not getting to play wide receiver.
Surrounded in August at the Hall's induc-
tion ceremonies by his wife of 57 years, four
sons, four daughters, and 15 grandchildren
donned in the Steelers' bumblebee throw-
back uniforms, Butler was succinct and gra-
cious in his acceptance speech.
He spent less than four minutes thanking
his family, the Rooneys, the McGinleys and
the voters, and expressing his gratitude for
the life football gave him. Right after his
speech, Butler told the NFL Network,
"Sometimes it feels like you're dreaming still.
It's still hard to believe."
For his old friend Ted Marchibroda, the
"This should have come a long time ago,"
Marchibroda said. "Jack is a great person.
You don't find many people in this day and
age with the principles and the integrity Jack
has. They don't come any better than Jack
Butler."
(Missel is director of marketing and media
relations at St. Bonaventure.)
f taking a chance on an
undrafted kid out of St. Bona-
venture was the Steelers' best
personnel move of the 1950s,
cutting ties with a ninth-round
pick out of Louisville was
unquestionably the worst.
Jack Butler and the flat-topped
rookie were headed to Hickey
Dining Hall for dinner on the last
day of the Steelers' 1955 train-
ing camp at St. Bonaventure,
which hosted Pittsburgh's sum-
mer camp from 1952-1957.
Steelers Coach Walt Kiesling
pulled the rookie aside and told
him his services were no longer
needed. Butler, who would stay
after practice to catch balls from
the kid, was stunned.
"He threw the hell out of the
ball with that strong arm,"
Butler told the Buffalo News. "I
never could figure out why he
never got into practice."
Baltimore didn't mind. A year
after working in construction
and playing semi-pro ball for $6
a game, the quarterback was
signed by the Colts.
Johnny Unitas was inducted
into the Pro Football Hall of
Fame in 1979.
(NOTE: Unitas threw three
touchdown passes in his first col-
lege game -- a 22-21 loss to St.
Bonaventure in 1951.)
Butler witnessed
biggest mistake
Steelers ever made
No. 14, here at 1955 training camp,
excelled elsewhere as No. 19.