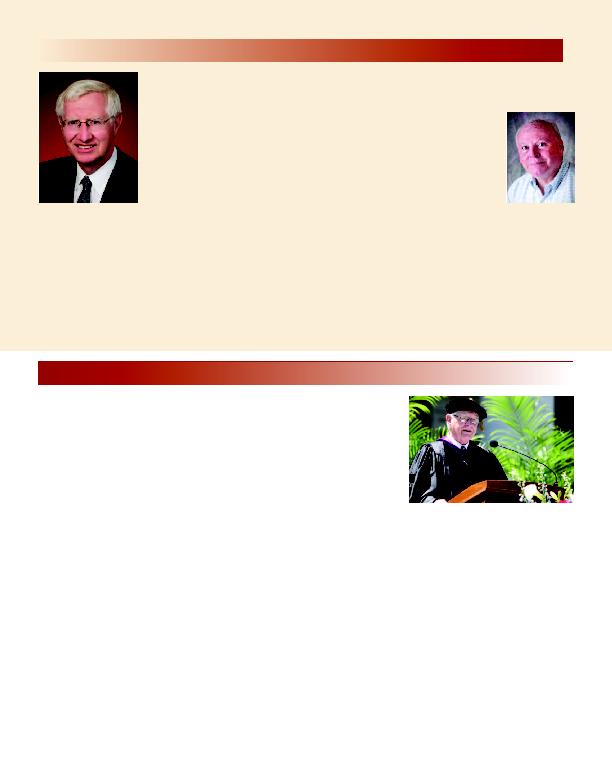 1949 -- Dr. John O. Grippo and his land-
mark dental research were lauded in a tribute
written by Dr. Harald Heymann and published
in the Journal of Esthetic and Restorative
Dentistry. View the article, "John Grippo: A
Modern Day Pioneer," online at
http://tinyurl.com/blkdnbz. For more than 20
years, Grippo has been on a mission to foster
research on a dental phenomenon called
stress corrosion. A senior lecturer in the
Biomedical Engineering Department at
Western New England University, Grippo has
authored another landmark paper that is
being reviewed by the Journal of Engineering
in Medicine and is starting an important study
on the effects of stress/biocorrosion of teeth.
"This may prove to be the answer for notches
that most people have at the gum line that
heretofore have been ascribed to toothbrush
abrasion," says Grippo, who practiced general
dentistry for 45 years. Grippo welcomes SBU
grads who are dentists to contact him at
meadownet@aol.com if they would like him
to present his lecture, "The Dynamics of
Occlusion," to their dental society. (Half of the
honorarium would go to St. Bonaventure).
1953 -- Edward A. Silvent, an 88-year-old
World War II veteran, was extended a formal
invitation by Andrew Schiavello, president of
Honor Flight Philadelphia, Springfield, Pa., and
its board of directors, to attend the inaugural,
guardian-supported Tour of Honor to
Washington, D.C., last April. The one-day tour
was offered free to veterans and included
stops at the memorials dedicated to them.
Although he could not attend, Silvent was
grateful for the invitation. Silvent served a
combined 12 years in the European, Asiatic
and Middle Eastern theaters. His military and
civilian specialties were air operations and
computer systems analysis, respectively.
Among his awards was a presidential citation
for his unit, the 94th Fighter Squadron, for
strafing, bombing, bomber-escort and rescue
missions. As a business student at Bona's,
Silvent assisted Fr. Fidelis O'Rourke, the busi-
ness dean, by typing labor arbitration docu-
ments, and he performed secretarial and
related duties for athletic director Fr. Silas
Rooney, basketball coach Eddie Melvin and
football coach Joe Bach. Silvent and his wife,
Marguerite, have been married 62 years and
live in West Wyoming, Pa. They have three
children. Vanderbilt University's Peabody
College of education and human develop-
ment awarded its Distinguished Alumnus
Award to clinical and developmental psychol-
ogist Donald J. Stedman during
Commencement ceremonies May 11, 2012.
Stedman earned his doctor of philosophy
degree in clinical and developmental psychol-
ogy in 1962 from George Peabody College
for Teachers (as it was then named). During
his career, Stedman held teaching positions
at Duke University, George Peabody College
and the University of North Carolina at
Chapel Hill. At the latter, he served as pro-
fessor of education and associate director of
the Frank Porter Graham Child Development
Center and as chairman of the Division of
Special Education. In 1990, he was appoint-
ed dean of the School of Education.
Although he "retired" in 1999, Stedman
would go on to found New Voices
Foundation, a North Carolina organization
that serves children with physical and com-
municative disabilities and counsels schools
to help meet their needs. He presently
serves as president and CEO.
1957 -- Richard Pardi and his wife, Cindy,
celebrated their 50th wedding anniversary
June 30, 2012. To give thanks for God's
presence in their marriage, they went as pil-
A Message from the 2012-2013 Alumni Association President
Alumni Association
BonAlumnus Updates
A
year ago, under the
leadership of Sr.
Margaret Carney,
O.S.F., her cabinet and the
trustees, St. Bonaventure
University adopted the Five-
Year Financial Forecast and
Strategic Plan to guide us
through the challenging and
ever-changing environment in higher education. In addi-
tion, the Board of Trustees just approved a comprehensive
strategic plan for Athletics that coincides with and supports
the university's global strategy through year 2015.
Monica Mattioli, executive director of Alumni Operations,
has the responsibility of spearheading the active engage-
ment of alumni in support of this strategy.
At our NAAB meeting in September, your alumni board
reviewed the goals set forth by the trustees and discussed
ways our committees (Chapter Relations, Development,
Franciscan, and Communications) could align our own
goals with those laid out in the five-year plan.
Corporate leadership trainer Bob Kane, class of 1978,
provided the framework for us to do a SWOT analysis
(Strengths, Weaknesses, Opportunities and Threats) and
then develop goals and strategies.
Bob assimilated the information and our committees
continued their work via conference calls, with the out-
come being an NAAB strategy aligned with the university
strategy.
The most critical component of our work is alumni
engagement -- and that audience includes everyone
reading this message. We need all alums "on deck" to strengthen our rela-
tionships with each other, increase chapter event attendance, recruit and
enroll more students, offer internships, support The Bonaventure Fund, pro-
vide scholarships, communicate with our deans, and enhance our outstand-
ing athletics tradition.
St. Bonaventure is the nation's oldest Catholic Franciscan University. Our
marketing slogan is centered on students "Becoming Extraordinary." We
need your partnership to continue our tradition of excellence at SBU, and
we welcome your thoughts about how alumni can participate more fully in
driving this strategy.
(Email Crowley at bobcrowley@atlanticbb.net.)
P
h
o
t
o

b
y

D
a
n
i
e
l

D
u
b
o
i
s
Bob Kane