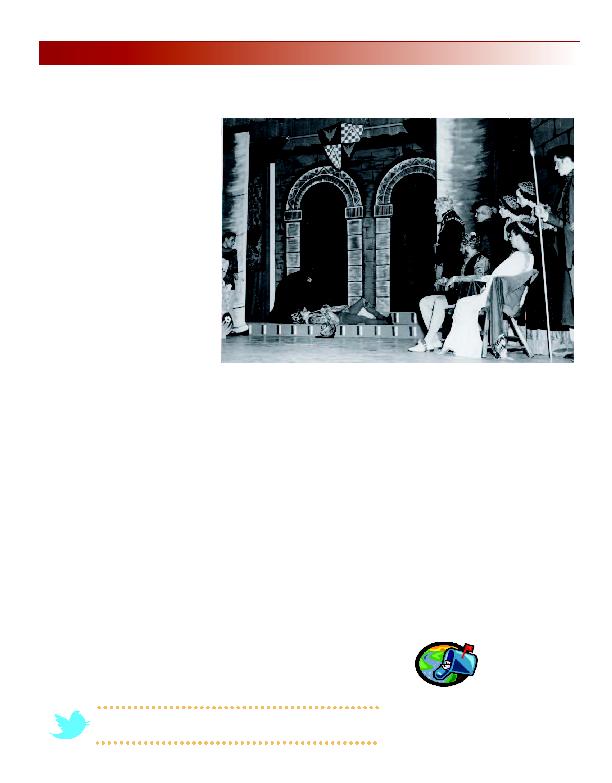 H
appy New Year from Bona's! One
of the highlights of this edition,
as promised in the summer issue,
is a feature on the remarkable football
career of Jack Butler. A member of SBU's
Class of 1951, Butler played nine sea-
sons as cornerback with the Pittsburgh
Steelers and was inducted into the Pro
Football Hall of Fame last August.
Butler's story is written by the university's
talented marketing and media relations
director Tom Missel, who was a sports-
writer in a previous life and the lead con-
tributor to the commemorative basket-
ball book "A Legacy Defined."
A packed football stadium wasn't the
only audience Butler performed in front
of while on campus.
Alumnus John "Jack" Aicher, '52,
shared the photo at the right from a stu-
dent production of "Hamlet" presented
during the 1949-1950 academic year.
Aicher, a self-described "skinny non-ath-
lete," and the muscular Butler were both
spear-carriers in the play. Regardless of
their role, all members of the cast were
required to attend every rehearsal,
demanded the director, Fr. Regis Galvin,
O.F.M.
"The result was that each one of us
could recite every line of the play for at
least several weeks after the last per-
formance," said Aicher. "Jack Butler
... has to be one of the few members of
the (Pro) Football Hall of Fame who has
more than a passing acquaintance with
the Bard of Avon, and especially what
has been often described as his greatest
drama."
Butler's presence in campus activities
other than athletics wasn't an anomaly
for that era.
King Claudius, Aicher recalled, was
played by Dick Miller, '51, starting guard
on the varsity football team, who was
known for his recitations of "The Face
On The Barroom Floor" as well as other
performances. Miller would go on to
serve for a while as a New York State
Assemblyman from Binghamton.
Classmate Jerome Hanifin, '52, was a
starting running back who set records
for his amazing feats on the gridiron but
also won Honorable Mention for the phi-
losophy medal his senior year. The medal
was won by J. Daniel Mahoney, a mem-
ber of the tennis team, who eventually
became a federal judge and a member
of the Second Circuit Court of Appeals.
"He apologized to Jerry Hanifin the
evening he found out he won the
medal," Aicher recalled. Hanifin became
a successful attorney and later a New
York State Judge of the Court of Claims.
And there's Fred Specht, starting cen-
ter, who was named Ideal Bonaventure
Man in 1952.
"These young men were representative
of the best of what was expected of col-
lege athletes. They all make us proud to
have known them, to value them as
friends and classmates and not just jocks,"
said Aicher.
More than six decades later, Aicher said
Butler's demeanor at the Hall of Fame cer-
emonies in Canton, Ohio, was impressive
as a representative of St. Bonaventure,
exhibiting his brevity and humor.
"I'm just glad to be here," Butler
remarked. At 85, still a crowd pleaser.
(Eberth is director of university communi-
cations at St. Bonaventure.)
Editor's Letter
Football was just another feather in Jack Butler's cap
Do you want to share an item from this edition? Use the Twitter hashtag
#BonaMag.
Joining John "Jack" Aicher (standing, far right) on stage were Jack Butler (standing, fourth
from right). The poisoner was George McPhillips, '52, the victim Hugh Donlon, '52. King
Claudius was played by Dick Miller, '51, and Polonius was played by John A. Regan, '50.
Submit your
news for the
next edition
· use the enclosed envelope
· email bonalumnus@sbu.edu
· fill out an electronic form at