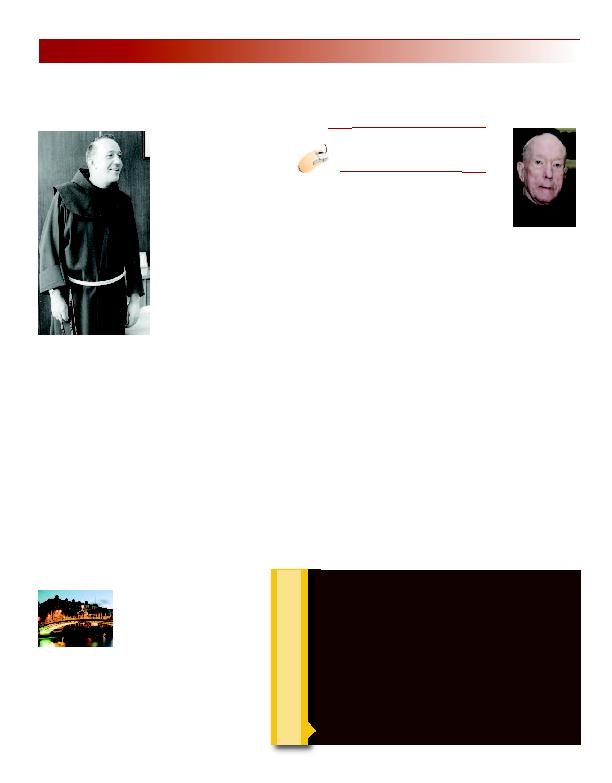 Campus News
F
r. Reginald A. Redlon, O.F.M.,
a professed Franciscan friar
for 68 years and the 15th
president of St. Bonaventure,
died Nov. 7, 2012, at Holy
Name Friary in Ringwood, N.J.
Fr. Reginald was St. Bonaven-
ture's president from 1967 to
1972, one of the more turbulent
times in U.S. history.
"Reginald faced unimaginable
internal and external challenges
tied to the religious, political and
social upheaval that characterized
the late '60s -- the peace move-
ment, the sexual revolution, and the
call for freedom from cherished tra-
ditions and almost anything that
seemed to be `expected' by social
convention," said Br. Ed Coughlin, O.F.M., vice president for
Franciscan Mission at St. Bonaventure and a 1970 SBU alumnus.
"Circumstances demanded that he make choices that touched
every aspect of academic and residential life at Bona's. A man of
integrity and principle, Reginald made the hard choices that he
believed were in the best interests of the university. He was
admired by many and the majority of his critics respected him."
Throughout his term as president, Fr. Reginald contributed
heavily to the St. Bonaventure we know today. He oversaw the
creation of the Faculty Senate along with increasing the number
of faculty members with terminal degrees. Fr. Reginald also
added laymen to the Board of Trustees, which up until this time
had all been members of the order. He took the time to com-
pletely revise the Administrative Handbook and began granting
college sabbaticals.
"In spite of the incredible tensions that marked his tenure, Fr.
Reginald was deeply admired by many faculty for his depth of
intellectual attainment and eloquence," said Sr.
Margaret Carney, O.S.F., university president.
"His memory and legacy will be preserved here
as they deserve to be."
In 1943, he was received into the Order of
Friars Minor of Holy Name Province at St. Bonaventure Friary in
Paterson, N.J. In 1944, he professed simple vows and in 1947, he
professed his final vows. He did philosophical studies at St.
Stephen Friary in Croghan, N.Y., and St. Anthony Friary in Butler,
N.J., and theology at Holy Name College in Washington.
Fr. Reginald served St. Bonaventure as an instructor of philoso-
phy and prefect of discipline at Christ the King Seminary -- locat-
ed on the campus at that time -- after his ordination in 1949. He
furthered his studies in Paris and the University of Friedsburg,
Switzerland, before receiving his doctor of philosophy from the
University of Louvain in 1955.
He was rector and superior at St. Francis (N.H.) College from
1961 until 1967. Fr. Reginald also served as pastor at several
parishes in New Jersey; as a trustee at Siena College (1967-70);
and as president of the Association of Catholic Colleges and
Universities (1970-72).
Throughout the years of his priesthood, Fr. Reginald conducted
many retreats for priests, religious and laity. He retired in 2003 to
St. Anthony Residence in Boston, before moving to Holy Name
Friary in Ringwood in 2010.
"Fr. Reginald was one of the giants of the Province. He was a
scholar and a gentleman and a man of great faith," said the Very
Rev. John F. O'Connor, O.F.M., provincial minister of Holy Name
Province and a university trustee. "I will never forget his fraternal
support for me and his enormous contribution to the life and wel-
fare of Holy Name Province."
Fr. Reginald Redlon: University's 15th president
remembered for his integrity, faith and scholarship
Read an expanded story about
Fr. Reginald and a tribute by
Sr. Margaret Carney: www.sbu.edu
Do you want to see if your former
roommate
really
looks like his
Facebook photo?
Join us for Reunion Weekend
R
e
u
n
i
o
n

W
e
e
k
e
n
d

2
0
1
3
We will honor class years ending in 3 and 8, but everyone
is invited. The registration form will be mailed in late
February. Let us know if you plan to attend, see who else
will be there, and get details at www.sbu.edu/reunion.
Join the Mychal Judge Center
and SBU on a 10-day journey to
Ireland as we see the sights, enjoy
the culture, hear from the people,
and learn the historic, social, polit-
ical and religious lessons that
make this region one of the most fascinating places on
earth. The Mychal Judge Center Tour of Ireland is from
June 25 to July 4, 2013, and guests will visit Dublin,
Galway, Derry and Belfast. The cost is $2,580 per per-
son and includes round-trip airfare.
For more information, contact Larry Sorokes at (716)
375-2304 or lsorokes@sbu.edu, or visit
www.sbu.edu/Ireland2013.
Alumni invited on Ireland trip