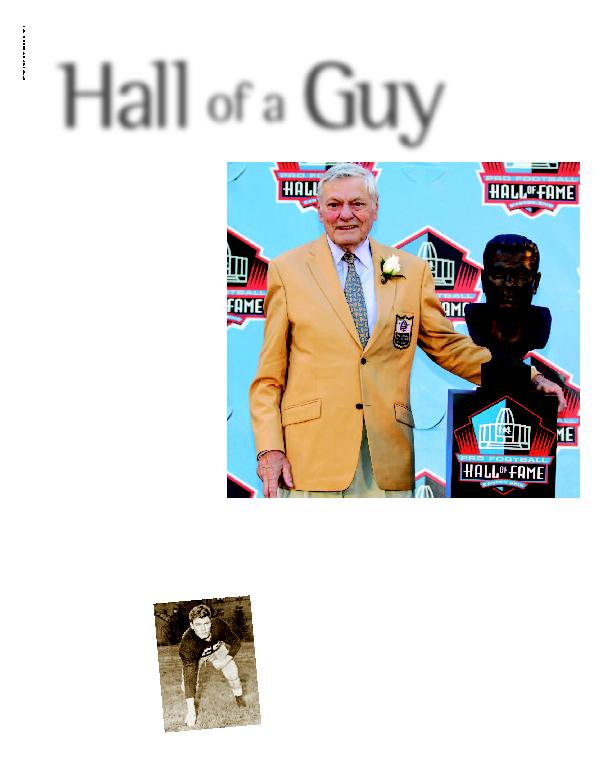 t worst, his job nearly killed
him. At best, it left him with
a lifelong limp, two knees he
wasn't born with, seven
crushed vertebrae, and inescapable pain
for the last 19,400-some days.
And when asked about the job -- one
he held for just nine years and one that
tormented him for the last 53 -- Jack
Butler pauses and gets a twinkle in his eye
like a kid on Christmas morning.
"I loved every minute of it," Butler, 85,
said with a beaming smile. "I loved the
game, the action, the friends I made ...
loved everything about it. I would have
played forever if I could have."
Forever seems how long it took for Jack
Butler, SBU Class of 1951, to get elected
to the Pro Football Hall of Fame, but the
call from Canton finally came on Feb. 4,
2012, the day before Super Bowl XLVI in
Indianapolis.
The call was anticlimactic.
The NFL invites finalists to the Super
Bowl site for interview opportunities in
case they are elected, so Butler and his
wife, Bernadette, daughter Maureen, and
son John hunkered
down in an Indy hotel
room. The league said
they'd call by 5:30, but
when 5:30 and 5:45
and then 6 p.m. passed,
pessimism filled the
room.
ready to pack up and
leave, but when they said
on TV they were about to
announce the new class,
we figured we might as well watch," said
Maureen Butler Maier, class of '78 and
the oldest of the Butlers' eight children.
"The first name they read was
Jack was the only one sitting,
but not for long. He jumped out
of his chair and threw his hands
over his head. The phone rang
"about 10 seconds later,"
Maureen said. "It was the Hall
of Fame, telling him he made
Later, he joked to his daugh-
ter, "they can't cut me or
trade me," and yet, on Super
Bowl Sunday, when the six
men in the class of 2012 were introduced
at the game, Jack was still in a state of
disbelief.
"The day after he was elected, he kept
asking me, `Is this for real? Is there anoth-
er vote?'" said John Butler, who present-
ed his dad for induction and helped him
unveil the bronze bust. "We were getting
ready to go to bed that night and he
looked at me and said, `100 percent
sure?' And I said, `yes, Dad, 100 per-
cent.'"
The bewilderment wasn't surprising.
Jack Butler never gave much thought to
making the Hall of Fame. His omission
was of far more concern to family and
friends.
Pain haunts him daily, but
Jack Butler, `51, wouldn't
change a thing about his
remarkable life in football
Jack Butler poses with his Hall of Fame bust in Canton, and (below) strikes a pose during a
photo shoot in front of Devereux Hall before the 1950 St. Bonaventure football season.