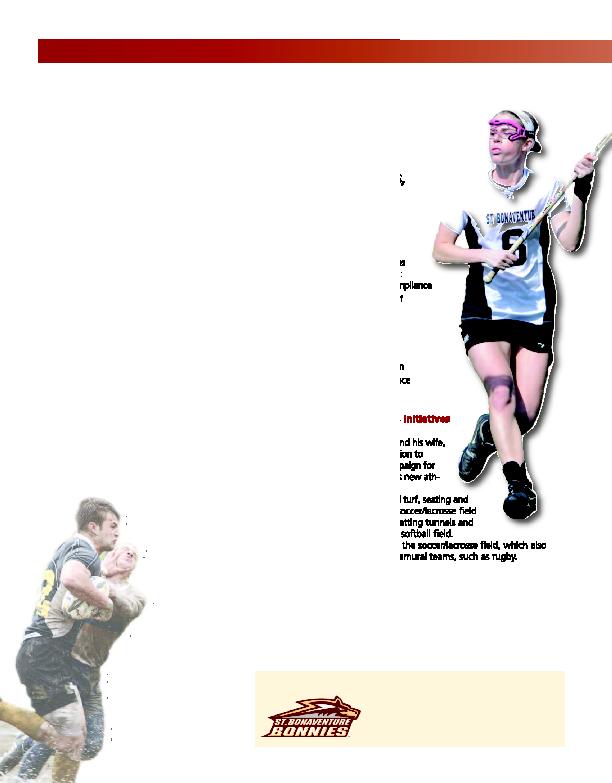 University outlines strategic plan for athletics,
announces $1 million gift to jump-start
athletics fields complex renovations
t. Bonaventure has unveiled the school's
first-ever comprehensive strategic plan for
athletics that positions St. Bonaventure to
repeat and surpass last year's success --
and not just on the basketball court.
"Your Teams ­ Our Extraordinary Future" is the
result of a two-year-long planning process, the out-
comes of which represent the university's commit-
ment to strengthening its position in the Atlantic 10
Conference and NCAA Division I as a key strategy to
support the global goals of the university.
"The success we achieved last year on the basket-
ball court was definitely a shot in the arm for our
planning effort, but it clearly wasn't the reason we
created the plan," said Sr. Margaret Carney, O.S.F.,
president of the university.
"Our university-wide efforts to create a best-prac-
tices planning and assessment paradigm presented
the opportunity for us to fully align the vision and
goals of athletics with the goals in the university's
strategic plan, Becoming Extraordinary 2015," said
Sr. Margaret. "We're creating a clear
connection between success in ath-
letics and the success of the uni-
versity as a whole."
Watson said the plan positions
the university to benefit from
significantly enhanced national
"Our vision is to be nation-
ally recognized for the aca-
demic and athletic excellence
of our student-athletes," said
Watson. "This, in addition to our
students' commitment to fair play
and sportsmanship, will show-
case the university's Franciscan
heritage to a growing national
Watson said the plan provides
the Bonnies with the tactical
framework to meet these expec-
tations.
Partnering with you today. Making a difference for tomorrow.
Extraordinary Future" includes
eight areas of strategic focus:
· strengthening NCAA compliance
· academic performance of
· athletic facilities
· annual revenue
· fundraising
· enrollment and retention
· athletic team performance
· staff compensation
Marras Support Athletics Initiatives
With $1 Million Gift
Tom Marra, class of 1980, and his wife,
Michelle, are donating $1 million to
jump-start the $3 million campaign for
construction of the university's new ath-
letics fields complex.
The project includes artificial turf, seating and
media facilities on both the soccer/lacrosse field
and the softball field. New batting tunnels and
bullpens are planned for the softball field.
Lighting will be installed at the soccer/lacrosse field, which also
can be used by club and intramural teams, such as rugby.
Six years ago, the Marras donated $900,000 to develop the uni-
versity's field-turf baseball complex, called Fred Handler Park at
McGraw-Jennings Field. Tom Marra was a third baseman for the
Bonnies and played for Coach Handler.
The Marras' two gifts are the largest ever given to the Department
of Athletics. The entire three-field complex will be named for the
Marras, but naming opportunities are still available for the softball
and soccer/lacrosse fields.
How to make a gift
To learn more about how you can help, con-
tact Steve Mest, '91, associate athletics direc-
tor, at (716) 375-2319 or smest@sbu.edu, or
Your teams
Our Extraordinary Future