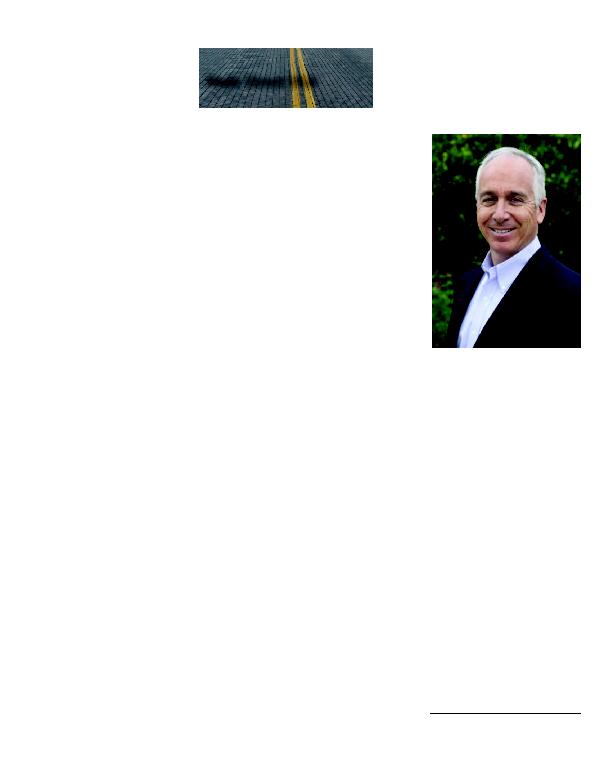 As the economy shows slow but steady
improvements,
how to stay polished even when the
forecast is gloomy
n the spring of 1980, as Paul
McDonald and fellow St. Bonaven-
ture accounting seniors scheduled
interviews with the Big 8 accounting
firms, the nation's workforce faced
high inflation and high unemploy-
Today, the Big 8 is now the Big 4, labor fig-
ures are still slowly rebounding several years
removed from the Great Recession, and
McDonald has made a career out of helping
others make employment changes.
Working for the world's largest specialized
staffing firm, Robert Half International (RHI),
for nearly 30 years gives McDonald a global
view of employment trends and the job mar-
ket at large.
He's senior executive director of the com-
pany, which specializes in the placement of
professionals in the accounting and finance,
technology, legal, creative and administrative
fields. Prior to this role, McDonald spent the
last 12 years as senior executive director of
Robert Half Management Resources. One of
seven staffing divisions, Robert Half
Management Resources specializes in the
placement of senior-level accounting and
finance professionals on a project and inter-
im basis.
The U.S. Job Market
What McDonald sees is a tale of two job
markets. Within the broad scope of high
general unemployment is a shortage of tal-
ent in many professions.
Nationally, the unemployment rate last fall
trudged slowly, hitting 7.8 percent in
September 2012, 7.9 percent in October and
7.7 percent in November. But a closer look at
specialized areas shows an unemployment
rate that is much lower, particularly for those
in finance, accounting, technology and legal
fields.
As companies look for skilled talent, they're
often finding that college grads are in short
supply because more job opportunities have
made professionals more selective.
Here's a snapshot of the unemployment
rate for some select positions*:
· financial managers -- 2 percent
· accountants/auditors -- 4.1 percent
· computer systems administrators -- 1.7
· database administrators -- 3.1 percent
· software developers -- 2.3 percent
· advertising managers -- 1.1 percent
· web developers -- 4.3 percent
· human resources assistants -- 1.3 per-
· licensed attorneys -- 1 percent
"It's better out there than people think it
is," McDonald said. "If you do find yourself
in the job market, 2013 is looking brighter
for skilled individuals."
Complementing the increase in hiring are
projected increases in salaries. Research by
RHI predicts starting salaries will rise moder-
ately across the board, particularly in hot spe-
cialty areas.
"Technology folks are leading the charge
(5.3 percent), with creative/marketing next
Paul McDonald, '80, is senior execu-
tive director of Robert Half Inter-
national (RHI). RHI has 400 offices
worldwide and annual revenue
approaching $4 billion.
Main Street USA
(3.5 percent)," McDonald said.
That compares to the broader labor
market, where the Bureau of Labor
Statistics reports that most companies
anticipate salary increases of between
2 and 2.5 percent in 2013.
Job Skills 101
Whether someone is approaching
his first year of employment or his
last, McDonald advises balancing
one's technical skills with critical soft
skills to ride the wave of the next
economic storm.
"Keep your technical skills sharp.
You can evaluate and assess them
through peer networking and scan-
ning the help wanted lists online.
Those will give you a sense of
what's hot, what's relevant and
what's not," he said.
* Data from the third quarter of 2012,
Bureau of Census for the U.S. Bureau of
Labor Statistics.