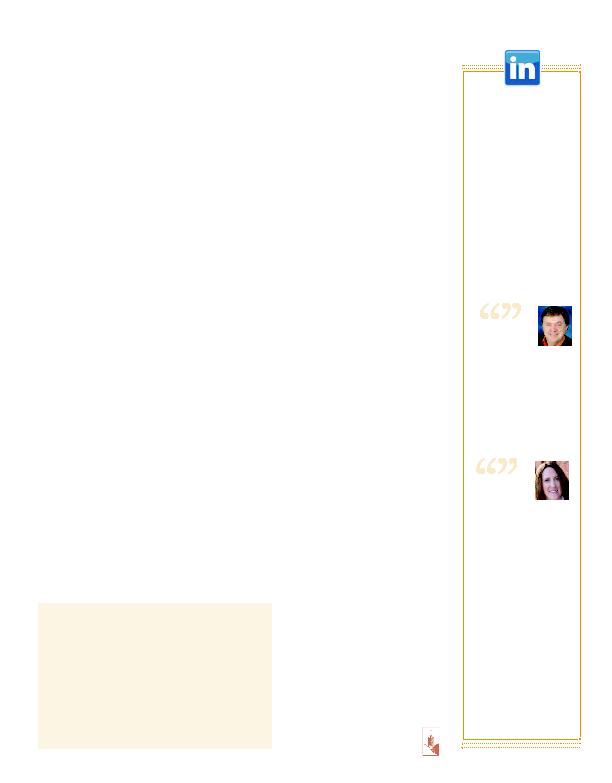 But when preparing for job interviews,
McDonald says, "you can't overrate the likeability
factor.
"It's important to work on your verbal presenta-
tion, your writing skills and your ability to work
with different personality types to get a step
ahead," said McDonald. "Most people don't
spend enough time honing those. The baseline is
the technical skills. No matter what industry, the
technical skills get you the audition. It gets you the
interview, the opportunity to get promoted. But if
all is equal on the technical skill side, then it may
come down to the soft skills," he said.
He preaches what he practiced. Taking public
speaking courses during his junior and senior years
at Bona's helped him tremendously.
"The ability to be flexible in communication, to
see the other side of the conversation, and appre-
ciate the other point of view is essential. That has
been a key learning point for me for more than 30
years," McDonald said.
As part of an active job search, McDonald rec-
ommends supplementing traditional strategies
with volunteering, networking online and in per-
son, and staying physically active to keep energy
levels up.
"Volunteer your time in some socially responsible
cause. It keeps you active and gives you some
diversion in your day," he said.
From Birth to Boomer
Soon-to-be and recent graduates may find it dif-
ficult to secure that first job, McDonald acknowl-
edges, but that's all the more reason to "fight
hard and keep working toward your goal."
That "fight" should start with aggressively seek-
ing internships -- a great way to audition for a
future job -- mixing online and in-person net-
working, and pursuing interviews with firms that
come to campus. With baby boomers as the
largest demographic of employees in the country,
the retirement of experienced workers is causing
some companies to panic.
"Corporate America is facing a brain drain,"
McDonald said. "(But) I view this as a positive for
workers willing to continue on in their career. They
have experience, and marketing that expertise is
critical."
He also advises job seekers to stay current with
technology and be willing to relocate.
Even during an economic downturn, companies
look for ways to maximize efficiencies in organiza-
tions. They often do this by investing in system
upgrades and new technologies. Therefore, it's
imperative for professionals to stay current on tech-
nology.
"Really think hard about your geographical
mobility," added McDonald. "Broadening your
search beyond your local area can enhance your
opportunities to find a position and perhaps your
dream role. The more opportunities you give your-
self, the greater the chance you'll be successful,"
he said.
As the economy has shown signs of improve-
ment, people have become more active in looking
for positions. And, those who have stayed put in
their roles during difficult times might now consid-
er making a switch. McDonald advises these pro-
fessionals to think carefully about their motivations,
and resist the temptation to make the jump for
salary alone.
In a survey Robert Half conducted about the top
reasons people leave their companies, the No. 1
factor was not getting along with their supervisor,
followed by a lack of advancement opportunity
and lack of recognition. Salary came in fourth
place.
"Keep these points in mind and do your assess-
ment accordingly on your needs and priorities.
Gauge your fit with your potential manager, the
corporate culture and the growth opportunities
before making a final decision. If you have ques-
tions about anything, ask the hiring manager for
clarification," McDonald said.
Armed with his accounting degree from Bona's,
McDonald's first job was with accounting giant
Price Waterhouse in Buffalo. From there he moved
on to a startup. In 1984, he headed to Boston to
work for Robert Half, where he parlayed his busi-
ness background into becoming a recruiter for
financing and accounting professionals.
"St. Bonaventure set me up for success
by giving me a great foundation in the
School of Business for what I needed to
know technically, and a well-rounded edu-
cation when it came to the arts. My phi-
losophy classes were invaluable to me. I
also took some journalism courses. When I
did start to interview with the major
accounting firms, I was set up for suc-
cess," he said.
(Eberth is director of university communi-
cations at St. Bonaventure.)
I
N

2
-
2
We asked for career advice --
and you answered! The Alumni
Office posted the question
"What has worked for you?"
to members of the LinkedIn
alumni group's more than 4,000
members. Thank you all for your
responses and willingness to
share career tips with fellow
Bonnies. Here is a selection of
the responses. To read more, go
to the magazine's website:
www.sbu.edu/bonamag
.
A Word
of Advice
risks as a volunteer; if you fail
it's not fatal to your career. It's
unbelievable the people you
will meet.
~ Tom Schwenk, '78
this advice for May 2013
graduates:
your job search, start now.
working connections as
you can: social networks
and face to face.
devote enough time to
your career each week.
Use the SBU Career &
Professional Readiness
Center.
job may be one of the
hardest jobs to obtain.
Pomp, Circumstance and a Plan
is going to see about you. Polish
it and make sure it shows you in
the best possible light. 2. Network
every opportunity you get. You
never know when that casual con-
versation is going to turn into
something big. 3. Don't limit your-
self. If an interesting opportunity
comes by, and you believe you can
do it, go for it! My Bonaventure
education has prepared me for so
many career opportunities that
have little to do with what I thought
I'd be doing when I was still in
school.
~ Mary (Lederman) Sutton, '95