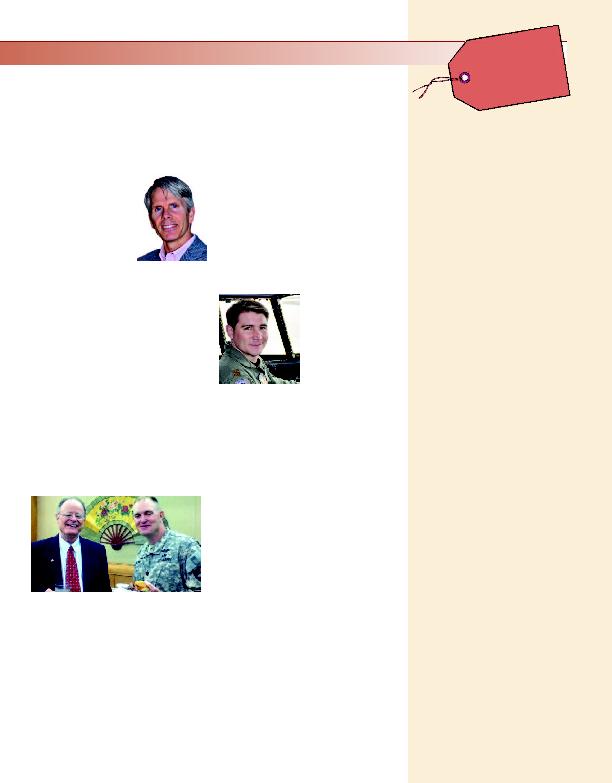 included the number of nominations received,
the number of years of experience in the
Dynamics space and the number of votes
received. This was the second consecutive year
McAdam was nominated for this ranking but
the first time he has made this list, which was
first published in 2009. The entire list is avail-
able at www.dynamicsworld.co.uk/top-100/.
Paul Monahan launched
a coaching and consulting
practice in the spring of
2012, specializing in sales
and leadership coaching
with corporate and indi-
vidual clients. He lives in
Cleveland with his wife,
Paula (Hahn), '89. They
have three sons. In
October, Monahan led a team of friends and
colleagues -- including SBU classmates Jim
Froetscher and Marie (Carter) Lux -- across
the Grand Canyon in the first Steps for Soldiers
Charity hike to support Wounded Warrior
Project (see Page 33).
1988 -- Michael Fossaceca was named "One
of the 100 Most Influential People In Finance"
in Treasury and Risk Magazine's June 2012
issue. Fossaceca is a managing director and
head of North America Client Management
and Marketing for CitiBank's Transaction
Services business.
1989 -- Classmates Laura Suttell and Lee
Herman reunited in July, taking in a yoga class
and a vegan lunch on the Upper East Side of
Manhattan.
1991 -- Lt. Col. Jeremy P. McGuire took
command of the 15th Field Artillery Battalion,
1st Brigade, 2nd Infantry Division at Camp
Casey, South Korea, in June 2012. McGuire
served as an enlisted Infantryman with the
10th Mountain Division. As a radio telephone
operator and rifle team leader he deployed to
Somalia in 1992-1993. He was commissioned
as a second lieutenant of artillery from Officer
Candidate School in 1994. As a captain, he
served as fire direction officer and Bravo
Battery Commander for 4-1 Field Artillery at
Ft. Riley, Kansas, and led his battery during
an intrinsic action rotation to Kuwait.
McGuire next deployed to Iraq as part of the
Multi-National Corps Headquarters, followed
by deployment to Afghanistan as Police
Mentor Team Leader. Most recently, he com-
pleted an assignment in Afghanistan at the
NATO International Security Assistance Force
headquarters as a member of the Afghan
Hands program, where he served as Senior
Watch Officer facilitating communication
between the president of Afghanistan and the
ISAF commander.
1992 -- John Boccieri assumed command
of the 773rd Airlift Squadron at the
Youngstown Air Reserve Station during a
change-of-command
ceremony in June 2012.
Boccieri, an Air Force
Reserve lieutenant
colonel and native of
Youngstown, Ohio, for-
merly served as the U.S.
representative for
Ohio's 16th District. The
773rd Airlift Squadron,
one of the oldest airlift squadrons that still
exists today, trains and equips unit personnel,
supports daily mission requirements and pro-
vides mission-ready support and aircrew per-
sonnel capable of supporting airland, airdrop
and aeromedical combat operations.
1995 -- Jessica (Gowlis) Sciarretto was
named assistant director of Student Services of
the Pomperaug Regional School District 15 in
Middlebury, Conn.
1996 -- Kevin Higley was promoted to
Western Ohio sales manager for Arthrex
orthopaedic surgical devices. Higley has been
with the company for nine years. He lives in
Cincinnati with his wife, daughter and son.
Kimberly (Balthaser) Kayiwa, of counsel
with the law firm of Segal McCambridge
Singer & Mahoney, Ltd. in Chicago, was
involved in one of two unrelated cases handled
by the firm, both of which involved charges of
wrongful death. The two cases ended within
days of each other with the same result: the
jury siding completely with the defense. The
two cases, and the fact they concluded so
close together, raised media interest, including
articles in The Chicago Daily Law Bulletin and
the Defense Research Institute's For the
Defense newsletter. The case in which Kayiwa
assisted involved issues of professional liability
in the medical malpractice area. Read more
Lt. Col. Jeremy McGuire, '91, and his dad,
Patrick McGuire, '68, are pictured at Lt. Col.
McGuire's change of command ceremony.
We've lost touch with a number of
alums and need your help! Of the
many missing alumni, our hope is to
start finding lost alumni who will be
celebrating their reunion in 2013. If
you know the whereabouts of the fol-
lowing alumni, please let us know at
www.sbu.edu/foundalumni.
John H. Casey, '53
Alfonso J. Falzarano, '53
Robert W. Bennett, '63
Roseanne W. (Wesley) Critchlow, '68
Thomas D. St. Amand, '73
Kevin P. Eaton, '78
James P. Herbert, '78
Anne M. Abercrombie, '83
Patricia A. (Perryman) Carlson, '83
Cara A. Countermine-Myers, '83
Mary L. Cuccaro, '83
David J. Mottes, '83
John E. Mullane, '83
Roger A. Pratt, '83
Charmaine L. (Crooker) Weinstein, '83
David A. Baxter, '88
Laurie A. Corwin, '88
Patricia A. Frocchi, '88
Margaret F. (Lauer) Keller, '88
Sean M. McCarthy, '88
Tracy M. Mulvaney-Bush, '88
Mark A. Vigneron, '88
Daniel E. Barry, '93
John Domagalski, '93
Jennifer A. Elvin, '93
Tammy L. Paugh, '93
Michael Pendred, '93
Matthew G. Ryan, '93
Christopher J. Stagnitta, '93
Tracey L. Underwood, '93
Christopher L. White, '93
Melissa L. Bednarek, '98
Melissa M. (Kreavy) Blanchard, '98
Jennifer L. Davies-Von Iderstein, '98
Kathryn L. MacQueen, '98
Jason C. Paige, '98
Kimberly M. (DeLellis) Saroney, '98
Rebecca A. Smith, '98
Carrie J. Walker, '98
Sara E. (Moore) Wise, '98
Rachael A. (Markarian) Witzleben, '98
Michael A. Wren, '98
Anne C. Root, '03
Alex M. Bauer, '08
Stephanie L. Fosnight, '08
Justin K. Frisbie, '08
Scott C. Jordan, '08
Kyle D. Pasi, '08