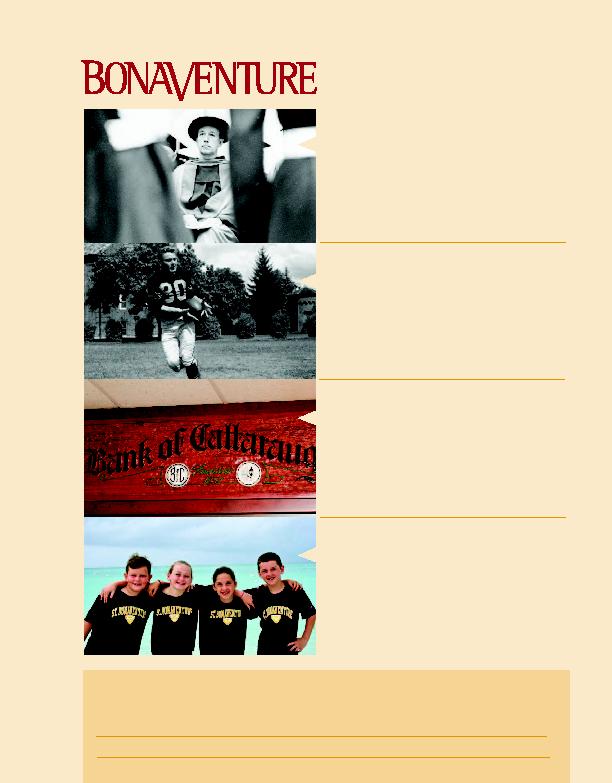 Editorial Advisory Board
Beth Eberth, editor
Susan Anderson, '11
Lisa Biedenbach, '76
Br. F. Edward Coughlin, O.F.M., '70
Mary Driscoll, '79
Vol. 5, No. 1, Winter 2012-2013
St. Bonaventure, NY 14778
On the Web: www.sbu.edu/bonamag
Submit class notes: bonalumnus@sbu.edu
Address changes: alumni@sbu.edu
Additional contacts: Office of Alumni Services, (716) 375-2302
Bonaventure: The Magazine of St. Bonaventure University is produced twice a year by the Office of Marketing and Communications.
The Magazine of St. Bonaventure University
University remembers former president
Described as "one of the giants of the Province,"
Fr. Reginald A. Redlon, O.F.M., a professed
Franciscan friar for 68 years and the 15th president
of SBU, died Nov. 7, 2012. Fr. Reginald was universi-
ty president from 1967 to 1972, one of the more
turbulent times in U.S. history.
Butler in a league of his own
Jack Butler, '51, one of the newest members of the
Pro Football Hall of Fame, retired with the second
most interceptions in NFL history at the time. Not
bad for a guy no one recruited to play college foot-
ball, a guy who didn't know where to put the thigh
pads until his freshman year at Bona's.
Cover stories
As nationwide job growth remains modest,
SBU alums share how things look from their
perspectives on Main Street USA.
Departments
Editor's Letter . . . . . . . . . . . . . .4
Franciscan Minute . . . . . . . . . . .5
Campus News . . . . . . . . . . . . . .6
Our Gifts. Their Future . . . . . .8
Off the Shelf . . . . . . . . . . . . . .24
BonAlumnus . . . . . . . . . . . . . 26
Honor Roll of Donors . . . . . . .36
Joe Flanagan, '74
Steve Mest, '91
Tom Missel
Dr. Todd Palmer
Carri (Gregorski) Prue, '04
Dr. Emily Sinsabaugh
Jordan Steves, '09
Mary Jane Telford, '75
Jocelyn Thomas, '77
Contributors
12
15
6
Photography
Michael Hastings
Craig Melvin