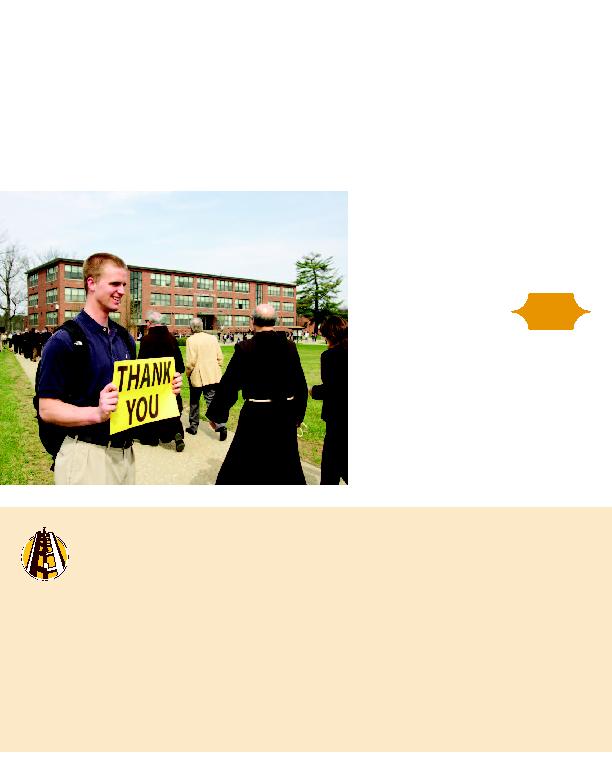 Making a difference for tomorrow
June 1, 2011 - May 31, 2012
cademics that inspire. Award-winning stu-
dent outreach organizations. Athletics vic-
tories. Alumni who are succeeding and
leading the world over. These are just a few exam-
ples of the power of your gifts to St. Bonaventure
University.
Through your generosity, you help establish pathways
to internships, graduate school, and
careers for our students. You also
help fund student scholarships,
allow faculty to enhance their pro-
grams with the latest technology and
information available, and provide stellar student
services, such as The Career and Professional
Readiness Center. In short, you provide resources that
help change the lives of St. Bonaventure students.
Thank you for partnering with us in making a differ-
ence for tomorrow.
Pax et Bonum,
Sr. Margaret Carney, O.S.F., S.T.D.
University President
President's
Message
A partial list of Fiscal Year 2012 donors was included
in the print version of Bonaventure magazine.
To view the complete Honor Roll of Donors,
please click anywhere on this page
or visit
www.sbu.edu/donorhonorroll
EXCLUSIVE WEB CONTENT FOR
ST. BONAVENTURE ALUMNI AND FRIENDS