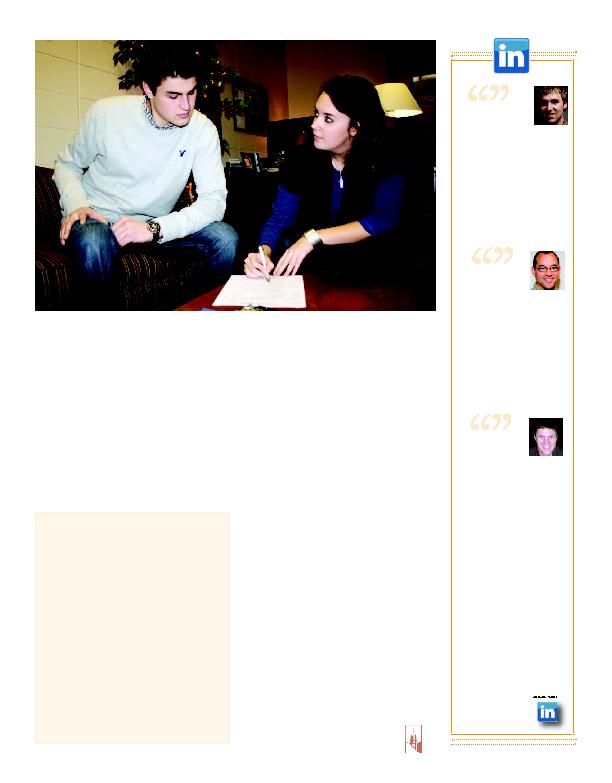 and learn to manage it. 3. Go
global; embrace any international
opportunity that comes your way.
4. Learn how to manage and
organize information. 5. Manage
time well. It is your most valuable
asset.
~ Dan Panzica, '73
lect her degree in early childhood, special and
elementary education last spring, she knew she
had her work cut out for her.
Schaaf figured she would be substitute teach-
ing and working a second job to make ends
meet until the economy improved.
"I was very nervous about finding a job after
graduation," she said. "I knew way back when I
was deciding what university to attend what I
was getting myself into."
Schaaf visited the CPRC to build her résumé
and practice several mock interviews with
InterviewStream, a Skype-like interview rehearsal
program that allows participants to critique and
improve on their weaknesses.
"I felt prepared for my interviews, confident in
my interview skills and calm about my ability to
answer questions," she said. "I knew what to
wear, what my strengths and weaknesses were
and how to present myself."
Just a few weeks after graduation, Schaaf was
hired to teach low incidence special education at
Robinson Secondary School in Fairfax, Va. She
teaches English and mathematics to students
with severe intellectual disabilities and helps
coach the girls JV and varsity basketball teams.
Whitcomb admits that finding employment in
this economy takes a great deal of flexibility. Not
every Bonaventure graduate will be as fortunate
as Bonanno and Schaaf.
"Everybody should have a contingency plan,"
Whitcomb said. "It's not terribly beneficial to be
singularly sighted and say, `this is what I want to
do and this is the only thing I want to do.' These
times are calling for flexibility and adaptability on
the part of college graduates."
Whitcomb said that CPRC staff members work
with students to broaden their knowledge base
and raise awareness of the possibilities their edu-
cation provides them.
"It's about broadening a student's awareness of
the possibilities, and coming back to assisting
them in articulating their personal brand impact-
fully so that they speak the language the employ-
er is looking for," she said.
(Vitron is enrolled in SBU's Integrated
Marketing Communications program.)
I
N

2
-
2
listen. 4. Learn to ask ques-
tions. 5. Distinguish sense from
nonsense. 6. Accept change as
inevitable. 7. Admit mistakes.
8. Say it simply. 9. Be calm.
10. Smile.
~ Cole Racho, '90
CPRC career counselor and employer relations coordinator Pamela Burdick offers résumé suggestions
to Joshua Piegay, a December sport studies graduate.
in professional development to be
ahead of the game. Read often,
take courses and don't underesti-
mate the power of handwritten
thank-you notes.
~ Charlie Riley, '01, '03
SBU's LinkedIn alumni group has
more than 4,000 members. If
you haven't logged on lately,
check out the discussion board
for advice, or the opportunity to
help a fellow Bonnie with a
career move. Don't forget about
joining one of the nine sub-
groups (and more to come!).
Ready to join? Go to
www.sbu.edu and click on
the LinkedIn logo at
the top of any page.
Consultation for résumé critique and
the clarification of job search strategy.
Contact the CPRC main office to set up
an appointment.
Access College Central Network, SBU's
online database of jobs and internships.
Review online resources for résumés,
cover letters and interviewing skills.
Discover comprehensive resources for
your graduate school search.
Check out key job search websites
based on a variety of criteria, including
career field, location and more.
www.sbu.edu/CPRC
Learn more about
services for alumni