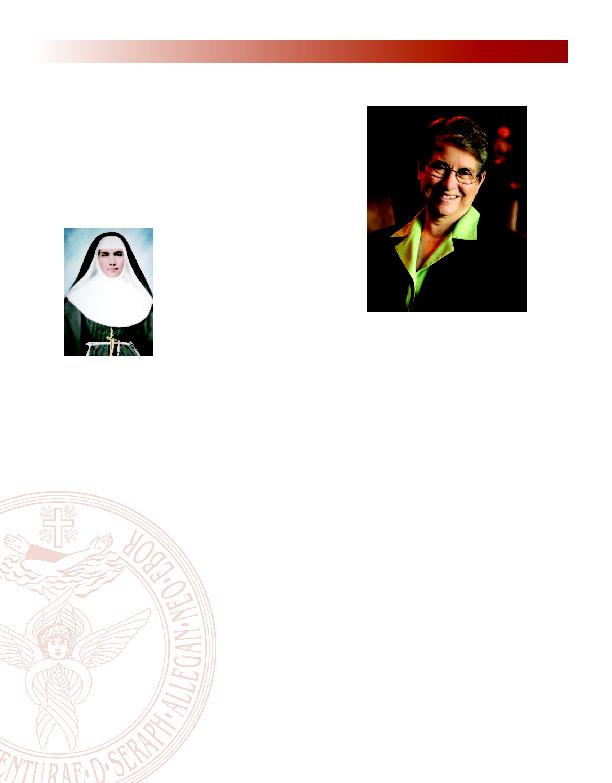 I
N

2
-
2
From the President
here are many momentous occasions, accomplish-
ments, celebrations and losses that will mark the year
just passed. And, while we hold all of these experi-
ences close to our hearts, among the things that I
will always remember when I think of 2012 is the
canonization of Mother Marianne Cope.
On Oct. 21, 2012, she officially became Saint Marianne Cope
-- the first American Franciscan to be canonized.
While she is most widely known for her
extraordinary service on the island of
Molokai where she ministered to those
suffering from Hansen's disease (lep-
rosy), St. Marianne founded two hospi-
tals in Central New York and is credited
with the establishment of groundbreak-
ing medical education programs as well
as sanitation processes and medicinal
products that prevented the spread and
advancement of disease.
The occasion of St. Marianne's canonization spawned the pro-
duction of a one-hour documentary, "An American Saint," by
way of a partnership between Syracuse's NBC, CBS, and CW
television affiliates (collectively known as CNY Central), and the
PBS affiliate, WCNY-TV/FM. St. Bonaventure's very own Jim
Aroune, '87, vice president for Radio and TV for WCNY, served
as executive producer for the work.
I strongly recommend that you take the opportunity to watch
the film as it airs on PBS affiliates nationally (it is also available
for purchase at
www.wcny.org/television/saint
venture University is a proud sponsor of the documentary.
St. Marianne became strong by following each day's call to
hard work with reliance on God's gifts. That is a path anyone
can follow, and so she gives us a chance to see holiness in the
Board Chair
Board Vice Chair
Fr. Frank R. Sevola, O.F.M., '82
Board Secretary
Lana D. Benatovich
Janet I. Bodnar, '71
Laurie A. Branch, '04
St. Bonaventure University Board of Trustees
Timothy F. Fidgeon Esq., '66
Timothy J. Finan
Thomas M. Garvey, '74
Albert C. Horton, '66
Robert S. King, '80
Dr. Bharat Kohli
Fr. Fred A. Link, O.F.M.
James E. Meyer, '76
Eugene M. O'Connor, Esq., `79
Rev. John F. O'Connor, O.F.M.
Fr. Kenneth P. Paulli, O.F.M.
William Purcell III
Leslie C. Quick III, '75
John V. Sponyoe, '61
James E. Stitt
Marvin W. Stocker, '75
Bernard E. Stoecklein
Vincent R. Volpe Jr.
Celebrating the first American Franciscan saint
everyday experience of doing our
jobs.
I offer my wishes that all of the stu-
dents, faculty, staff, alumni, trustees
and friends of St. Bonaventure
University experience joy and fulfill-
ment in the new year, as well as trust
in God's divine wisdom in times of
struggle. And, may we all be guided in
2013 by the wisdom of St. Marianne,
who said in 1905, "Let us make best
use of the fleeting moments. They will
not return."
Pax et Bonum,
Sr. Margaret Carney, O.S.F.
President of the University
Trustees Emeriti
The Hon. Howard M. Holtzmann
Robert R. Jones, LL.D., '58
Charles Osgood, LL.D.
James E. Canty, '84
James J. Cattano, '65
Daniel F. Collins, '73
William M. Collins, '76
Kathleen A. Colucci, '77
Fr. Thomas E. Conway, O.F.M.
Robert D. Crowley, '71
Joseph A. DeMaria, Esq., '79
Colette C. Dow, '88