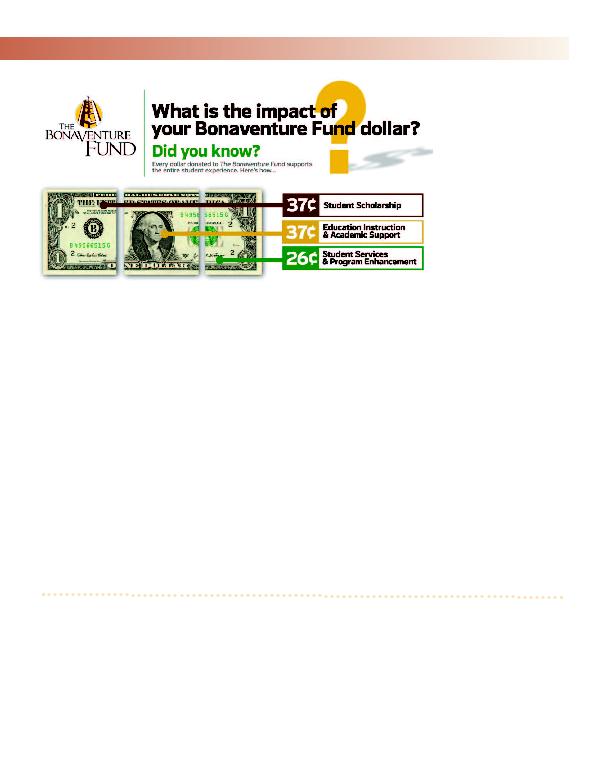 I
N

2
-
2
www.sbu.edu/donate
Some of the largest gifts made to St. Bonaventure have
arrived in small amounts, over a long period of time.
You can increase your annual support by making manageable
contributions through the Recurring Gift option.
Registering for a recurring gift is simple and easy to do:
www.sbu.edu/donate
2.) Select "recurring gift"
3.) Choose a frequency option -- weekly, monthly,
4.) Decide when the gift will be automatically charged to
your credit card or withdrawn from your bank
account
5.) Complete the billing information
6.) Relax knowing that you planned ahead and saved
resources, all at the same time!
Make the maximum impact with your gift while making
manageable contributions -- register for a recurring gift
today!
So much depends
On You.
The following statistics show
how critical every donated
dollar is to the current and
future students of St. Bona-
venture University.
1,860
scholarships, grants or
financial assistance
packages were distributed
to St. Bonaventure students
in 2011.
$25 million
awarded in scholarships
and grants,
$743,000
came from The Bonaven-
ture Fund.
95%
undergraduate students
attending St. Bonaventure
receive financial assistance.
440 graduates
felt the impact of your
giving as they were
recipients of aid to attend
St. Bonaventure University.
On average, each student
will
save 25%
what they would have had
to borrow as a student loan,
thanks to scholarship
support from The
Bonaventure Fund.
Student Scholarship
Approximately 95 percent of St. Bonaventure
students receive financial assistance. Gifts
toward student scholarships ensure that
deserving students are allowed the opportuni-
ty to achieve the education of their dreams.
Education Instruction &
Academic Support
Funding from The Bonaventure Fund allows
faculty the opportunity and the flexibility to
enhance their programs with the latest tech-
nology and information available, thereby pro-
viding a top-quality educational experience for
students. This funding also includes factors
critical to academic support, such as instruc-
While all giving to the university is valued, there is really nothing more
important than your annual gift to The Bonaventure Fund. This is the
fund that makes our generous scholarships possible and ensures that
deserving students are allowed the opportunity to achieve the educa-
tion of their dreams -- a St. Bonaventure education.
tional technology and library enhance-
ments.
Student Services &
Program Enhancement
There are many programs and services pro-
vided annually through The Bonaventure
Fund that support the total needs of our
students. These include: The Career and
Professional Readiness Center; health and
wellness services; intramurals, club sports
and fitness activities at the Richter Center;
intercollegiate athletics; University
Ministries; Franciscan mission; student
clubs and associations; and all student life
activities.
The gift that keeps on giving