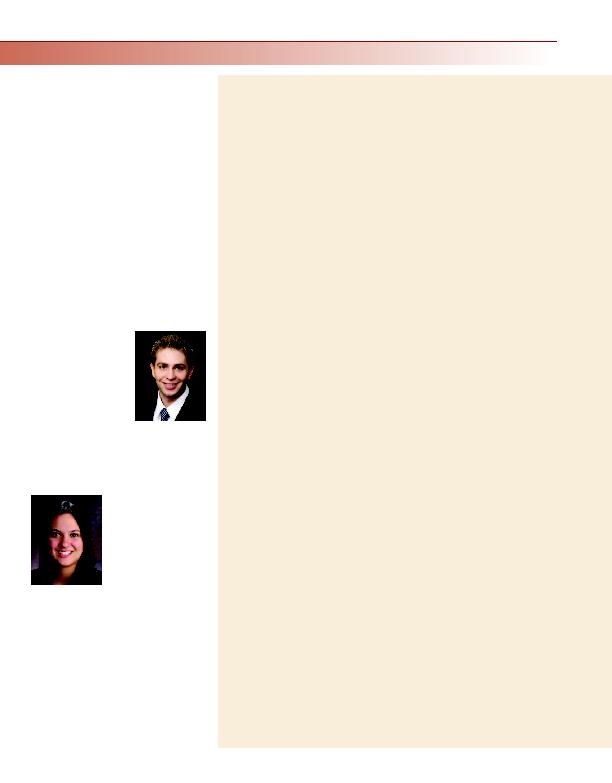 tion, "Structure-Property-Processing
Correlations in Chitosan-based Porous
Hybrid Materials," at Drexel University in
November. Her Ph.D. in Materials Science
and Engineering was awarded in December
2012. Christopher Ekimoff, a senior asso-
ciate at financial advisory and investment
banking firm Duff & Phelps, was selected as
one of 36 CPA's under the age of 36 to par-
ticipate in the American Institute of CPAs
4th Annual Leadership Academy in Durham,
N.C. Ekimoff joined peers in the accounting
profession from across the country to learn
leadership theory and strategic planning
techniques, develop tools for handling com-
plex management challenges and discuss
the most important issues facing CPAs and
the accounting industry.
2009 -- Jennifer Sherman joined the
office of Congressman Brett Guthrie (R-Ky.)
as communications director.
2010 -- Erik M. Seeger,
a staff accountant at
Lumsden & McCormick,
LLP, has earned CPA des-
ignation. Seeger is
responsible for compli-
ance and tax planning
services to individuals
and businesses. He lives
in Orchard Park. Ariel Z. White is stationed
in St. Vincent and the Grenadines in the
Caribbean with the United States Peace
Corps. Her field of service is literacy and
health education.
2012 -- Sara E.
Flaherty joined
Buffamante Whipple
Buttafaro, P.C., as a staff
accountant in the firm's
Jamestown office.
Flaherty will be involved
in preparing financial
statements related to
compilations, reviews and audits, as well as
preparing tax returns for a variety of individ-
ual and business clients. Maria Hayes is
communications coordinator for Holy Name
Province in New York City. The largest of
seven provinces in the United States belong-
ing to the Order of Friars Minor, Holy Name
Province has ministries in 11 states along
the East Coast, including the friar communi-
ties at SBU, St. Bonaventure Parish in
Allegany, and Mt. Irenaeus. Prior to working
for Holy Name Province, Hayes was a
reporter for Warsaw's Country Courier in
Warsaw, N.Y., covering Wyoming County.
Donald W. Farley, '37, Norwalk, Conn.
Frank A. Cocilovo, '39, Monroe Township, N.J.
Walter J. Sullivan, '40, Boynton Beach, Fla.
Dr. Eugene A. Sermak, '41, Green Brook, N.J.
Msgr. Leo E. Hammerl, '42, Tonawanda, N.Y.
William J. Smyth, '43, Pompano Beach, Fla.
Edward Wintermantel, '45, Plant City, Fla.
Fr. Reginald A. Redlon, O.F.M., '46, Ringwood, N.J.
(see story about Fr. Reginald, page 6)
Col. Francis J. Kane Ed.D., '47, El Paso, Texas
William C. Brandel, '48, Sun City, Ariz.
James J. Grego, '49, Olean, N.Y.
R. James Hill, '49, Dayton, Ohio
Rev. Louis F. Della Neve, '49, Lockport, N.Y.
Theresa L. (Lennon) Quinlan, '49, Olean, N.Y.
Richard B. Douglas, '50, Wilmington, Del.
Thomas M. Good, '50, North East, Pa.
William D. Larkin, '50, Pittsfield, Mass.
John R. MacDonald, '50, Conway, S.C.
Joseph A. Maxian, D.O., '50, Yardley, Pa.
Maj. Daniel J. McDonald Jr., '50, Greenville, Pa.
Robert E. Moore, '50, Olean, N.Y.
Richard C. Morton Sr., '50, Olean, N.Y.
Mitchell D. Stahlman, '50, New Kingston, N.Y.
Robert J. Blake, '51, Pittsford, N.Y.
Matt A. Conte, '51, Glendale, Ariz.
Angelo Cuneo, '51, Brooklyn, N.Y.
Nicholas Hober, '51, Bedford, N.H.
Thomas J. Kenville, '51, Binghamton, N.Y.
Peter Landucci, '51, Torrington, Conn.
Frederick J. McCabe, '51, Clifton Park, N.Y.
Joseph W. McCloskey, '51, Charlotte, N.C.
Dr. Richard A. Sullivan M.D., '51, Lebanon, N.J.
M. Rita (Chamberlain) Timme, '51, Great Valley, N.Y.
Donald P. De Carlo, '52, Nesconset, N.Y.
Msgr. Thomas J. Cassidy, '52, Vienna, Va.
Rev. Peter P. Hamernik, '52, Stamford, Conn.
Joan D. (Geitner) McGowan, '52, Silver Creek, N.Y.
William J. Nolan, '52, Syracuse, N.Y.
Dr. Joseph C. Petz, D.D.S., '52, Mascoutah, Ill.
Philip Skeps, '52, Tucson, Ariz.
Mary Wagner-Amendolara, '53, Kennebunk, Maine
Msgr. Richard J. Gill, '53, Dunkirk, N.Y.
Roger J. Lehman, Esq., '53, Dellwood, Minn.
Rev. Daniel G. Murphy, '53, Binghamton, N.Y.
Charles J. Donnellan, '54, Vadnais Heights, Minn.
Richard L. Stelzer, '54, Washington, Pa.
Harry L. Welshofer, '54, Perry, N.Y.
A directory of deceased alumni is available on Bona's Online. Not a member of
Bona's Online? Visit www.sbu.edu/alumni to register.
I
N

2
-
2
Alumni Deaths
In Memoriam
Rev. Joseph M. Brozena, '55, Old Forge, Pa.
Malachy J. Duffy, '55, Brooklyn, N.Y.
Robert H. Fortner, '55, Hagerstown, Md.
Kenneth L. Cornell, '56, San Antonio, Texas
Richard H. Houghton, '56, Rochelle Park, N.J.
Joseph F. McDonough, '56, Kingston, N.Y.
Bernard A. Pasquali, '56, Albany, N.Y.
Donald Spring, '56, Peoria, Ill.
Jack N. Williams, '56, Summerfield, Fla.
Richard J. Kelly, '57, San Diego, Calif.
Sr. Mary Bernard Butts, R.S.M., '58, Rochester, N.Y.
Msgr. Gerard L. Green, '58, Angola, N.Y.
James J. Slattery, '58, Abington, Mass.
Francis J. Carns, '59, Binghamton, N.Y.
E. Thomas Doddridge, '59, Bradenton, Fla.
Col. (Ret.) Edward V. Karl, '59, Arlington, Va.
Kenneth T. Oligny, '59, Burnt Hills, N.Y.
Charles W. Ghent, '61, Fredonia, N.Y.
Thomas W. Giblin Sr., '61, Binghamton, N.Y.
Gerald J. Krott, '61, Salisbury Center, N.Y.
Sr. Anicetus O'Handley, '61, Allegany, N.Y.
Robert C. Green, '61, Bradford, Pa.
Robert E. Dawson, '62, Houston, Texas
Richard P. Ford, '62, Yarmouth, Maine
Robert J. Dwyer, '63, Hopewell Junction, N.Y.
David J. Keller, '64, Advance, N.C.
Marjorie G. (Brown) Crainer, '65, Ft. Collins, Colo.
Kathleen (Maltese) Bauer, '65, Bay Head, N.J.
Francis X. Englert, '65, Grand Island, N.Y.
Thomas D. Hanrahan, '65, Yardley, Pa.
Richard A. Nocek, '65, Amherst, N.Y.
Carl P. Kowalkowski, '66, Buffalo, N.Y.
William G. Madigan, '66, Dresden, Ohio
Dorothea P. (Yannella) Conte, '67, Glendale, Ariz.
Barbara M. (McKay) Phillips, '67, Ten Mile, Tenn.
Alan J. Miles, '69, Big Flats, N.Y.
Murray C. Wilson, '69, Syracuse, N.Y.
Lawrence Saunders, '70, Scranton, Pa.
James J. Weaver, '72, Dunellen, N.J.
John "Jay" Foley Jr., '74, Portsmouth, N.H.
Mary Beth (Farber) Cahill, '79, Binghamton, N.Y.
J. Duffield Prince '82, Rochester, N.Y.
Keith L. Reed Jr., '83, Sherburne, N.Y.
Br. Robert G. Hilfiker, '84, New Windsor, N.Y.
Sr. M. Reginald Zajac O.S.F., '85, Malverne, N.Y.
William S. Fitzwater, '88, Bath, N.Y.
Alvin Waite, '94, Lockport, N.Y.
Mark A. Kaczynski, '97, Orchard Park, N.Y.
Patrick Henderson, '07, Brighton, N.Y.
Msgr. Leo E. Hammerl, '42, of Tonawanda, N.Y., a longtime priest and former school superintendent
for the Buffalo Catholic Diocese, died Aug. 2, 2012. A Trustee Emeritus, Msgr. Hammerl served as a
member of St. Bonaventure's Board of Trustees from 1977 to 1983.
James J. Slattery, `58, CPCU, president of J.H. Slattery Insurance Agency, Inc. of Abington, Mass.,
died Sept. 18, 2012. He served as a member of the St. Bonaventure's Board of Trustees from 1990 to
1992 and will be remembered as one of Bonnies basketball's biggest fan.