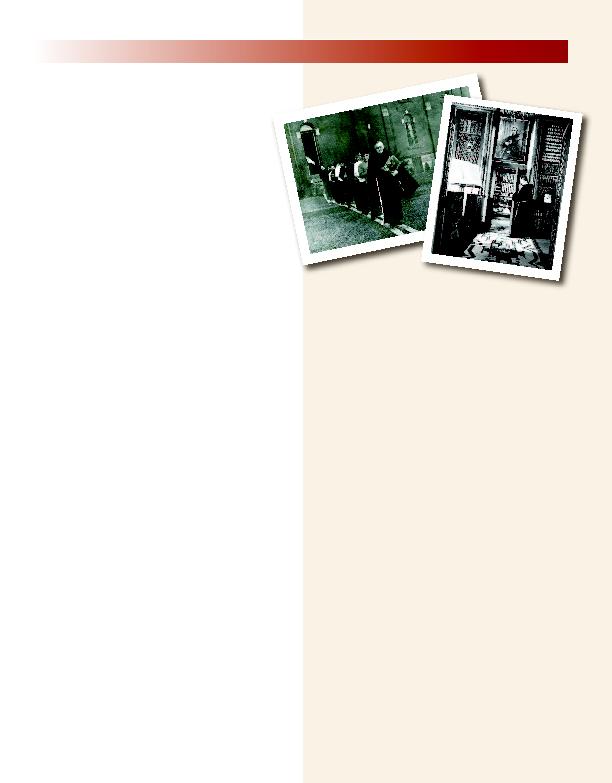 On May 21, 1937, St. Bonaventure librarian Fr. Albert O'Brien,
O.F.M., took his shovel and dug into the sod not far from the
Father "Joe" statue. Friedsam Memorial Library was under con-
struction.
Less than a year later, on March 7, 1938, the brand-new build-
ing was dedicated. Nearly 75 years have gone by since that aus-
picious day, and 2013 will see a yearlong celebration recognizing
the role of the library in the life of the university.
A rededication ceremony is planned for March 7, 2013.
In the meantime, alumni are invited to share their reminis-
cences of Friedsam Library at
http://friedsamlibrary75.word-
press.com
. You can leave text and voice records of your mem-
ories of life in the library.
Other anniversary events will include a series of displays, open
houses and tours of the rare books collections of the Holy
Name Library for the Franciscan Institute.
An open house will also be held during Alumni Weekend. View
a calendar of events and activities at
http://web.sbu.edu/fried-
sam/archives/75_Anniversary.htm.
Alumni Hall housed the campus library for 50 years, but by the
mid-1930s it was no longer big enough to do the job. Fr. Albert
provided the inspiration for the construction of the library and
University President Fr. Thomas Plassmann, O.F.M., found the
funding. A foundation created with the fortune from successful
New York businessman Col. Michael Friedsam had no difficulty in
supporting the construction of the library now bearing his name.
It took just nine months to complete the building. The book
collection was moved by a "book brigade" of students in one
day (see left photo above), and Fr. Irenaeus Herscher, O.F.M.,
took the role of the first director of the new library, serving in
that capacity until his retirement in 1970. John Macik (1971-
1993) followed him, and now Paul Spaeth is only the third per-
son to hold that position. Fr. Irenaeus is pictured in the upper
right photo in the Fr. Pamfilo da Magliano room, which is where
the entrance to the rare books collection is today.
Friedsam Library books
75th anniversary celebration
Share your library memories online!
10 alums under 40
honored for their
contributions
St. Bonaventure is proud to
highlight the following alumni
honored with the 2012 Forty
Under 40 award from either
Buffalo's Business First or
Rochester's Business Journal.
Accomplishment, influence,
responsibility -- these are just
a few of the words one could
associate with the honorees,
all of whom have made signifi-
cant contributions to their
workplace and community.
http://tinyurl.com/cs4mpbn
Learn more about the
Rochester honorees at
http://tinyurl.com/d9pec3h
Buffalo Business First
· Erik T. Bohen, '04
· Richard A. Campbell, '02
· Jeffrey J. Connors, '02
· Matthew J. Keller, '02
· Edward Kosmoski III, '02
· Philip J. Pantano, '96
· Donna L. Quigley, '99
· Jennifer L. Westerholt, '10
Rochester Business Journal
· Christopher J. Brodhead, '05
· Brendon S. Crossing, '98
SBU marks sainthood
of first American
Franciscan saint
In December 2012, the uni-
versity hosted the Southern
Tier premiere of the documen-
tary about the life of Mother
Marianne Cope, the first
American Franciscan saint.
York" premiered on network
television in the Syracuse
media market during the
Thanksgiving holiday.
St. Marianne was a leader
in the field of healthcare,
often caring for those consid-
ered to be outcasts.
works and virtuous deeds,
the Utica native spent many
years caring for those
afflicted with Hansen's
disease (leprosy) in
Hawaii. Despite direct
contact with the patients
over many years, she did
not contract the disease,
considered by the faithful
to be miraculous.
the lead sponsors of the
documentary, produced
through a partnership with
Syracuse's NBC, CBS, and CW
television affiliates (collective-
ly known as CNY Central),
and the PBS affiliate WCNY-
TV/FM.
The film includes an inter-
view with Fr. Dominic Monti,
O.F.M., provincial vicar of
Holy Name Province and for-
mer university president. The
Franciscan historian was
interviewed by James Aroune,
vice president of broadcasting
at WCNY, a 1987 alumnus.
SBU, Chautauqua
again partner for
summer seminar
university and Chautauqua
Institution will offer an
undergraduate seminar creat-
ed for students who want to
pursue academic excellence in
the area of interreligious dia-
logue.
Seminar on Interreligious
Dialogue will be offered in res-
idence on campus from June
23 to July 13. Faculty for the
program will be former SBU
theology professor Dr. Susan
Abraham, now at Harvard
University, and alumnus Fr.
Daniel Horan, O.F.M., '05, a
Franciscan theological and
spiritual writer. Learn more at
www.sbu.edu/FranciscanHo
norsSeminar13.
Campus News