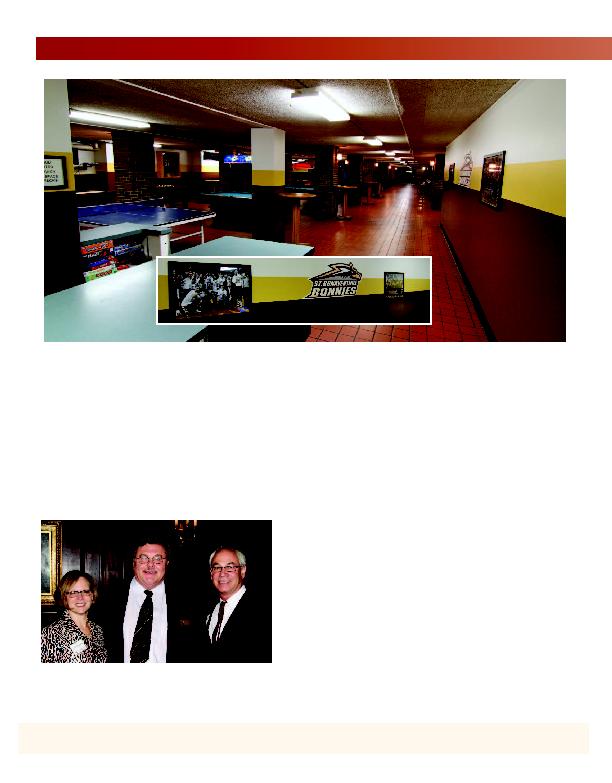 Last October, more than 70
Buffalo-area alumni gathered at
The Buffalo Club to meet St.
Bonaventure's new "dream team"
of deans: Pierre Balthazard, Ph.D.,
dean of the School of Business;
Pauline Hoffmann, Ph.D., dean of
the School of Journalism and
Mass Communication; Wolfgang
Natter, Ph.D., dean of the School
of Arts and Sciences; and Joseph
E. Zimmer, Ph.D., dean of the
School of Education.
The deans' diverse skill sets are
already translating into increased
energy and collaboration across
the schools. During a lively panel
discussion, the deans shared the
latest information from each
school, as well as their plans for
the future.
They invited alumni to partner
with the university in the areas of
recruitment, mentorship and
internships.
The evening also offered the
opportunity to celebrate the
inaugural members of the 1858
Founders Society, which honors
those who have made an unre-
stricted annual gift of at least
$1,858 to The Bonaventure Fund.
Thanks to the 2012 senior class gift,
students and faculty can now relax in the
newly remodeled Rathskeller.
A $12,000 campaign, $4,100 of which
was from student donations, has allowed
Partnering with you today. Making a difference for tomorrow.
Office of University Advancement Mission Statement: Advancing the Franciscan mission of the University by fostering philanthropic
opportunities and building relationships with alumni, family and friends -- today and in the future.
Reinventing
Rathskeller
the class of 2012 to give the Skeller a vibrant and modern makeover.
Class members painted, reorganized and redecorated the Skeller in hopes of ren-
dering it a more comfortable and visually appealing space for students, faculty and
staff. The infamous and unsightly railing that stood in the center of the Skeller for
decades has been removed. In addition, the students incorporated new displays
throughout the Skeller to add to the atmosphere and highlight SBU memorabilia.
New couches, flat screen televisions and other pieces of furniture offer new viewing
areas in the Skeller as well. ~ By Josh Dubin, '12
Dean Wolfgang Natter visits with Paula Elsinghorst, '81,
and Bob Liguori, '81, an inaugural member of the 1858
Founders Society, during Meet the Deans Night in October.
Celebrating new deans, inaugural 1858 Founders Society members