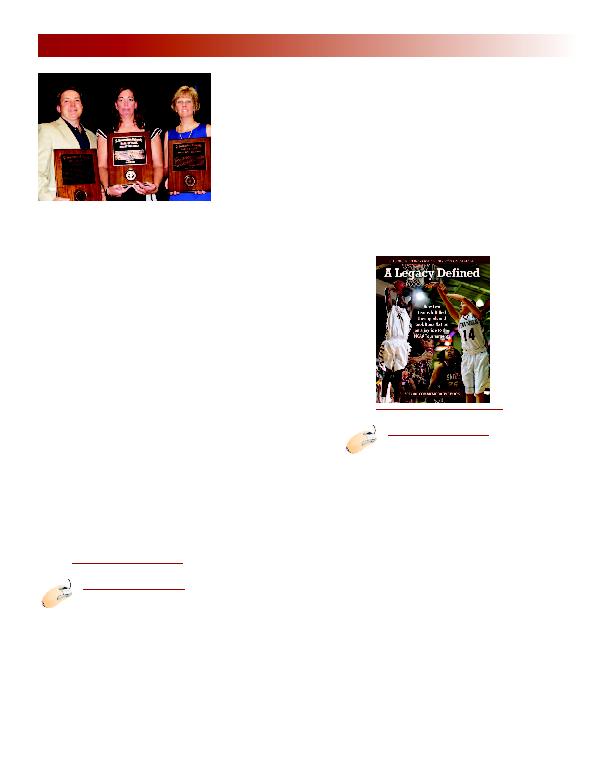 University inducts three
into Athletics Hall of Fame
St. Bonaventure added three members
to its Athletics Hall of Fame as (from left)
Jim Meicke, '87, Hilary Waltman and
Mary Jane "MJ" Telford, '75, were hon-
ored for their prolific achievements in the
Brown and White.
Meicke is one of the top goalkeepers in
the history of the men's soccer program,
evidenced by his school records for career
wins (41) and saves (743). His 11 victories
in both the 1984 and 1985 campaigns are
tied for second-most in the record books.
Waltman is the women's basketball pro-
gram's all-time leading scorer with 2,106
career points and, at the time of her
graduation, was the only Bonnies player
to score more than 2,000 points.
A successful student-athlete and coach,
Telford is synonymous with St. Bonaventure
women's basketball. A four-year starter
from 1971-1975, she averaged 15 points
per game throughout her career. In 1975,
Telford took over as head coach of the pro-
gram and, over the next 10 years, guided
the Lady Bonnies from Division III to
Division II and then into Division I in the
Atlantic 10 Conference.
University names rare books
library in honor of Province
During special ceremonies March 23, the
university formally named its rare book
library the Holy Name Library for the
Franciscan Institute in recognition of the
longstanding support of the Holy Name
Province of the scholarship and service of
the Franciscan Institute. The rare book wing
of Friedsam Memorial Library opened in
2008, protecting the university's stunning
collection of rare books and treasures
gathered over more than a century.
Burkley, Mis, Roche inducted
into ROTC Hall of Fame
The Army Reserve Officers' Training Corps
Seneca Battalion inducted three new mem-
bers March 31 into its Hall of Fame.
Retired Lt. Col. George W. Burkley was
the cadet colonel of the St. Bonaventure
University Army ROTC Battalion and a
Distinguished Military Graduate of
the university in 1960. On June 5,
1960, he was commissioned a sec-
ond lieutenant in the United States
Army Reserve, and three days later
he accepted a regular commission
as a second lieutenant in the
United States Marine Corps.
During his 26-year career, he
logged thousands of training com-
bat and test hours in numerous
Marine Corps aircraft before retir-
ing as a lieutenant colonel in 1986.
In 1991, Burkley joined the U.S.
Coast Guard Auxiliary as a volun-
teer and continues to serve as a
pilot for the Coast Guard.
Col. James M. Mis graduat-
ed with a degree in biology
in 1986 and received a com-
mission as an Infantry second lieutenant.
His assignments have included the 101st
Airborne Division (Air Assault) in 1987, the
3rd Special Forces Group (Airborne) in
1991, commanding a Special Forces com-
pany, and several positions with Joint
Special Operations Command. In 2009,
Mis assumed command of the Asymmetric
Warfare Group at Fort Meade, Md., and
began his current assignment as Director
of Operations J5 with Special Operations
Command Central in 2001.
Retired Col. Terrence L. Roche graduated
cum laude in 1960 with a business admin-
istration degree. A Distinguished Military
Graduate of the Army ROTC program, he
was selected as the Ideal Bonaventure Man
and received several other awards in addi-
tion to a Regular Army commission in the
Field Artillery.
His service in the '60s and '70s spanned
France, Vietnam and Korea. Upon gradu-
ating from the Air War College in 1981,
he returned to Europe for the third time
where he served first in the Office of the
Deputy Chief of Staff and then in the
headquarters of the Office of the
Inspector General. Roche assumed com-
mand of Fort Drum, N.Y., in 1984 and
when the 10th Mountain Division (Light
Infantry) was activated in December
1984, became Garrison Commander of
Fort Drum. On July 31, 1986, he retired
from active duty.
Packed with priceless photos,
book about basketball
seasons still available
keepsake book to
commemorate the
madness of March
at St. Bonaventure
is still available, but
only as supplies
last. "A Legacy
Defined" is a col-
lection of 139 pho-
tos and 11 stories
on the NCAA
Tournament sea-
sons of the
men's and
women's basket-
ball teams.
Proceeds benefit the Bonaventure Athletic
Fund.
The book includes season recaps and a
feature on Andrew Nicholson by Tom
Missel, director of marketing and media
relations at SBU; a feature by Dan
McCarthy, '10, on the barely recruited
members of the women's Sweet 16 team;
behind-the-scenes perspectives from
sports information directors Jason
MacBain, '08, and Dallas Miller; and a
reflection written after the men's A-10
title game by Mike Vaccaro, class of '89,
columnist for the New York Post. It also
includes a community impact feature by
J.P. Butler, '07, men's basketball writer for
the Times Herald; a student perspective
by Shannon Shepherd, '12, SBU-TV
reporter and 2012 Hellinger Award win-
ner, who followed the teams on their
journeys to the tourneys; a foreword by
longtime Times Herald sports editor
Chuck Pollock; and an afterword by
Yahoo! Sports columnist Adrian
Wojnarowski, '91, on what the season
meant to alumni.
Campus News
Watch the HOF ceremony
www.gobonnies.com
Learn more and order
www.sbu.edu/legacydefined