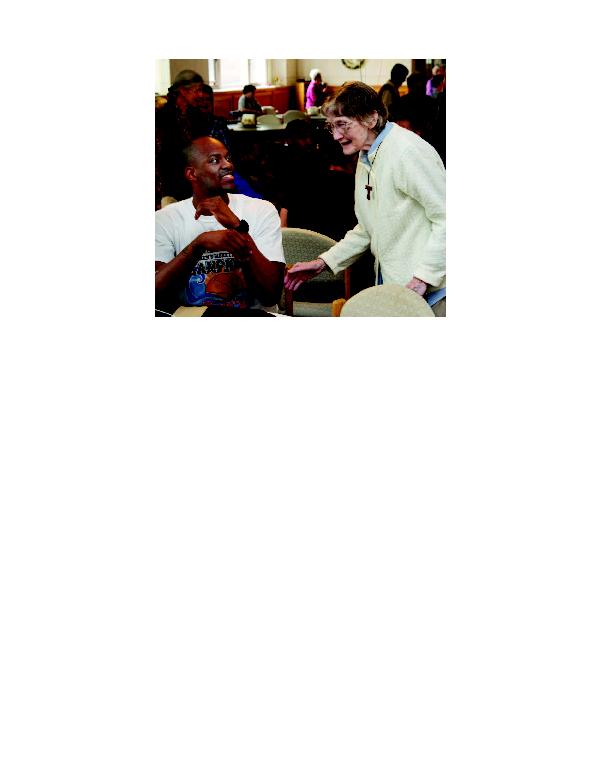 from Timothy Finan, presi-
dent and CEO of Upper
Allegheny Health System,
the parent company of
Olean General and
Bradford Regional hospi-
tals. A son of the late
Austin Finan, a professor
of finance at St. Bonaven-
ture for 42 years, Finan
practically grew up on
campus. His career would
take him to the Buffalo
area, where he held execu-
tive positions in the health
care industry, but a chunk
of his heart stayed behind.
about being a native of
down here is that Bonnie
basketball is part of your
DNA," said Finan. So when
he returned to the region
six years ago, he was proud to accept a
seat on St. Bonaventure's Board of Trustees,
and thrilled to be a regular again at the
Reilly Center Arena.
"I was at the first game ever played at
the Reilly Center," he said, "and before
that I remember going with my father to
the Olean Armory to watch the Bonnies."
Cuba businessman Tim Rinker was also
at that first game at the RC, back when it
was known as the University Center. The
year was 1966, a year after Rinker gradu-
ated from St. Bonaventure, and the seat
he settled into for that inaugural contest
in the new arena is the same one he sits
in today. "I've had the same season ticket
all this time," he said.
Make that tickets. Rinker has 10 of
them, which he shares with family and
friends. He's also been a season ticket
holder for the women the past couple of
years. Rinker can't get enough of Bonnie
basketball. To fill the off-season void, the
longtime Bonaventure Athletic Fund con-
tributor even hosts a summer picnic for
players and coaches at his Cuba Lake cot-
tage.
his season's return to glory for the
men and the women's incredible
run through the Atlantic 10 and
into the NCAA's Sweet 16 meant the
Bonnies were again the talk of the town,
and for all the right reasons.
"We've been through thick and thin,
and it's just great having people come up
and start talking, saying, `gee, isn't St.
Bonaventure doing great this year,'" said
Rinker. "And they started going to games
again."
Sure, everybody loves a winner, but is it
basketball or boredom that fills the RC?
Season ticket holder Meme Krahe
Yanetsko, chief operating officer at the
Greater Olean Area Chamber of
Commerce, bristles at the question.
"I hate it when people say we sell out
the Reilly Center because there's nothing
else to do in Olean," said Yanetsko. It goes
much deeper than that, she said. It's per-
sonal.
"What's so special about Olean? It's the
people. Everybody knows everybody, so
you go to a Christmas gathering at the
house of somebody who knows the
Schmidts and, oh my gosh, there are two
or three players there," said Yanetsko. "So
we feel that the Bonnies are part of our
family. It's like watching one of your kids or
your brother playing."
This family love affair gets passed from
generation to generation. Yanetsko
remembers when she and her sister were in
high school and their mother would drop
them off for games. Now, Yanetsko and
her husband, Tom, accompany their kids to
games. Daughter McKenzie, who just com-
pleted her sophomore year at Olean High
School and is a member of
the school's basketball team,
is a regular at men's and
women's games in the RC.
you're not likely to find hap-
pening at a bigger school in a
bigger city: Some of the
Bonnies returned the favor.
awe watching the women,
and then, in turn, three or
four of them would go
watch the Olean girls team
play," said Yanetsko. "I
thought it was really neat
that they would do that. You
do feel like they're part of
your family."
Veno said she remembers
when she started working at
Hickey Dining Hall in 1992
and the woman training her
offered some advice: "She
told me, Sharon, these stu-
dents are only here for four
years. Don't get attached."
Don't get attached?
"You can't help it," said Veno. "You
get to know the students and the players,
and I loved being there when they need-
ed something in the dining hall. I had a
few students who called me mom -- I
could almost cry."
And a Bonnies' fan? "I have to say I'm
one of the biggest," said Veno. "You
should see the sports room in my house. I
have posters and pictures, and I couldn't
tell you how many albums I have, all full
of clippings from newspapers and photos
I've taken."
When Veno injured her foot in 2003,
she delayed going to the doctor for fear
the diagnosis would keep her out of the
RC. "I knew something was wrong, but if
I went to the doctor and it was broken, I
wouldn't be able to go to games," she
said.
So for a month, until the season was
over, she hobbled to work and back from
her home in North Olean, a three-mile trek.
When she did finally see a doctor, she
learned she had, in fact, broken a bone in
her foot.
A health problem forced her to leave her
job in the dining hall in 2007, but her love
for the Bonnies is as strong as ever. And
her husband, Carl, works at the friary on
campus, so she still has a connection.

2
Forward Da'Quan Cook, '12, chats with Sr. Ann Kelly,
O.S.F., at a special dinner the sisters and staff at the
Allegany Motherhouse hosted for members of the men's
and women's basketball teams.