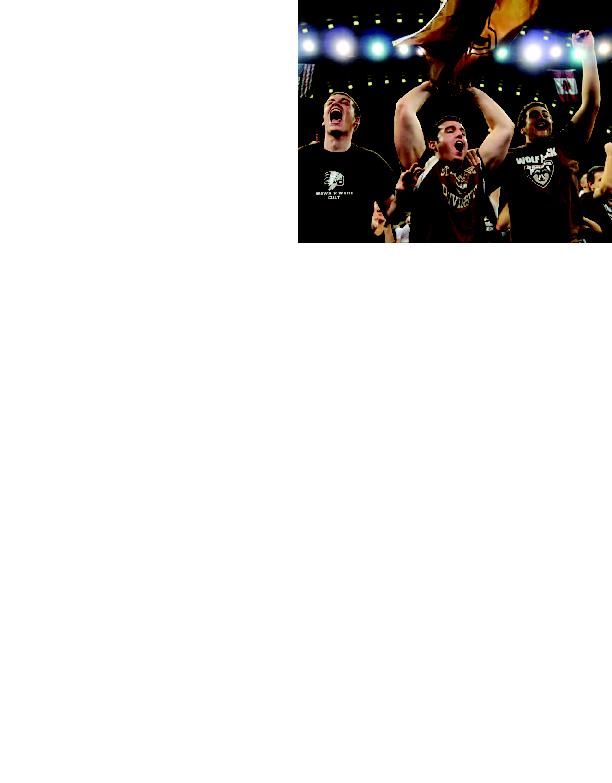 or reasons both preposterous and personal,
Walter Stubbs and Mike Vaccaro decided their
living rooms were the best place to watch the men's
Atlantic 10 title game, even though Atlantic City
Stubbs, `87, a member of St. Bonaventure's BAF/Athletics
Advisory Board, had decided he'd pushed his luck far enough.
He watched the Bonnies survive heart-stopping last-second
wins over Saint Joe's and UMass March 9-10 at Boardwalk
Hall, but didn't want to "jinx them by being there" for
Sunday's title game vs. Xavier.
Of course, it's not rational, and Stubbs knows that. But those
who bleed most for their favorite teams are the least rational
people on the planet.
So even when Vaccaro, `89, encouraged Stubbs on the
phone to go to the game, Vaccaro understood the twisted
logic. He didn't want to go to the game either. As one of the
nation's leading sports writers, the New York Post columnist
had a reputation to uphold.
Vaccaro knew full well he'd be an elated, deflated, certified
lunatic sitting in the stands. As a dispassionate member of the
press corps for almost 25 years, Vaccaro has only one shred of
fanhood left -- the Bonnies. It was best no one witness such
embarrassment.
"Mike said, `Walter, you have to go,'" Stubbs recalled from a
Nashville bar, the day before the Bonnies' 66-63 NCAA loss to
Florida State. "So I told him, `Mike, you come to my house for
breakfast, and I'll go.' He came, and off we went."
Vaccaro agreed only because he secured a press pass, offer-
ing to do a game feature for his first boss in the business,
Olean Times Herald sports editor Chuck Pollock. Vaccaro knew
the professional switch in his brain would allow him to cover
the game and keep his emotions in check.
That he did ... for more than 39 minutes.
But when Xavier coach Chris Mack decided to let the
Bonnies dribble out the last 29 seconds, Vaccaro fought hard
to choke back his tears, a fight he ultimately would lose. Not
burdened by such professional decorum, hundreds of the thou-
sands of Bonaventure fans in the stands cried openly, Stubbs
included.
"It was beyond description," Stubbs said of the 67-56 win.
"With everything that had happened to us, the scandal and
being down so far ... everything just hit me. I cried. My wife
F
Alums grab front-row
seats from New Jersey
to Florida as Bonnies
fever hits a new high
laughed at me." (Turns out Liz Stubbs was a bit of a hypocrite.
Just hours after the Bonnies lost to Florida State, she cried in
Bailey's Pub & Grille when her alma mater, Lehigh, pulled the
stunner of the tournament by defeating Duke.)
Vaccaro said it was apparent from press row that the Bonnies'
fans in Boardwalk Hall were overcome with emotion as Charlon
Kloof and Chris Johnson dribbled out the clock.
"It was actually louder with a couple minutes to go than in the
final seconds because I think so many people in the stands had
become so emotional that they couldn't cheer," he said.
D
anny Piccioli, `79, grew up in Olean and was lucky
enough to watch the game in Atlantic City with his two
children, Brian and Lauren, and his sister, Mary, '81. He
"cried like a baby" as the Bonnies, led by A-10 player of the
year Andrew Nicholson, celebrated on the court.
"Two days later, when I watched the replay, I cried again," he
The scene played out across Bona Nation, from an Applebee's in
Hornell, where students headed for Atlantic City watched the
game when their bus broke down --"We took over Applebee's
and cheered like crazy," said senior Kate Burt -- to an Applebee's
in Lewisburg, Pa., where Jed Hanna, `86, stopped to see the end.
En route to his Rochester home from his daughters' soccer
tournament in Alexandria, Va., Hanna -- one of 12 Hannas to
attend St. Bonaventure -- considered driving to Atlantic City,
but was confident they'd win so he decided to save his money
for the trip to the first round, wherever that might be.
"I listened to it streaming in the car and when I pulled in to
Applebee's with 58 seconds left, I walked in and all that was on
was NASCAR," Hanna said from a Nashville bar. "I yelled, `Put
on CBS!' and the waitress is like, `What channel is CBS?' And I
said, `I don't know, just find it!' They did, we watched the last
minute, I bought an O'Doul's and two Shirley Temples for the
girls, and started cheering.
"I got goose bumps, and I did get choked up. I'm not sure if
that's my age, or because of where we came from and all the
nonsense that went on in 2003, but it was just so gratifying.
I'm just so proud of Sister Margaret and Coach Schmidt and
Jim Crowley. The whole thing is just amazing."
The "whole thing," as Hanna said, turned a special basketball
season into an extraordinary one.