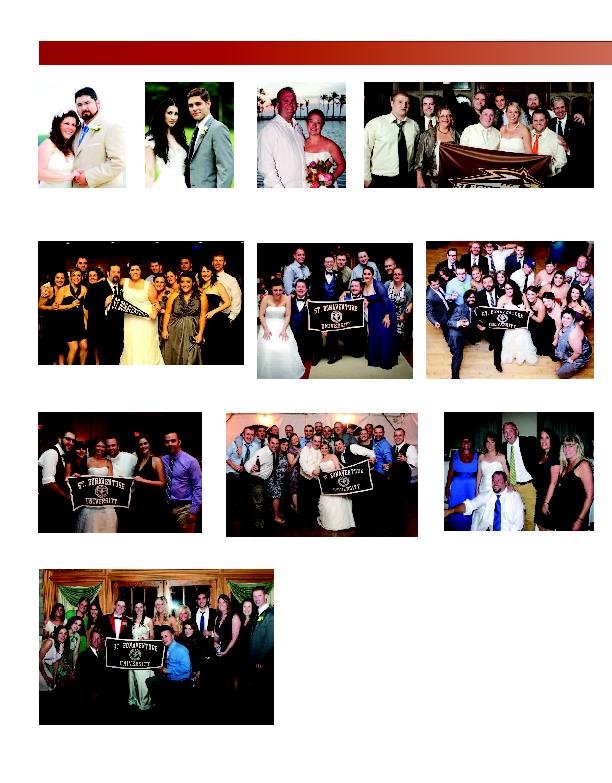 BonAlumnus Marriages
To submit your marriage photo for an
upcoming edition:
· use the enclosed envelope
· email bonalumnus@sbu.edu
· mail to P.O. Box 2509,
St. Bonaventure University,
St. Bonaventure, NY 14778
All photos must be of good reproductive
quality. Pictures submitted electronically must
have a resolution of at least 300 dpi. The
Julie Jagoda, '94, '95,
and John H. Booth Jr.
Sara Krueger and Bill Abriatis, '02
Maureen Langton,
'01, '02, and Charles
Lori Palermo and Brad Kovalovsky, '06
Lauren Davies, '08,
Kara Swanson, '01, '05,
Kristen DiVita, '02, and John Sterople
Jody Roselle, '02,
and David A. DuBois, '02
Christin Murphy and Brian Cornetta, '03
Rebecca Dahl, '06, and
Matthew Alpaugh, '04
University is prohibited from publish-
ing copyrighted photographs, unless
accompanied by written permission
from the photographer.
The deadline for December 2012
Bonaventure magazine submis-
sions is Sept. 9, 2012.
Don't forget to notify us of your new
name or address! Update your infor-
mation at Bona's Online at
www.sbu.edu/bonasonline.
Additional Marriage Announcements
Jane DeSimone Dittmar and Frank Squillace, '86
Erin McCarthy, '10, and Capt. Colby Krug, '04