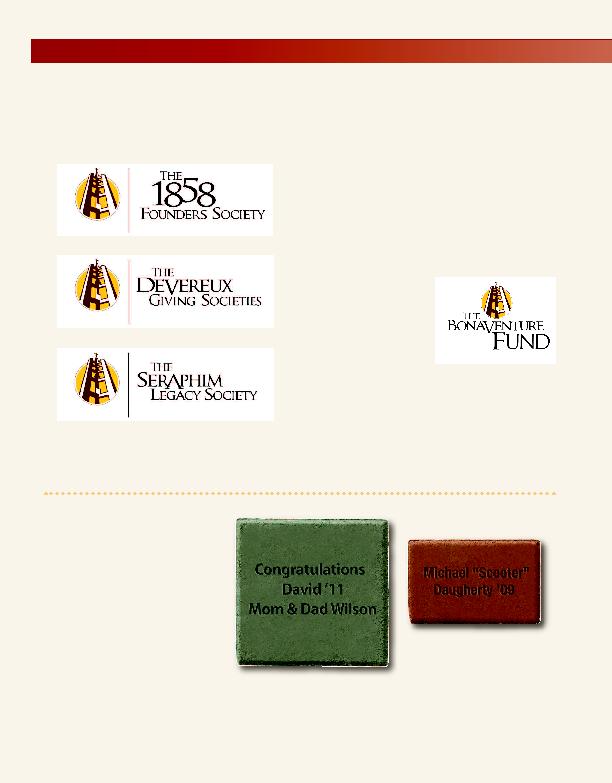 With the strong support of 465 donors and
more than $14 million raised as of May 31,
our shared vision for the School of Business
Campaign is only a few steps shy of being
realized.
You can be a part of making those steps
possible by purchasing a brick that will be
used in The William E. & Ann L. Swan
Business Center walkway.
You can literally pave the way for future stu-
dents to succeed! A personalized brick is the
perfect way to recognize a special accomplish-
ment, honor a favorite professor or loved one
or celebrate a reunion. For more information
about purchasing a brick, contact Diane Frick
Our gifts. Their future.
T
he Office of University Advancement is
excited to share our new family of logos.
The classic bell tower image remains but
with a fresh, crisp and distinct new look.
Reborn in St. Bonaventure's signature gold and
brown, the bell tower makes its way into the
future while still remaining classic, much like
the beloved university it represents.
Also new is the opportunity
for you to become an inau-
gural member of the
1858
Founders Society
tinctive leadership designa-
tion signifies your commit-
ment to continuing the
legacy of our founders.
Your investment of $1,858
in our students will help carry St. Bonaventure
into the future.
Learn more!
Visit www.sbu.edu/1858Society
Contact Julie Briggs Cunningham
jcunning@sbu.edu
(716) 375-2301
Learn more!
Visit:www.sbu.edu/bullishonbusiness
Be our Facebook friend:
www.facebook.com/SBUBusiness
Tweet with us:
http://twitter.com/SBUBullishOnBiz
Paving the way
at dfrick@sbu.edu or (716) 375-7884.
Construction for the building has
begun -- watch the progress via two
live webcams at www.sbu.edu/con-
struction.