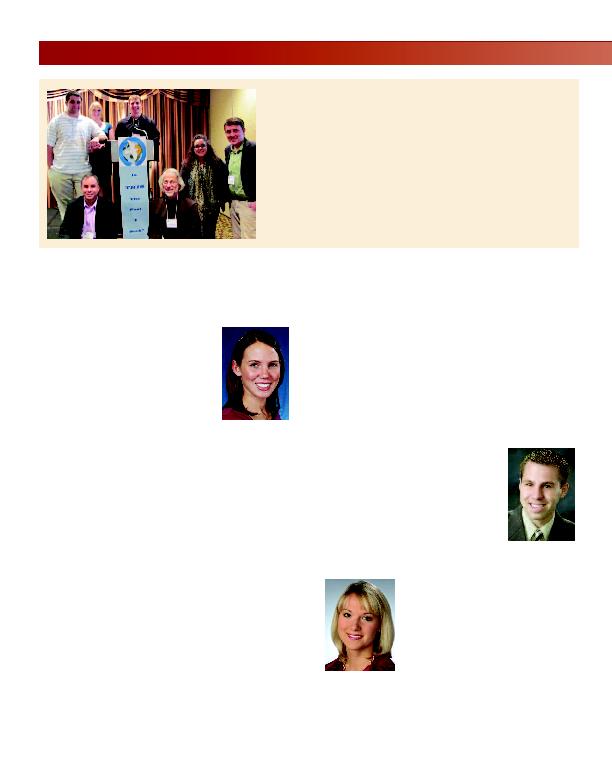 Forty" class. Bysiek, owner and chief execu-
tive officer of Bysiek CPA, PLLC, was select-
ed for his professional success, community
involvement and contributions to higher
education. Specializing in financial state-
ment audit and review services, income tax
preparation and bookkeeping services, the
firm has more than doubled in size over the
past three years. Bysiek has also written two
books and has served as an adjunct professor
of accounting at SBU since 2006. Bysiek is a
member of the Olean Rotary Club, a past
president of the Institute of Management
Accountants, and has volunteered his time as
assistant basketball coach at Archbishop
Walsh Academy. Kevin A. Cleary completed
his MBA at St. Joseph's University in Philadel-
phia, Pa., and was promoted to marketing
manager of Sponsorships & Promotions at
Nestle Waters North America covering all
sponsorships and promotions for the domes-
tic brand portfolios. Joel P. McCann was pro-
moted to the position of supervisor with
Buffamante Whipple Buttafaro, P.C. McCann
joined the firm in June 2002 as a staff
accountant and became a Certified Public
Accountant in August 2011. He is a member
of the Institute of Management Accountants,
where he served on the board of directors for
two years.
2003 -- Matthew Beckwith completed
Basic Combat Training at Fort Leonard
Wood, Mo., in December 2011, and gradu-
ated from the U.S. Army MP School in
March. Spencer Peavey, director of
Student Activities and Orientation at Alfred
State College, presented "Making IT
Happen, Encouraging Student Connections
and Civic Engagement" to the attendees of
the National Orientation Directors
Association in Burlington, Vt.
2004 -- Matthew Alpaugh is director of
communications and alumni at Morris
Catholic High School in Denville, N.J.
Lyndsey Maurer, assistant director of ath-
letic communications at Brown University in
Providence, R.I., received the Brown
University Appreciation
Award for Efficiency.
When the department of
athletics was faced with
budget reductions two
years ago and the athlet-
ic publications budget
was slashed in half,
Maurer and one of her
colleagues forged a solu-
tion (interactive, online magazines) to save
considerable money and staff resources for
the next generation of athletic publications.
Maurer handles media demands and publici-
ty for several of Brown's 37 sports, including
men's soccer, women's basketball, men's
and women's water polo, men's and
women's track and field, cross country, soft-
ball, and gymnastics. Carri (Gregorski)
Prue is among 55 participants in the 2012
class of Leadership Greater Syracuse (LGS),
Central New York's premier leadership
development program. LGS has trained
more than 1,000 com-
munity leaders, and the
yearlong program teach-
es participants about the
local economy, govern-
ment, resources, human
service needs, education
systems, boardsmanship
and more. Prue is a
communications manag-
er for the division of advancement and
external affairs at Syracuse University. She
serves on the Foundation board of directors
for the SUNY College of Environmental
Science and Forestry, and she spent the past
six years on St. Bonaventure University's
National Alumni Association Board. Kimberly
(Karcher) Tylec joined Goldberg Segalla LLP
as a marketing coordinator. Tylec previously
served as the public relations and communi-
cations coordinator for Wilson Farms Inc. Tylec
lives in North Tonawanda with her husband,
Jason, and their daughter. Iyesha Shanagher
of Schenectady, N.Y., became an ordained
minister on Oct. 26, 2011.
2006 -- Rebecca (Dahl) Alpaugh is the
business manager in the Marketing &
Communications Department at Columbia
Business School in New York City. Adam J.
Batesky was promoted to the position of
supervisor with Buffamante Whipple
Buttafaro, P.C. Batesky
joined the firm in June
2006 as a staff account-
ant and became a
Certified Public
Accountant in December
2009. He is a member
of the New York State
Society of Certified
Public Accountants, the
American Institute of Certified Public
Accountants and the Delta Mu Delta National
Business Administration Honor Society.
Jessica Manocchio was named to the Board
of Directors for the Public Relations Society of
America Buffalo Niagara Chapter. Manocchio,
a communications specialist at Rich Products
Corporation, will serve a three-year term as
an assembly delegate. Jonathan May began
the 2011-2012 academic year as a physical
education teacher at Newington Forest
Elementary School in Fairfax, Va. May previ-
ously taught for four years in Buffalo. Callie
Riorden is a corporate proposal writer with
BlueCross BlueShield of Western New York.
2008 -- Emily Ciraolo completed her ninth
year with the Hugh O'Brian Youth (HOBY)
BonAlumnus Updates
Marc J. DelMonico, '97, shared this photo taken during March's 10th
annual Ecumenical Advocacy Days in Washington, D.C. The Advocacy Days is
a movement of the ecumenical Christian community, and its recognized
partners and allies, grounded in biblical witness and shared traditions of jus-
tice, peace and the integrity of creation.
Its goal is to strengthen the Christian voice and to mobilize for advocacy
on a number of U.S. domestic and international policy issues.
Pictured (clockwise, from lower left) are DelMonico; student Alexander
Noguerola; student Erika Fleischman; student Kyle Wilkinson; student
Alexandra Bulszewicz; Matt Smith, '99; and Br. Joe Kotula, O.F.M., of
Mt. Irenaeus.
Students, alumni join together for Advocacy Days