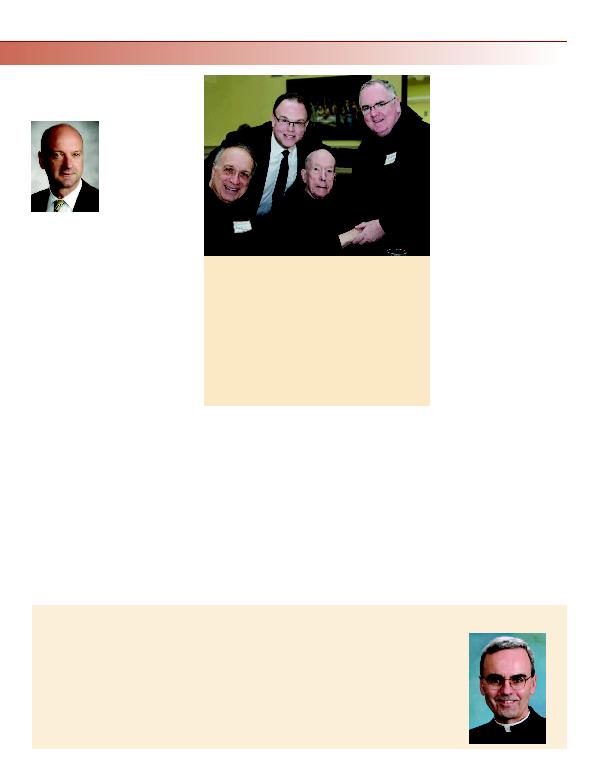 ments, most recently receiving the Ad
Council of Rochester Lantern Award for
community volunteer service in 2011.
1983 -- Richard A.
Grimm III, a partner at
Magavern Magavern
Grimm LLP, was elected
chairman of the Board
of Directors of Upstate
New York Transplant
Services. He was first
elected to the board in
1999 and has been involved as a supporter
of the organization since then. UNYTS
assists organ, eye and tissue donor families
throughout Western New York. The agency
also operates Community Blood Services,
which offers blood banking to area hospi-
tals. Michael Tschiderer is a vice president
at GXS, Inc. of Gaithersburg, Md.
1986 -- Frank Squillace is director of
Member Services at the Charlottesville (Va.)
Regional Chamber of Commerce (pro-
grams@cvillechamber.com). He and his
wife, Jane, happily live under one roof in
Charlottesville with their combined six chil-
dren. Kathleen (Spruyt) Williams and her
husband, Kevin, marked 10 years of
involvement with the St. Baldrick's Found-
ation, a volunteer-driven charity committed to
funding the most-promising research to find
cures for childhood cancers and give survivors
long and healthy lives. Williams has been the
head organizer for the children's cancer chari-
ty fundraiser in her Boynton Beach, Fla., com-
munity. Her team, AVM Traders, which con-
sists of about 30 of her co-workers, has
raised more than $1 million to help fund
research to find a cure since their first event
in Florida. Volunteers raise money in the form
of pledges and then agree to have their
heads shaved in solidarity with the kids who
lose their hair to cancer treatments.
1987 -- Paula Eade Newcomb, Esq., was
named a partner at the Bouvier Partnership.
Eade Newcomb is a graduate of the Law
School at the State University of New York at
Buffalo and has specialized in litigation mat-
ters for more than 20 years. She is the treas-
urer for the Erie County Bar Association. Eade
Newcomb lives in West Seneca with her hus-
band and two sons.
1989 -- Timothy B. Corcoran has re-
launched his management consulting prac-
tice. The Corcoran Consulting Group advises
law firm leaders on legal project manage-
ment, business process improvement and
business development. He also advises legal
vendors on market strategy and sales force
readiness. Kevin Maguire is
southeast regional sales manager
for Kingspan Insulated Panels.
Working for the firm's cold stor-
age division based in Sarasota,
Fla., Maguire is responsible for
sales in seven Southern states.
Kingspan is based in Kings Court,
Ireland, and is the largest insulat-
ed panel manufacturer in the
world, with five plants in North
America.
1990 -- Bob Siracuse, an SBU
men's soccer and physical educa-
tion alumnus, was named direc-
tor of athletics at Scarsdale (N.Y.)
High School in Westchester
County. Prior to Scarsdale, he
worked in a similar administrative
capacity at Goshen (N.Y.) Central
Schools. He and his wife, Jackie,
live in Goshen with their three
children. He welcomes communi-
cation from Bona alumni: sir-
acuro@yahoo.com or text to
(914) 879-4311.
1991 -- Melissa Locke is assis-
tant superintendent for instruc-
tion at Lake Shore Central School
1992 -- Jim Battaglia is associate director
for Alumni Affairs and Annual Giving at
Christian Brothers Academy in Syracuse,
where he lives with his wife, Tammy, and two
sons. He welcomes communication from
alumni at jimbattaglia@ymail.com. Suzanne
Wilcox English has been named vice presi-
dent of marketing and communications for
St. Vincent College, Latrobe, Pa., effective
July 1. She previously served as director of
public information at The University of Findlay
(Ohio) for more than six years. English was a
panelist and session facilitator at the 2012
Association of Independent Colleges and
Former president celebrates 90th birthday
Fr. Reginald Redlon, O.F.M., (center) who served as presi-
dent of St. Bonaventure from 1967 to 1972, is shown cele-
brating his 90th birthday at St. Elizabeth Parish in Wyckoff,
N.J. Fr. Reginald is pictured with Fr. Dominic Monti, O.F.M.,
'67, Provincial Vicar of Holy Name Province (left); Sean
Conyngham, '85; and Fr. Brian Cullinane, O.F.M., former vice
president for University Relations at SBU. Conyngham said
he had the privilege of getting to know Fr. Reginald when
he was in high school and Fr. Reginald served as pastor at
St. Elizabeth's. It was Fr. Reginald who recommended
Conyngham go to St. Bonaventure, resulting in "four incred-
ible years as a Bonnie!"

2
Pope Benedict XVI has named Msgr. Paul
Robert Sanchez, a member of the class of 1968,
as an auxiliary bishop for the Diocese of Brooklyn.
Paul Sanchez was born Nov. 26, 1946, in
Brooklyn and ordained a priest in 1971. Joining his
bachelor's degree from SBU are a master's degree
from the University of Notre Dame, and a licenti-
ate in theology at North American College in
Rome.
After ordination, he was assigned to Our Lady of
Mercy Parish, Forest Hills, N.Y., in 1972; St.
Michael Parish in Flushing, N.Y., in 1975; and St.
Sebastian Parish in Woodside, N.Y., in 1987.
He was named administrator of St. Sebastian
Parish in 1990; pastor of St. Agatha Parish,
Brooklyn, in 1991; and pastor of Our Lady of Mt.
Carmel Parish in Astoria, N.Y., and administrator
of St. Margaret Parish, Long Island City, in 2001.
He was named vicar for Queens North in 2008
and vicar for Queens in 2009.
Msgr. Paul Sanchez named auxiliary bishop for Diocese of Brooklyn