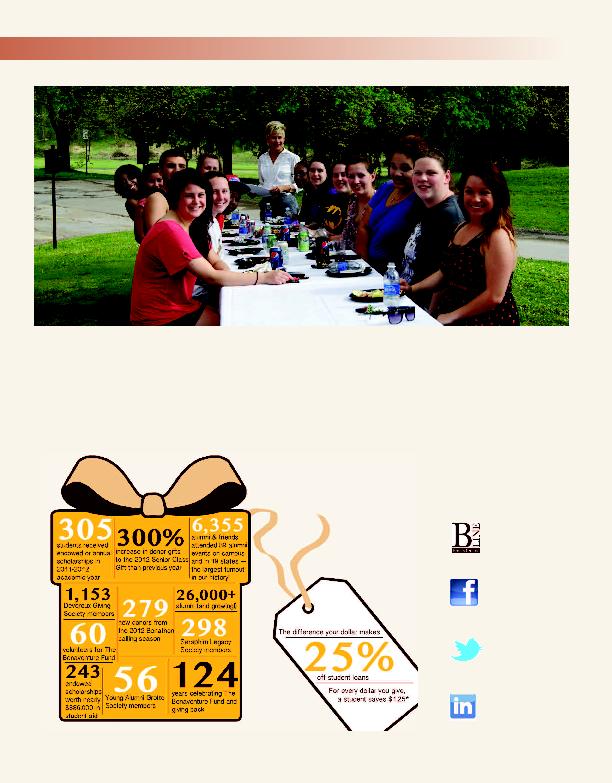 2
www.sbu.edu/donate
Please take the call
Thank you for helping last year's Bonathon callers raise $251,329. The 2012-2013 Bonathon season begins mid-September.
Students will be smiling and dialing, hoping to talk with you, so please pick up the phone! Make sure to add (716) 375-2000 to
your select phone list. Above, Bonathon callers gather for a year-end picnic on campus May 4 to celebrate a successful season.
Pictured (clockwise from back right) are Annual Fund Manager Karen Heitzinger; Tori Woods, '15; Kristin Morse, '12; Katie Boe,
'14, Bonathon supervisor for 2012-2013; Brittany Beasock, '12; MaeAnna Edwards, '15; Erin Dempsey, '15; Brittany Whalley, '12,
Bonathon Supervisor 2011-2012; Allison Kotz, '12; Bridget Steele, '12; Ty Doyle, '13; Peter Dolliver, '14, Bonathon Supervisor for
2012-2013; Ana Larisa Tivadar, '14; Sara Kosakowski, '12, Bonathon Supervisor for 2011-2012; and Taloria Gamble, '15.
*On average, a student will pay back $1.25 for every dollar borrowed. Donations to The Bonaventure Fund
enable the university to help lessen the burden of student debt, which is a nationally recognized challenge.
linkedin.com/groups/St-Bonaventure-
University-Alumni-3364/about
twitter.com/#!/stbonaventure
Keep in touch!