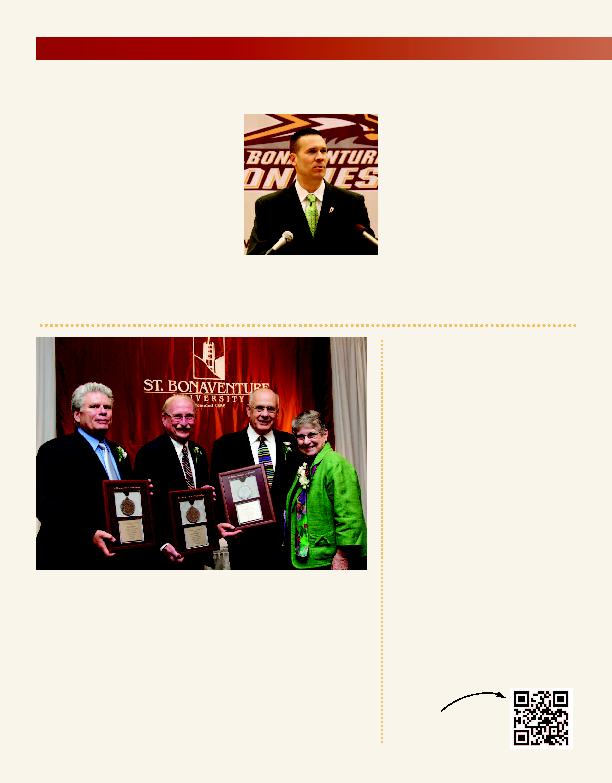 Our gifts. Their future.
Athletics set to embark on new era
T
he university awarded its highest honor to three of Rochester's finest citi-
zens in the arts, non-profit and business worlds at the 16th annual
Gaudete Medal Awards Ceremony on April 26 at the Riverside
Convention Center in Rochester. The evening garnered more than $32,000 for
the Bonaventure Annual Scholarship Fund.
Honored for serving in the Franciscan spirit, the 2012 Gaudete Medal recipients
are pictured with Sr. Margaret Carney, O.S.F., S.T.D., president of the university.
Pictured (from left) are Thomas Ferraro, executive director of Foodlink; James E.
Hammer, president and CEO of Hammer Packaging; and Dr. Anthony Bannon,
SBU class of '64 and director emeritus of the George Eastman House
International Museum of Photography and Film.
Representing joyful ideals
MAKING A GIFT TO
ST. BONAVENTURE IS EASY
Call us at (800) 664-1273
bank account to make automatic
monthly, weekly or quarterly
your gift -- ask your HR office
Drop a check in the mail to:
St. Bonaventure University, P.O. Box
2519, St. Bonaventure, NY 14778
Stop by Francis Hall to talk
with us the next time you're on
By Steve Watson
Director of Athletics
T
his past March, we saw our basketball
teams play to their highest potential.
However, the reality is that these suc-
cesses are difficult to replicate consistently.
The St. Bonaventure Athletics Strategic Plan,
which was developed over the past two years,
addresses our challenges in part by underscoring
how critical facilities are to the recruitment and
development of student-athletes. Many of our
athletics facilities, we have found, are sorely lack-
ing in relation to those of our peers.
To address this shortcoming, we have begun
planning and fundraising for new
and/or renovated facilities that
total approximately $18.8 million.
The first two are a new women's
basketball locker room and the installation of
artificial turf on our soccer/lacrosse and softball
fields. We are also considering a new natatori-
um, an indoor practice facility and several com-
prehensive updates to the Reilly Center. As
more specific plans are determined, we will
share them with you and ask for your support.
It is incredibly exciting to think what all of these
will mean for our university -- and not just our
student-athletes, but all students and the
greater Bona's community for generations to
come.
Learn more about the Women's Basketball
Locker Room Initiative at
www.sbu.edu/wbblockerroom