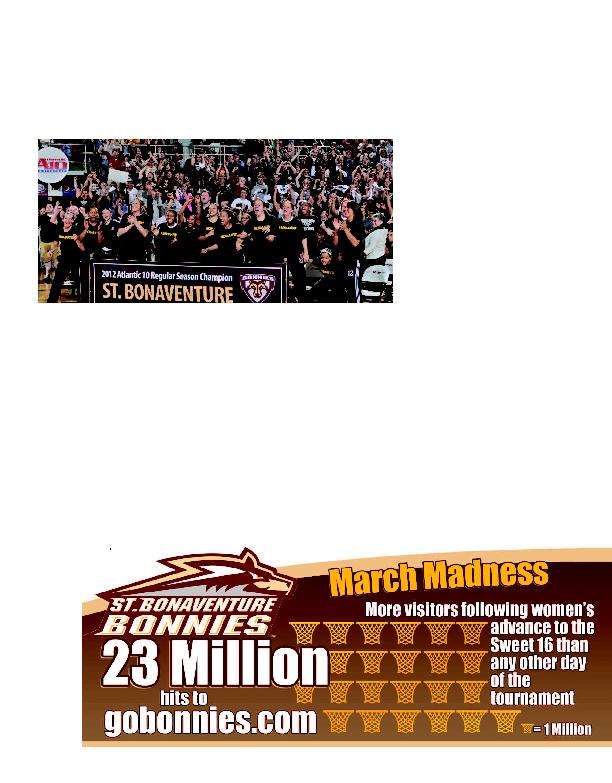 L
ong before the men hit the jackpot
in Atlantic City, claiming the school's
first A-10 tournament title, Jim
Crowley's women had become a national
sensation, winning 18 games in a row,
beating Big East powers St. John's and
West Virginia on the road, and running
through the Atlantic 10 regular season
unbeaten. Crowley was named ESPN's
National Coach of the Year, and seniors
Jessica Jenkins and Megan Van Tatenhove
were first-team all-conference players.
The Bonnies rallied from 22 points down
to take a late lead, but lost the A-10 title
game to Dayton. Didn't matter. Ranked as
high as 16th nationally, their place in the
NCAA Tournament was all but assured, yet
that didn't stop 1,500 people from filling
the Reilly Center for a Selection Show party
(see above) the night after the men won
the A-10 title.
Hilary Waltman, the leading scorer in
women's history and a 2012 SBU Hall of
Fame inductee, divided her attention
between the live WSBU-TV stream of the
party on gobonnies.com and the NCAA
Selection Show on
ESPN2.
"It was very emotional," admitted
Waltman, sitting among a throng of SBU
fans in the Backyard Bistro in Raleigh, N.C.,
just hours before the women's Sweet 16
game with Notre Dame. "I think I was most
emotional when I saw the girls' excitement
when they announced the bid. I immedi-
ately took a picture of the TV screen with
my phone."
When the women arrived at their hotel in
Raleigh -- just three days after thrilling
wins over Florida Gulf Coast and Marist in
the Tallahassee Regional -- NCAA banners
and basketball hoops made of brown and
white balloons greeted them, and smack in
front of the lobby lounge was a table cov-
ered with gift bags. Jessica Vanco, '99, a
teammate of Waltman's, made them for
the team.
"Joy Kwasniak's mom used to make us
homemade scrunchies of brown and gold,
and that used to mean so much to us,"
said Vanco, sitting next to Waltman at the
pre-game party as chants of "This is Bona
territory" broke out. "I'm a Bonnie for life. I
just really care about these girls, even
though I don't know them and have never
met them."
D
enise Dee, '89, played a decade
before, and was a sophomore when
the program moved to Division I in
"Never in my wildest dreams did I think
we could get to this level," Dee said from a
bistro barstool. "I think that's why there is
so much more pride because they have
worked so hard to achieve where they have
gotten today, and not just pride in basket-
ball, but pride in the school itself."
Pride in the school was the last thing Tony
Mannarino, '05, felt during spring break of
his sophomore year when news broke of
the eligibility scandal that forced the men
to forfeit 12 games and shook the universi-
ty to its core.
"It was awful ... such a black eye,"
Mannarino said from Nashville. "People
who knew I went to Bonaventure would
make fun of me. It was a really tough
time."
Mannarino thought the program would
rebound, but never imagined it would hap-
pen so soon: "I thought it would take 20
years." Watching the Bonnies win the A-10
title was, "besides being married, the
greatest day of my life."
The win was doubly sweet for Gerry
Helper, '79, senior vice president of hockey
communications and public relations for
the Nashville Predators. "Overwhelmed" by
what he just watched on TV, Helper parad-
ed around his home with his Bona Wolf
bobblehead and pint-sized Bona basketball.
"I've been in pro sports for 30 years, and
I think that's as excited as my family has
seen me in a long time," said Helper,
whose joy quickly turned to hopeful antici-