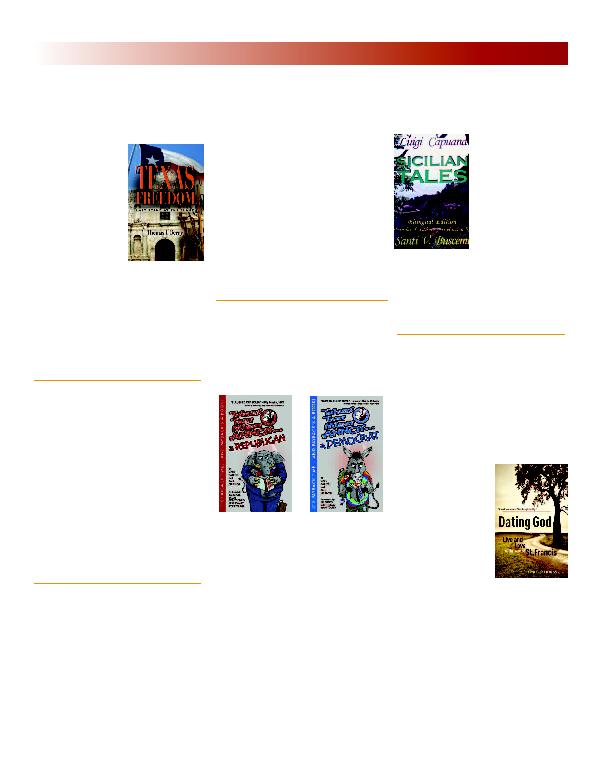 Berry says, but there are dozens of others
who play important parts in the rich history
of the Texas Revolution.
"The battle of the Alamo and the events
that led up to it are divided in large part
between the Mexican
government under
president Antonio
Lopez de Santa Anna
and the colonists who
settled in the Texas
territories, demand-
ing certain freedoms
and rights. But there
were real people on
both sides of the
border with inner
conflicts and personal issues that often
permeated into the decisions they made,"
Berry said. He is also the author of "Lewis
and Clark: Murder on the Natchez Trace"
(2010), and he runs the "Step Into History
Contest" where readers can submit a
character's name for an upcoming novel.
Visit www.thomas-berry.com for more
information.
Eric D. Wagoner, '84, has authored two
books. "My 2 Cents: Letters of Opinion" is
a short book of essays presented in the
form of opinion letters to the editor relat-
ing to political issues and public policy.
"The Custard King" is a collection of five
short stories written "to amuse and paci-
fy" the reader.
Wagoner has been self-employed as co-
owner of a small leather manufacturing
company for 25 years. He says he has
worked "an eclectic number of jobs,"
including working as a carpenter and day
laborer, in a textile mill, as a mail clerk, as
a French bread truck driver and as a
graphic designer.
David J. Kelley, Ph.D., '90, has pub-
lished "Sports Fundraising: Dynamic
Methods for Schools, Universities, and
Youth Sport Organizations," a course text
for any athletic or sport fundraising
course, and an invaluable reference for all
professional fundraisers working in sport
or education.
"Sports Fundraising" is an introduction
to fundamental principles and best prac-
tice in sports fundraising. Focusing on the
particular challenges of fundraising in
intercollegiate and interscholastic sport,
and for youth sport organizations, the
book is designed to help students devel-
op the professional skills that they will
need for a successful career in sports or
education administration.
Packed with real-life case studies and
scenarios, the book offers a step-by-step
guide to the effective planning, commu-
nication, implementation and manage-
ment of sports fundraising projects, and
introduces the most important issues in
contemporary sports fundraising. Each
chapter contains a range of useful fea-
tures, from definitions of key terms to
skill-building exercises, exploring both
quantitative and qualitative methods for
understanding the fundraising process
and designing more effective fundraising
projects.
Dave Barend, '90, has joined forces
with co-writer and fellow comedian Paul
Nardizzi for a pair of books just in time for
the Presidential Election: "Things That
Might Annoy A Republican" and "Things
That Might Annoy A Democrat."
The pair's second book, "Things That
Might Annoy a Jets Fan," was released in
November 2011. Written under the motto
"It's Payback Time ... And Payback's A
Book," the book includes hundreds of
things to say and do to protect yourself
from the obnoxiousness that is a Jets fan.
In addition to being an essential self-
defense guide, the book also provides
some heartfelt suggestions for Jets fans in
the chapters "Mascots For The Mascot-
Less Jets" and "Substantially Better And
More Creative Chants Than J-E-T-S JETS-
JETS-JETS."
Barend and Nardizzi's first collaboration,
"Things That Might Annoy A Yankee
Fan," was released last fall.
Learn more at www.thingsthatmightan-
Santi Buscemi, '66, professor of English
at Middlesex County College, is the author
of five college texts (print and electronic)
published by McGraw-Hill. Buscemi is also
the translator of Luigi Capuana's "C'era
Una Volta" (Once
Upon a Time), a collec-
tion of 20 fairy tales
translated from Italian
into English under the
title "Sicilian Tales." It
was published in 2010
by Dante University of
America Press. In addi-
tion, Buscemi has pub-
lished translations of
Capuana's works in the Journal of Italian
Translation and in Italica. More information
about "Sicilian Tales" is available at
www.danteuniversity.org/siciliantales.html.
Buscemi is also past Grand Knight of
Council 7103 of the Knights of Columbus.
In his book "Dating God: Live and Love
in the Way of St. Francis," Fr. Daniel P.
Horan, O.F.M., '05, points out that the
desire, uncertainty and love we experience
in relationship with God resembles our
earthly relationships. The journey to God,
says Fr. Dan, is a lot like dating. You have
to get to know God in the same way and
in a similar process as you would with
someone you date, when you want to
explore another per-
son's truest self.
an answer book or a
schema providing easy
steps or instructions to
have an ideal spiritual
life. Rather, it offers a
new look at the time-
less condition of
human longing for a
deeper relationship with the Creator. And,
contends Fr. Dan, the Franciscan tradition,
which includes Francis and Clare of Assisi
and those men and women who followed
them, is perhaps the best model for this
deepening relational experience with the
Divine.
Fr. Dan, a Franciscan friar of Holy Name
Province, writes the blog DatingGod.org.
"Dating God" is available through
Amazon, Barnes & Noble and Franciscan
Media; there also is an audiobook version
and versions available for the Kindle and
the iPad (Amazon.com and iTunes).

2
Off the Shelf