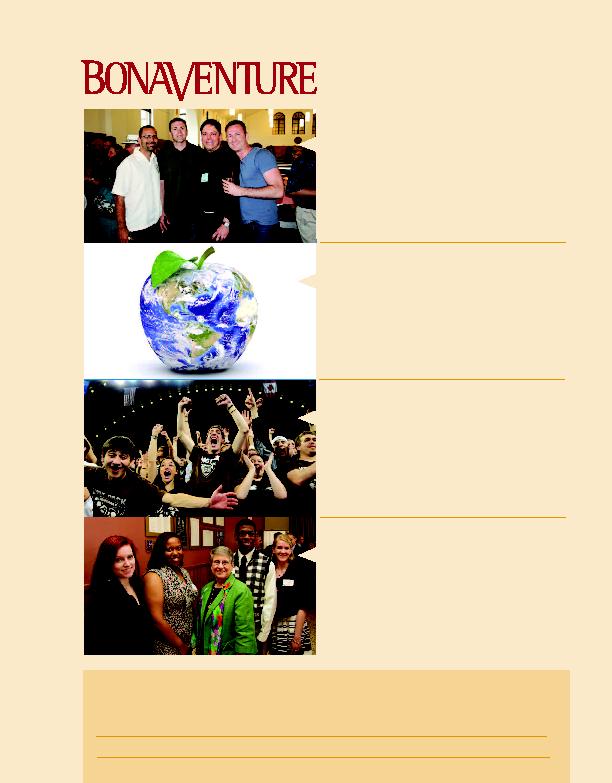 Editorial Advisory Board
Beth Eberth, editor
Susan Anderson, '11
Lisa Biedenbach, '76
Br. F. Edward Coughlin, O.F.M., '70
Mary Driscoll, '79
Vol. 4, No. 2, Summer 2012
St. Bonaventure, NY 14778
On the Web: www.sbu.edu/bonamag
Submit class notes: bonalumnus@sbu.edu
Address changes: alumni@sbu.edu
Additional contacts: Office of Alumni Services, (716) 375-2302
Bonaventure: The Magazine of St. Bonaventure University is produced twice a year by the Office of Marketing and Communications.
The Magazine of St. Bonaventure University
Reunion, reunion, reunion
What happens when more than 1,000 friends get
together to reminisce about their days at Bona's?
They consume 2,900 meals, travel around on eight
buses to 50 separate events, and celebrate with
more than 100 faculty, staff and students.
Faculty member weighs in on global obesity
People are spending much more time considering
their diet and nutrition, but the results aren't
matching the industry's growth. That's where health
psychology comes into play. Greg Privitera, Ph.D.,
believes that for people to change the way they eat,
they need to understand how they think about food.
Cover stories
The men's and women's basketball teams certainly
gave the SBU campus, alumni and friends some-
thing to shout about as basketball fever hit Bona
Nation and beyond this spring. Recalling the
Atlantic 10 Championships and trips to the NCAAs
still gives alums goose bumps.
Departments
Editor's Letter . . . . . . . . . . . . . .4
Franciscan Minute . . . . . . . . . . .5
Campus News . . . . . . . . . . . . . .6
Our Gifts. Their Future . . . . .10
Off the Shelf . . . . . . . . . . . . . .25
BonAlumnus . . . . . . . . . . . . . 28
On the Web . . . . . . . . . . . . . .40
Joe Flanagan, '74
Steve Mest, '91, '05
Tom Missel
Dr. Todd Palmer
Carri (Gregorski) Prue, '04
Dr. Emily Sinsabaugh
Jordan Steves, '09
Mary Jane Telford, '75
Jocelyn Thomas, '77
Dr. Denny Wilkins
Contributors
Sr. Justina Ekibenda, F.S.S.B., '13
Sr. Nikiwe P. Ngcongo, F.S.F., '13
14
16
9
Andrea Westerlund, '10, '12
Photography
Michael Hastings
Craig Melvin