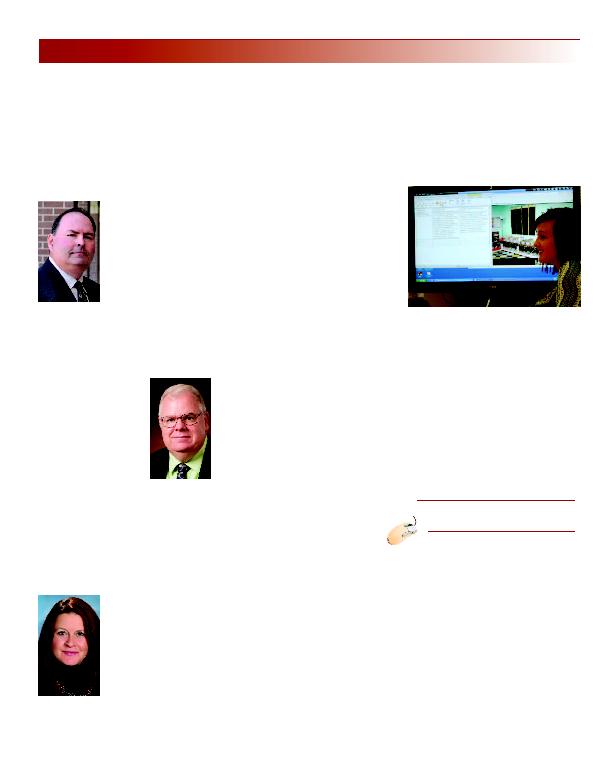 University welcomes new
deans in Business, Education
and Journalism schools
The university has welcomed new deans
in the schools of Business, Education and
Journalism and Mass Communication.
Pierre Balthazard, Ph.D., of Peoria, Ariz.,
began duties June 15 as the new dean of
piece of the comprehen-
sive university, I believe
that the School of
Business seeks academic
distinctiveness, enhanced
student outcomes, a
commitment to global-
ization, strengthening
the environment for
scholarly activity, and instilling a sense of
community/social responsibility," said
Balthazard.
Joseph E. Zimmer, Ph.D., who has been
associated with the university for the past
20 years, succeeds
Peggy Yehl Burke, Ed.D.,
as dean of the School of
Education. Burke was
promoted to associate
provost and dean of the
School of Graduate
Studies.
privilege to lead this com-
munity of teachers and
scholars into the future. Our goal is to con-
tinue to produce well-trained and ethical
professionals to meet the demanding needs
of schools and the community in these
tough political and economic times," said
Zimmer, an associate professor in the
school.
Pauline Hoffmann, Ph.D., was named
dean of the Russell J.
Jandoli School of
Journalism and Mass
Communication.
Hoffmann previously
served as an associate
professor of journalism
and mass communica-
tion in the school.
Journalism and Mass Communication,"
said Hoffmann. "As an SBU alumna, I
understand our unique challenges and
our enormous strengths. I will continue to
lead in the tradition of Dr. Jandoli with an
emphasis on strong writing, reporting and
communicating."
SBU accounting students help
county taxpayers earn
$700,000 in refunds
Accounting students volunteered 2,000
hours of their time to help local taxpayers
earn $700,000 in tax refunds this year.
A group of 50 volunteer tax preparers,
most of them St. Bonaventure students,
worked from Jan. 26 through April 3 to
generate an impressive 450 tax returns
for working families in Cattaraugus
County.
The Bonaventure Accounting
Association formed the Volunteer Income
Tax Assistance (VITA) program in 2004.
Since then, VITA has helped low- and
moderate-income workers earn more
than $4.8 million in tax refunds, often
through federal and state Earned Income
Tax Credits.
"The student tax preparers did an out-
standing job," said Dr. Susan Anders, pro-
fessor of accounting and VITA adviser. "I
was particularly impressed by the seniors
who really took the first-year juniors
under their supervision and made sure the
juniors had a good experience."
AAF group takes third place in
national competition
St. Bonaventure's student advertising
agency took third place in the District II
National Student Advertising Competition
(NSAC) held April 14 in New York City.
NSAC is a nationwide competition spon-
sored by the American Advertising
Federation (AAF).
St. Bonaventure was up against several
major universities with sophisticated adver-
tising programs. For example, first-place
winner Penn State has several hundred
advertising majors and public relations
majors. St. Bonaventure does not offer a
major in either field. In all, nine colleges
competed in SBU's district.
"That makes taking home the bronze
even more impressive," said Mike Jones-
Kelley, St. Bonaventure's ad club adviser.
"It's fun being the mouse that roared."
This year's client was Nissan. The chal-
lenge was to create a research-based $100
million integrated marketing communica-
tions campaign to increase Nissan's penetra-
tion among African-American, Chinese-
American and Hispanic-American
Millennials (the demographic that was
entering adulthood around the turn of the
21st century).
New classroom helps future
teachers stay ahead of the
technology curve
The School of Education's "Classroom of
the Future" allows students to stay ahead
of the technology curve and become
more passionate about teaching.
The Technology Enabled Collaborative
Classroom (Plassmann 157) was designed
to create an opportunity for instructors to
use enhanced technology tools to make
their classes more engaging for their stu-
dents. The classroom is outfitted with five
workstations, each consisting of a table,
desktop computer, webcam, wireless key-
board, mouse and large flat screen dis-
play. In addition, the instructor has a sixth
PC at a podium connected to a Smart
Board mounted in the front of the room.
This setup allows the instructor to show
the same images on all screens in the room
or to have each work station working on
an independent project. It allows students
and "visitors" to Skype into class and for
the class to have interactive experiences
with people at a distance. This requires
instructors to have a new paradigm for
planning their classes so that the technolo-
gy can be utilized to enhance instruction.
Campus News
Watch a video about the classroom
www.sbu.edu/education