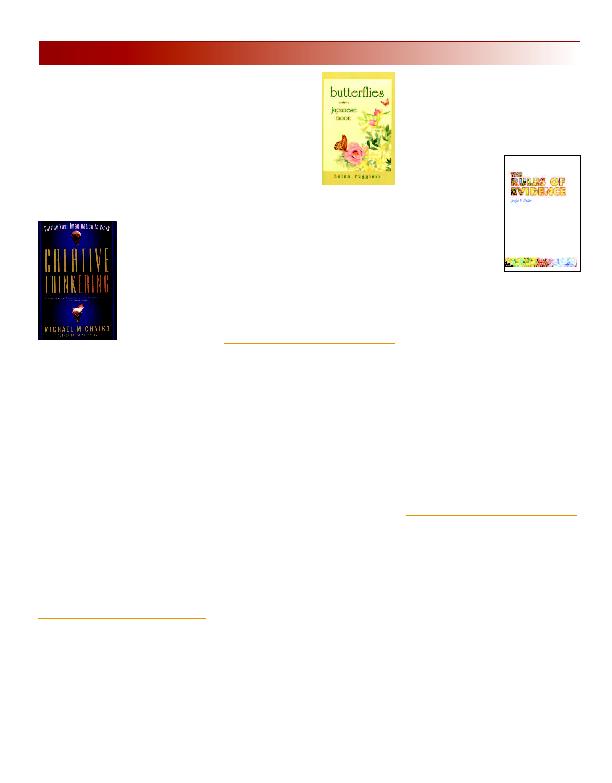 Off The Shelf
Have you ever asked yourself "Why didn't
I think of that?" In "Creative Thinkering:
Putting Your Imagination to Work,"
Michael Michalko, '61, shows that in
every career -- from business and science
to government, the arts, and even day-to-
day life -- our natural creativity is limited
by the prejudices of logic and the structure
of accepted categories and concepts.
Through step-by-step exercises, illustrated
strategies, and inspiring real-world exam-
ples, "Creative Thinkering" shows readers
how to synthesize dis-
similar subjects, think
paradoxically, and
enlist the help of their
subconscious mind.
Michalko is one of the
most highly acclaimed
creativity experts in
the world and author
of the bestseller
"Thinkertoys: A
Handbook of Business
Creativity;" ThinkPak,
a brainstorming card deck; and "Cracking
Creativity: The Secrets of Creative Genius."
As an officer in the U.S. Army, Michalko
organized a team of NATO intelligence spe-
cialists and international academics in
Germany to research, collect and categorize
all known inventive-thinking methods. His
international team applied those methods
to various NATO military, political and social
problems and, in doing so, produced a vari-
ety of breakthrough ideas and creative
solutions to new and old problems. After
leaving the military, Michalko facilitated CIA
think tanks using his creative thinking tech-
niques. Michalko later applied these cre-
ative-thinking techniques to problems in
the corporate world, and has provided
keynote speeches, workshops and seminars
on fostering creative thinking for clients
ranging from Fortune 500 corporations to
associations and governmental agencies.
Learn more at www.creativethinking.net.
Helen Ruggieri, '72, has released a new
book of poetry reminiscent of early
Japanese poetry, "Butterflies Under a
Japanese Moon."
Ruggieri received an MFA in poetry writ-
ing and taught at Jamestown Community
College in Olean and at the University of
Pittsburgh, Bradford, Pa., until her retire-
ment. After 40 years of writing, Ruggieri
has been published in several hundred
magazines and
anthologies and has
several books and
chapbooks.
spent a semester at
Yokohama College in
Japan and became
interested in the litera-
ture of early Japan.
She has published
haiku in the Manichi Daily News and
Yomiuri Daily, and she has won awards for
her haiku at the International Kusamakura
Haiku Competition and the Suruga Baika
literary festival.
She taught as a poet in the schools in
rural counties of upstate New York and
teaches a poetry workshop for the Mental
Health Association. She is a master garden-
er and has studied tai chi for 15 years.
Learn more about her poetry at
www.helenruggieri.com.
Alan Bernard Delozier, '91, is author of
"Roman Catholic Archdiocese of Newark,"
the newest addition to Arcadia Publishing's
popular Images of America series.
Teach, build and serve -- a legend taken
from the mission statement of the
Archdiocese of Newark -- encompasses
the vibrant spirit emblematic of the
Archdiocese from its official conception in
1853 through its sesquicentennial obser-
vance in 2003.
Generations of Catholics who live in the
northern New Jersey counties of Bergen,
Essex, Hudson and Union have shared such
devotions as attending Mass, special feast
days, parochial education, organizational
affiliations, church socials and many other
articles of celebration with their families,
friends, priests, religious sisters and others
who collectively define the essence of
neighborly communion. The volume pro-
vides a basic narrative and visual overview
designed to honor the individuals, mile-
stones and varied landmarks that make the
Archdiocese of Newark memorable and
inspirational, and boasts more than 200
vintage images. Delozier is director and uni-
versity archivist at the Monsignor William
Noé Field Archives & Special Collections
Center at Seton Hall University and is exec-
utive director of the New Jersey Catholic
Historical Commission. More information
about the book is available at www.arcadi-
apublishing.com.
"The Rules of Evidence" by Joseph F.
Dolan, '61, explains how we know so
much about the world around us.
It looks at "the scientific method" in a
new way -- as rules of evidence like those
used in courts of law to help juries decide
the facts. But the sci-
entific rules of evi-
dence are different
from the legal ones.
Their purpose is to
separate fantasy from
reality. The book
applies the rules to
such topics as astrolo-
gy, biorhythm, money-
making schemes in
the stock market, why
Russian agriculture nearly collapsed in the
1930s, whether an unborn fetus is a
human being, and why relativity actually
has no paradoxes. The book is illustrated
with dozens of stories about interesting sci-
entific personalities and the way they used
(and misused) the scientific rules of evi-
dence.
Dolan is an astrophysicist who spent
much of his career at NASA's Goddard
Space Flight Center, where he was a co-
investigator on the Hubble Space
Telescope. He has taught at Case Western
Reserve and Stanford, and now teaches in
the Department of Astronomy at San Diego
State University. In addition to his bachelor's
degree in physics from SBU, he holds a
Ph.D. in astrophysics from Harvard.
"The Rules of Evidence" is available on
Amazon.com as a Kindle e-book.
Thomas Berry, '88, has published his
second book, a historical fiction novel titled
"Texas Freedom: Last Stand at the Alamo."
It is a richly detailed story surrounding the
Texas Revolution and the Battle of the
Alamo in 1836. "Texas Freedom" is avail-
able in print and electronic formats, includ-
ing Kindle and Nook.
Berry's Texas Freedom project was two
years in the making and included a trip to
San Antonio, Texas, in March 2011 during
the 175th anniversary of the famous battle.
He was able to interview Alamo curator
and historian Bruce Winders and Alamo
museum education director Sherri Driscoll,
as well as dozens of experts in various
fields.
Everyone is familiar with notable figures
such as Davy Crockett and Sam Houston,