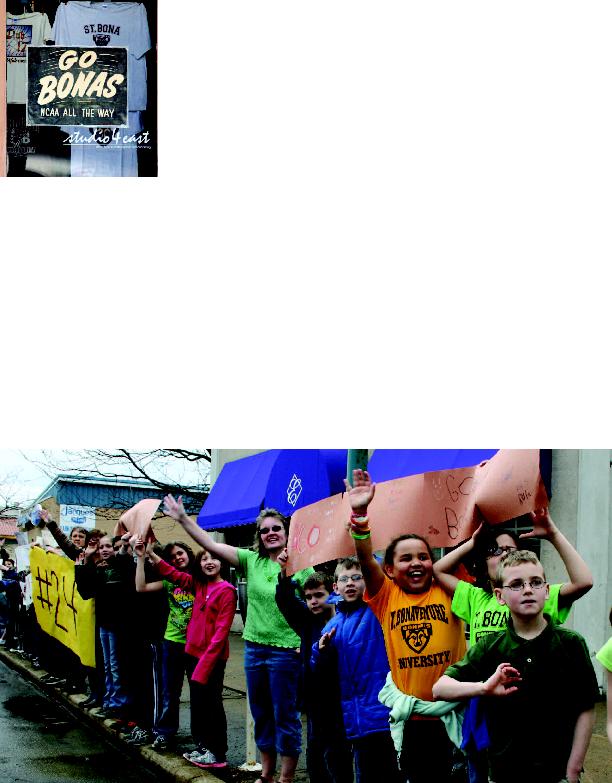 eeing the streets of Allegany and Olean lined
with cheering and waving well-wishers as the
Bonnies' tournament-bound buses rolled out of
town put a lump in the throat of men's coach Mark
Schmidt.
There were people everywhere. Shop owners and
workers took an extended break and stepped outside,
nursing home residents were parked curbside in their
wheelchairs, whole schools emptied so students dressed
in Bona brown and holding handmade signs could go
bonkers as the caravan passed by.
"It brought a tear to my eye," said Schmidt. "To see
that support in the community was really humbling. It
was unbelievable."
He wasn't the only grown man nearly brought to tears.
"It was as emotional an experience as I've had profession-
ally," said women's coach Jim Crowley. "Throughout the
whole bus ride on our way to the highway it was just one
scene after another, and I was trying not to break down."
It was magical, townspeople agree. What it was not,
they tell you, was unexpected.
"It didn't surprise me," said Jason Palumbo who, with
his brother Tom, owns and operates The Sports Locker
sporting goods store on West State Street in Olean, where
Bona gear fills clothing racks on the floor.
"I think that's typical of small-town America," said
Palumbo. "Bonaventure alums have great passion for the
school, but so do the locals. And they really love Bona
basketball."
Bob Lanier, the Bonnies' most famous basketball alum
until a guy named Nicholson joined him on the podium,
once described the region as "basketball crazy."
Where SBU hoops is
just part of your DNA