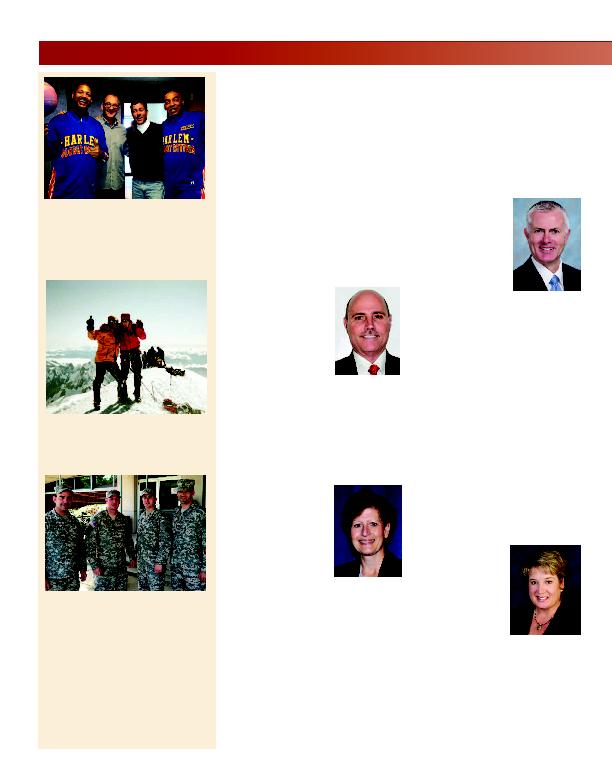 Propulsion Laboratory at CalTech, a
University of Hawaii master astrobiology
teacher, and is retired from the U.S. Army
Corps of Engineers.
1978 -- MaryJo Polidore is vice president
of public affairs for Dallas-Fort Worth
International Airport in Texas.
1979 -- Patrick Hailey retired after 27
years with the Central Intelligence Agency,
where he served at U.S. embassies in India,
Syria, Saudi Arabia, Egypt and Sudan. He is
now working for a private security consult-
ing firm in the Washington, D.C., area.
1980 -- Joseph Baucom was appointed
regional vice president of Marmon/Key-
stone's Southeastern Region, overseeing the
Charlotte, Atlanta,
Orlando, Birmingham,
Houston and Fort Worth
branches. Baucom joined
Marmon/Keystone as the
Charlotte branch manager
in 1996, and had spent
prior time with the compa-
ny in the roles of inside
and outside sales, product management and
national accounts management. He and his
wife, Maggie, live in Charlotte, N.C., with
their two children.
1981 -- John Boegel was promoted to
national sales manager at the Brooklyn
Brewery. Margie (McDonald) Garrison
retired on July 31, 2011, after more than 30
years of service in the
United States Army.
Garrison was selected to
be a member of the
Senior Executive Service by
Gordon S. Heddell, inspec-
tor general of the
Department of Defense.
She is serving as the
deputy inspector general
for Administrative Investigations, in the
Department of Defense's Office of Inspector
General.
1982 -- Jeanne (Golanka) Hamrick was
appointed director of marketing and com-
munications at the COPD Foundation, which
develops and supports programs that
improve the quality of life through research,
education, early diagnosis and enhanced
therapy for persons whose lives are impacted
by Chronic Obstructive Pulmonary Disease.
Prior to joining COPDF, Hamrick led St.
Albans School's communications and com-
munity outreach efforts; she previously
played key roles in communications at
Landon School, Goodwill Industries
International, Inc. and the U.S. Chamber of
Commerce. Kevin A. Keenan is president
and executive officer of Keenan
Communications Group, a multi-faceted
communications firm established by
Masiello, Martucci, Calabrese and Associates,
a Buffalo-based lobbying firm. Keenan
Communications Group
specializes in social
media, public relations,
crisis communications
and grassroots mobiliza-
tion. Since 2000, Keenan
has been the leader of
the Diocese of Buffalo's
expansive communica-
tions efforts; he now
serves as chief communi-
cations counsel to the diocese. During his
tenure with the diocese, Keenan has had
overall responsibility for diocesan public rela-
tions and crisis communications. He devel-
oped the diocesan social media strategy. He
has served on the diocesan Strategic
Planning Commission that included a major
reorganization of parishes, and he is part of
the ongoing planning for Catholic elemen-
tary schools in the eight counties of Western
New York. Keenan is a member of the
Buffalo Broadcasters Association and was
appointed by Cardinal Edward Egan of the
Archdiocese of New York to the New York
State Catholic Conference Public Policy
Committee. He is also a USA Swimming offi-
cial. Laura Saxby Lynch was named to the
Board of Directors of AAA Western and
Central New York for 2012. Lynch, director
of corporate communications at Paychex,
was re-elected to serve a new one-year
term. Lynch has been
responsible for
Paychex's external com-
munication efforts since
2001. She previously
served as senior vice
president of communi-
cations for United Way
of Greater Rochester,
and spent 14 years as a
journalist, including 12 years reporting,
producing and anchoring for WHEC-TV,
the NBC affiliate in Rochester. Lynch is a
member of the Bishop's Stewardship
Council for the Roman Catholic Diocese of
Rochester and is also on the WXXI Public
Broadcasting Council Board of Trustees.
Lynch holds several awards recognizing her
professional career and civic accomplish-
BonAlumnus Updates
HANGING WITH THE GLOBETROTTERS:
SBU class of 1984 classmates Ed Tyburski
and Frank Garvey met Globetrotter
Handles Franklin and Globetrotter legend
Curly Neal at a recent Zurich corporate
event at a Philadelphia Flyers game.
ALUMS HIT THE ALPS: Jeff Brown, '85,
and Mike Sheehey, '84, are pictured at
the summit of Mont Blanc in the French
Alps, 15,782 feet, on July 29, 2011.
REMINISCING IN D.C.: 2005 classmates
Capt. Thomas Kirchgessner, Capt. Joe
Corsi, and Capt. James Irwin got together
with former ROTC instructor Lt. Col. Reed
Erickson in Washington, D.C. The three
alums are all with 1st Information
Operations Command at Ft. Belvoir, Va.
Corsi and Kirchgessner were formerly
with the 173rd Airborne Brigade Combat
Team in Europe, and Irwin was with the
3rd Infantry Division at Ft. Stewart, Ga.
Erickson is an aviation battalion com-
mander at Ft. Belvoir.