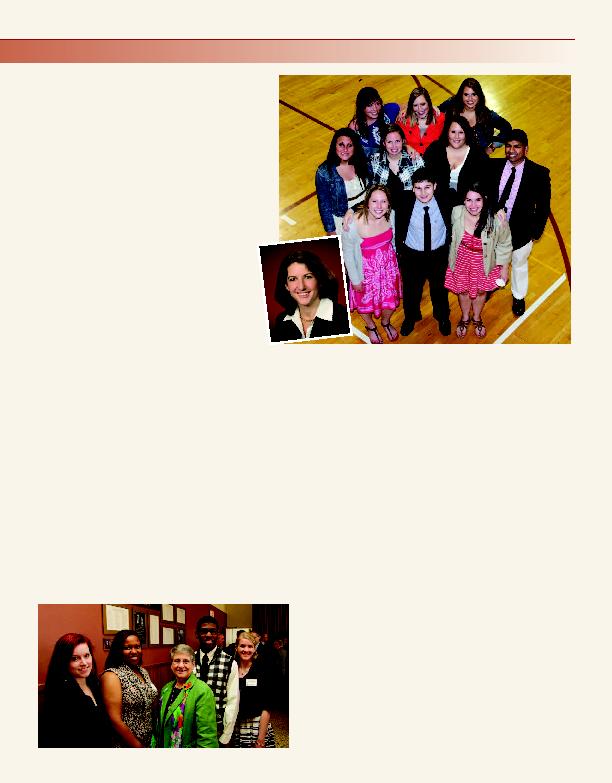 C
olette Dow, '88, vividly recalls the moment she
transitioned from a student to a donor. "I was
fresh out of school, living in a rather dumpy
apartment in Queens," she said. "I remember writing
the check and thinking, `Can I really afford this? I have
debts to pay,' but I knew it was the right thing to do."
Dow, chief operating officer of The PrinceRidge Group
LLC in New York City, earned a bachelor of business
administration degree with a major in accounting from
St. Bonaventure in 1988. A longtime supporter of and
volunteer for the university, she also serves on the Board
of Trustees and the School of Business Campaign
Steering Committee.
"I somehow knew then that I had a debt to repay for
my experience at St. Bonaventure. I know now that my
time at Bona's laid the foundation for the many bless-
ings our family has experienced since and we will always
be indebted to St. Bonaventure."
Now, she intends to pass on the tradition. Hoping to
inspire a future generation of philanthropists, Dow
issued a challenge match to the class of 2012: She
would match, dollar for dollar, every donation to the
senior class gift.
News about the challenge spread quickly within the
graduating class. "Everyone was stunned by her gen-
erosity," said Courtney Cobb, class of 2012 secretary. "It
sparked a new level of enthusiasm. Within days, we
acquired more than 40 new donors."

2
Passing on the
tradition of
Scholarship recipients pause for a photo with Sr. Margaret Carney,
O.S.F., S.T.D., president of the university (center), at the 2012 Barbara
Carr McKee Scholarship Luncheon on Friday, April 20, in the Robert R.
Jones Board of Trustees Room in Doyle Hall. Students pictured (from
left) are Emily Tronetti, '12; Alexis Thomas, '13; Thomas Green, '15; and
Rachael Herrmann, '15. The annual luncheon allows students the
opportunity to meet and thank the donors who helped fund their edu-
cation. More than 300 students received endowed or annual scholar-
ships in the 2011-2012 academic year.
Celebrating the significance
of scholarships
Members of the Senior Class Gift Committee included (front row, from left)
Bridget Steele, Mike Kaplan and Melissa Gentile; (second row) Jaela Agnello,
Lauren Pingelski, Courtney Cobb and Abhi Aggarwal; and (back row) Kelsey
Brockenshire, Amy Jones and Michelle McKernan. INSET: Colette Dow.
Michael Kaplan, class of 2012 presi-
dent, noted that Dow's gift added
more than financial assistance.
"It reinforced my feeling that
entrance to the Bonaventure family
comes with a lifelong membership.
When she threw her hat into the
ring, I became excited for a time
when maybe I could do the same
type of thing in the future," he said.
In total, 110 seniors contributed
more than $4,100 to the class gift
challenge, with the overall senior
class campaign netting approximate-
ly $12,000. Funds will be used to
renovate the Rathskeller with new
paint, wall decorations, flat screen
televisions and other upgrades.
"I wish the class of 2012 the best of
luck," Dow said. "I think they
should be commended for their spir-
it. We are blessed with a group of
new young alumni who already real-
ize how vitally important it is to give
back."
www.sbu.edu/donate