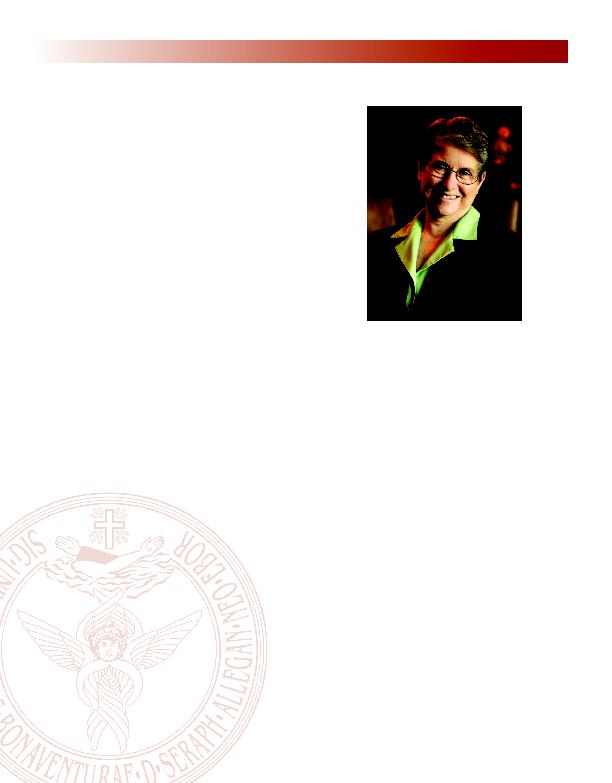 2
From the President
e couldn't help ourselves. No matter how much
we all tried to focus on the business at hand, it
was enormously difficult to avoid getting caught
up in the excitement of March Madness 2012.
Even the most reluctant or disinterested sports fans among us
found themselves gathering around television sets and taking
part in "water cooler" conversations -- whether at work or
online -- to watch or discuss the latest news of the Bonnies and
their extraordinary runs.
As I reflect on those days, it's hard to contain, much less ade-
quately characterize, the emotion that continues to surface. The
side stories, the individual accomplishments and challenges, the
friendships made and rekindled, and the demons put to rest are
collectively an experience that few have the opportunity to
know.
Since the earliest years of the university, athletics has been
responsible for creating a sense of community, accomplishment,
recreation and fond memories. The contribution of these intan-
gibles has made athletics an intimate part of the Bonaventure
experience for thousands. With our mission firmly rooted in aca-
demic success, the twin experience of athletic success has long
made the sacrifices of living far from home (and far from more
glamorous cities) worth it.
Athletics is now -- and has been for many, many years --
St. Bonaventure University's fireplace, our hearth. It's what brings
us together. And, at times, it has been the source of significant
discord.
But, this time, as we gathered together, we projected the best of
our hopes and aspirations. That's what our country saw. That's
what we felt, deep in our hearts. The needle of the Bona Pride
meter was buried in the red for weeks on end.
Such success would typically lead to aspirations for even greater
levels of achievement. Certainly, we all want to go back to The
Dance again. But, as I move around the country and speak to
Raymond C. Dee, '64, Chair
Robert J. Daugherty, '77, Vice Chair
Fr. Frank R. Sevola, O.F.M., '82, Secretary
Lana D. Benatovich
James E. Canty, '84
James J. Cattano, '65
William M. Collins, '76
Daniel F. Collins, '73
St. Bonaventure University Board of Trustees*
Kathleen A. Colucci, '77
Fr. Thomas E. Conway, O.F.M.
Robert D. Crowley, '71
Joseph A. DeMaria, Esq., '79
Colette C. Dow, '88
Timothy F. Fidgeon Esq., '66
Timothy J. Finan
Thomas M. Garvey, '74
Albert C. Horton, '66
Robert S. King, '80
Dr. Bharat Kohli
Fr. Fred A. Link, O.F.M.
James E. Meyer, '76
Eugene M. O'Connor, Esq., `79
Rev. John F. O'Connor, O.F.M.
Fr. Kenneth P. Paulli, O.F.M.
William Purcell III
Leslie C. Quick III, '75
John V. Sponyoe, '61
James E. Stitt
Marvin W. Stocker, '75
Bernard E. Stoecklein
Vincent R. Volpe Jr.
*As of June 16, 2012
Sometimes you just have to dance
alumni, and as I interact with our
students, faculty and staff here on
campus, I realize that while we yearn
for continued success, what we real-
ly want is that irreplaceable sense of
community -- gathering with our
fellow Bonnies around the hearth to
experience life together, win or lose.
We are called to come to grips with
the cycle of victory and defeat and
the joy and sadness that come along
in either case. May we continue to
do so as a community, guided by
that keenly honed moral and ethical
compass we know as the Franciscan
tradition.
Peace and Good,
Sr. Margaret Carney, O.S.F.
President of the University
Trustees Emeriti
Msg. Leo E. Hammerl, '42
The Hon. Howard M. Holtzmann
Robert R. Jones, LL.D., '58
Charles Osgood, LL.D.