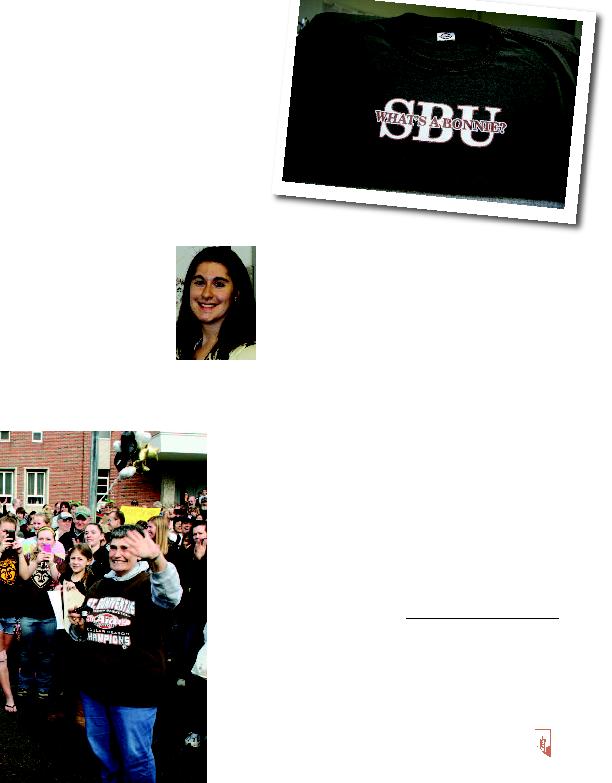 I can't even begin to count
how many people asked me
throughout those few weeks
what a Bonnie was.
Every time someone asked, I
But now, after three years at
Bona's, I have an answer.
drives 2,556 miles in two week-
ends to support both the men's
and women's basketball teams
in the NCAA Tournament.
A Bonnie is someone who decides to
spend 12 hours in a car, traveling
through five states to get to Nashville,
Tenn., to watch the men's basketball
team play in its sixth NCAA tournament.
A Bonnie is someone who gets back
in the car the next weekend and drives
11 hours through four states to Raleigh,
N.C., to cheer on the women in their first
NCAA Tournament.
A Bonnie is someone who has pride
for her teams even though they lost
because deep down we all know having
a strong support system means so much
more than a trophy.
I realized I was a Bonnie when I trav-
eled with three friends across the
Northeast this semester while covering
the basketball teams for one of the on-
campus newspapers.
But my story isn't the only one out
We all have a different and special
story we will tell our children, our chil-
dren's children and so on about what we
did the year the Bonnies went to the
NCAA.
But we also have a similar story.
A story of one of the smallest Division
I schools to have both teams go to the
tournament during the same season.
A story of students and alumni alike,
traveling hundreds and thousands of
miles just to show their pride in a team
and dedication to a small, private
Franciscan university.
A story of that small university finally
getting on the map, showing the nation-
al media who we were and letting them
know we weren't going anywhere.
A story of hearing fans chant "SBU"
louder than ever with only seconds left
on the clock as the women lost to Notre
Dame in the Sweet 16.
A story of seeing fans in brown "Rock
the Reilly" shirts clog the streets of
downtown Nashville, starting the Bona
clap and greeting one another through-
out the night.
This is our story. Having pride in the
school we call "Bona's, old St. Bona's."
Standing behind our players who we call
friends. And knowing no matter how far
away we travel from Olean, N.Y., another
Bonnie will be close by.
It took a trip across nine states with
three close friends and the spirit of each
and every SBU alumnus and student for
me to understand that I've been a
Bonnie since the moment I stepped onto
campus three years ago. It might have
taken me three years, but I'm so glad I
finally figured it out.
So, what is a Bonnie?
I am.
And so are you.
(Maddie Gionet, from Greenwich, N.Y., is
pursuing a J/MC major and political sci-
ence minor. She will begin the integrated
marketing communications program next
year while finishing up her undergradu-
ate degree. She is co-editor in chief of
The Intrepid, an online campus newspa-
per; an intern for the Sports Information
Office; and the secretary of the American
Advertising Federation.)
W
hen I arrived for
Orientation at St.
Bonaventure three
summers ago, I received a T-
shirt with "What's a Bonnie?"
written across the front. For
weeks before leaving for Bona's,
I wore that shirt to let others
know about my decision on
where I would be going to col-
lege.
At that point, I didn't wear it because of
SBU pride -- I just wanted people to know
where the next part of my journey would
be taking me.

2
Student support of the basketball teams went
far beyond the `sixth man' this season as they
Rocked the Reilly for home games and hit the
road with books in tow for the playoffs.
As student Maddie Gionet, '13, rode the waves
of Bona pride, she considered ...