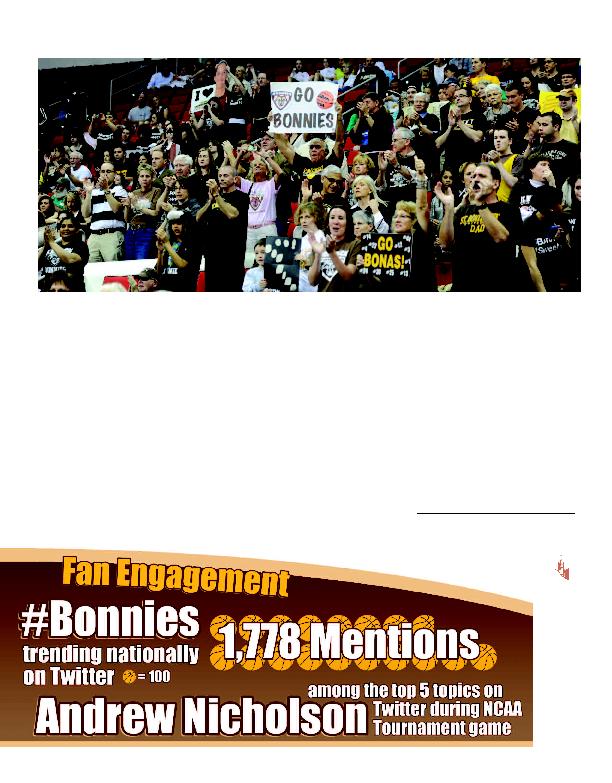 actually emotional watching it when they
announced it. It brought back so many
memories of my gym, of where I spent so
many of my best times."
For Helper, and almost every Bonnies'
fan you talk to, the surreal season was lit-
erally the final nail in the coffin, burying
forever the shame of the scandal.
"To me, that entire weekend, right
through the women's show, put 2003 in
the rear-view mirror," Helper said. "They
all paved the way so that none of the
kids going forward will have to hear
about it. It's now a memory."
(Tom Missel is director of marketing and
media relations at St. Bonaventure.)

2
pation. In just three hours, the brackets would
be revealed, and the Predators' home,
Bridgestone Arena, was a host site.
"I'm thinking, `There are eight sites, what are
the chances the Bonnies end up in Nashville?'"
Of course, his 8-to-1 long shot came in.
"I was just so thrilled to know I was going to
get to see them play in the building I work in,"
Helper said from the pre-game party at
Bridgestone he helped organize for St.
Bonaventure, which had more fans in the
building than Florida State, a school 15 times
bigger. Bonnies' paraphernalia sold out in the
arena long before that of any other team.
"You become so intertwined with the school
and your classmates that there is a bond that
doesn't exist at a lot of other schools," Helper
said.
Marv Stocker, '65, a university trustee (holding sign), and his wife, Donna, (in pink Bonnies' T-shirt) cheer the women on in Raleigh, the last
stop of their remarkable road trip -- all by car -- that also took them to four other tourney sites: Philadelphia, Atlantic City, Nashville and
Tallahassee. They live in suburban Baltimore. "I had so much faith in the Bonaventure tradition, I knew we'd be back," Stocker said.
Unscripted chants of "Let's Go Bona's"
would break out in the concourse at
Bridgestone or at Bailey's Pub at any given
moment. When the women were being
humbled by Notre Dame, that didn't stop
400 fans from serenading the team with
"We love Bona's" with 2 minutes to play.
"That's part of the Bona magic," he
said. "If you've gone there, you get it. It
doesn't matter that others don't get it.
We get it."
As he worked in his office the Monday
night after the men's title-game win,
Helper realized the Women's Selection
Show was starting in a few minutes. He
opened the gobonnies.com web stream.
"To see that turnout for the women was
awesome," Helper said, beaming. "I was