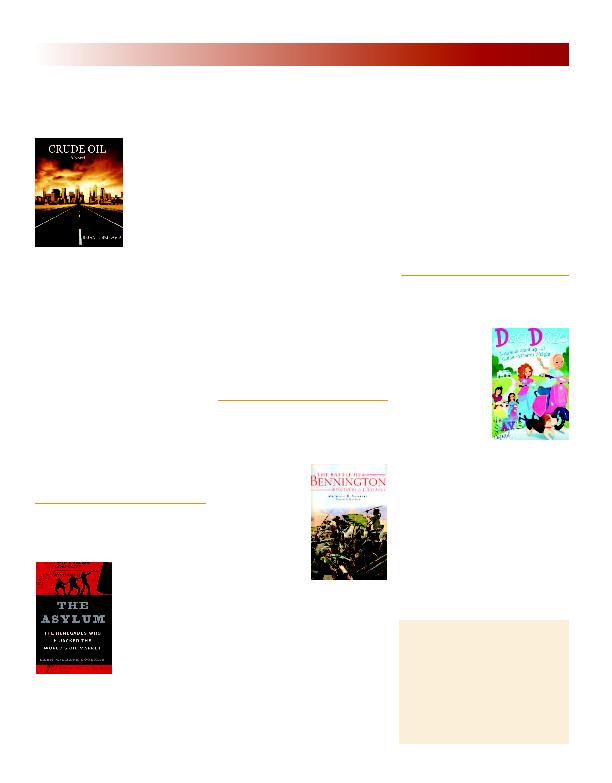 2
Off the Shelf
Brian T. Bellavia, '90, has released his
first novel, "Crude Oil." In this fictional
thriller, Sean Benetti is a litigation attorney
with a fledgling solo practice in Central
Florida who stumbles across evidence that
the two largest oil
companies in the
world have been
working together
to drive up the
price of oil.
keep a lid on the
price-fixing
scheme, the CEO
of Federal Oil calls
in Vance Caldwell. Caldwell is a former
Special Forces group commander who, on
behalf of Federal Oil, has organized a mer-
cenary army in Ecuador. In dealing with
Sean, Caldwell makes the classic mistake
of underestimating his adversary.
"Crude Oil" unfolds as an inspiring story
in which Sean is forced to tap into his
inner strength and connections to his past
to expose a price-fixing scheme that has
crippled economies across the globe.
Bellavia is a litigation attorney who prac-
tices in Central Florida. He is also a gradu-
ate of Shepard Broad Law Center at Nova
Southeastern University.
He says his writing is inspired by contem-
plating unique experiences, brought about
through his blended cultural upbringing
and his belief that every individual, fighting
for what is just, can move mountains.
Learn more at www.CrudeOilNovel.com.
"The Asylum: The Renegades Who
Hijacked The World's Oil Market" by Leah
McGrath Goodman, '98, was published
by HarperCollins,
excerpted by Fortune
and nominated for
The Financial Times
Goldman Sachs
Business Book of the
Year Award.
of outsiders unable to
get jobs with New
York's gilded financial
establishment. They
would go on to corner the world's multi-
trillion-dollar oil market, reaping unimagin-
able riches while bringing the economy to
its knees.
Meet the self-anointed kings of the New
York Mercantile Exchange. The progeny of
Jewish, Irish and Italian immigrants who
escaped war-torn Europe, they take pride
in flagrantly spurning Wall Street.
Under the thumb of an all-powerful
international oil cartel, the energy market
had long eluded the grasp of America's
hungry capitalists. Neither the oil royalty of
Houston nor the titans of Wall Street had
ever succeeded in fully wresting away con-
trol. But facing extinction, the rough-and-
tumble traders of Nymex -- led by the
reluctant son of a produce merchant --
went after this Goliath and won, creating
the world's first free oil market and mint-
ing billions in the process.
Showcasing seven years of research and
hundreds of hours of interviews,
Goodman reveals what really happened
behind the scenes as oil prices topped out
and what choice the traders ultimately
made when forced to choose between
their longtime brotherhood and their pre-
cious oil monopoly.
Goodman, who double majored in jour-
nalism and political science, is a former
senior writer for The Wall Street Journal
and currently a contributor to Fortune.
On Aug. 16, 1777, a motley militia won
a resounding victory near Bennington, Vt.,
against combined German, British and
Loyalist forces. This
laid the foundation
for the American vic-
tory at Saratoga two
months later.
"The Battle of
Bennington: Soldiers
and Civilians," histo-
rian Michael P.
Gabriel, '88, has col-
lected more than 50
firsthand accounts
from people who experienced this engage-
ment, including veterans from both sides
and civilians (women and children) who
witnessed the horrors of battle. Gabriel
also details a virtually unknown skirmish
between Americans and Loyalists. These
accounts, along with Gabriel's overviews of
the battle, bring to life the terror, fear and
uncertainty that caused thousands to flee
the British army as loved ones departed to
fight for the fledgling United States.
Gabriel is a professor of history at
Kutztown University. His other works
include authoring "Major General Richard
Montgomery: The Making of an American
Hero" (2002) and co-editing "Quebec
During the American Invasion, 1775-1776:
The Journal of François Baby, Gabriel
Taschereau, and Jenkin Williams" (2005).
Gabriel has also published numerous
reviews and essays and has contributed
entries to a variety of reference works. The
former department chair, Gabriel received
the Carlton R. Chambliss Faculty Research
Award in November 2011, Kutztown's
highest recognition for scholarship. In
2006, he received the Arthur and Isabel
Wiesenberger Faculty Award for Excellence
in Teaching. He and his wife, Sandy, live
near Kutztown with their daughter.
Kathleen Damp Wright's first book,
"Dog Daze," was published March 1.
"Dog Daze" is book one of a four-book
series about The
S.A.V.E. Squad. Four
girls and a pesky
neighbor boy, with
nothing in common
but their differences,
save the world -- one
animal at a time. Join
the S.A.V.E. Squad --
Sunny, Aneta, Vee,
and Esther -- as the
sixth-grade girls come together through
the rescue of a basset hound they dub
Wink and form a plan to benefit stray
dogs and place them in "forever homes."
Published by Barbour Books, the series is
aimed at middle readers (ages 8-12) and
available online and in bookstores. The
second book, "The Great Cat Caper," is
scheduled for release in September.
Wright, a member of the class of 1980, is
a writing teacher at a Christian home-
school educational co-operative and she
also teaches refresher English online for a
career college.
CONTACT US
We are happy to print announcements and
brief summaries of new books, CDs and
other multimedia works published by SBU
alumni, faculty and staff.
Send a copy of the book or CD and
summary press release to:
Bonaventure magazine
P.O. Box 2509
St. Bonaventure University
St. Bonaventure, NY 14778